Trump makes unexpected Iraq visit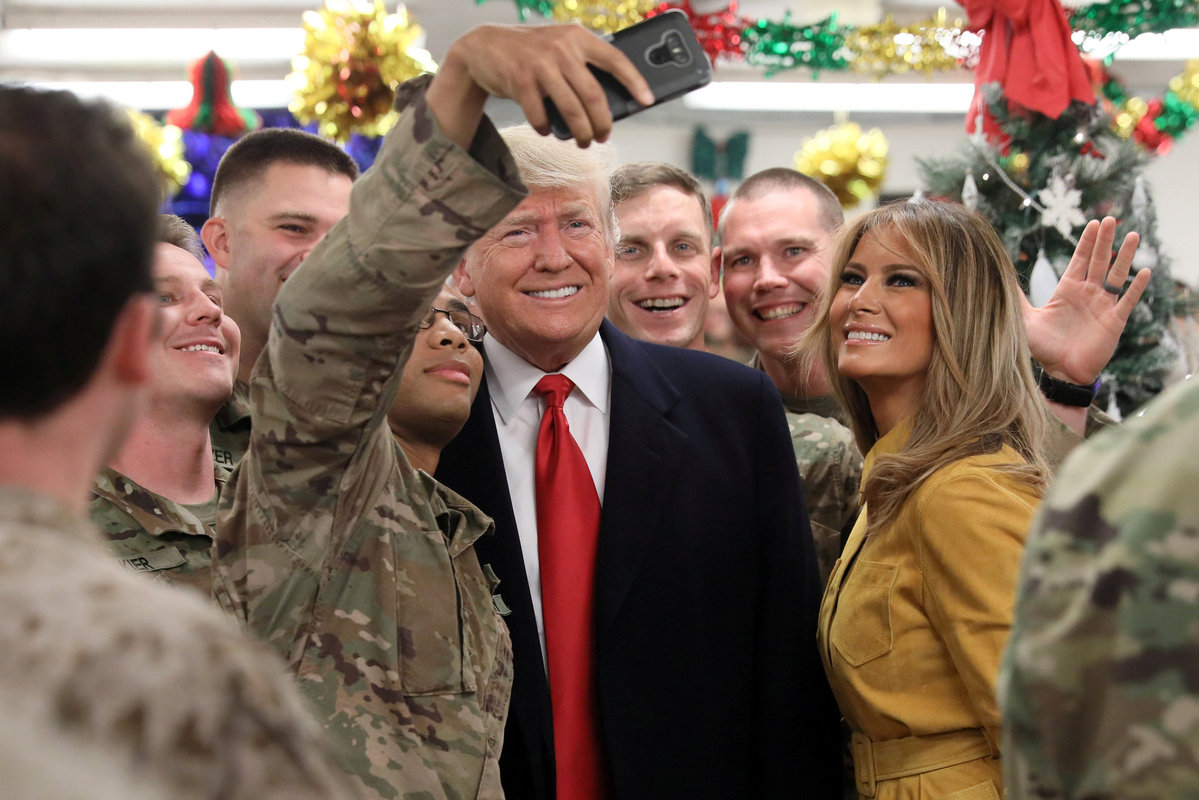 US President uses surprise troop stop to defend decision on Syria pullout
US President Donald Trump made a Christmas Day visit to Iraq on Wednesday to defend his decision to withdraw troops from Syria and declared an end to the role of the United States as the global "policeman".
It was the first time Trump and his wife Melania have visited US troops stationed in a conflict zone almost two years after being elected. The move that was seen by experts as political compensation for his withdrawal decision.
The White House confirmed Trump's hourslong visit to US combat troops in Iraq on Twitter, as spokesperson Sarah Sanders said that the first couple had traveled to Iraq on Christmas night to visit US troops and "thank them for their service, their success, and their sacrifice, and to wish them a Merry Christmas".
At Al Asad Air Base, about 60 kilometers west of the capital city Baghdad, Trump told US troops that his decision to pull forces from neighboring Syria was in line with his "America First" philosophy.
"It's not fair when the burden is all on us," he said. "We don't want to be taken advantage of any more by countries that use us and use our incredible military to protect them. They don't pay for it and they're going to have to."
The president promised a "strong, deliberate and orderly withdrawal" of forces from Syria.
Meanwhile, Trump said that after US troops in Syria return home, Iraq could still be used to stage attacks on Islamic States militants, according to an AP report.
"We can use this as a base if we wanted to do something in Syria," he said. "If we see something happening with ISIS that we don't like, we can hit them so fast and so hard that they really won't know what the hell happened."
Shi Yinhong, a professor at Renmin University of China, said Trump wanted to make up for his controversial decision to pull forces out of Syria with the surprise Christmas visit.
"The sudden withdrawal decision he made on his own has caused dissatisfaction from the military, while domestic public opinion also cast doubt on Trump's ability to command the army," he said. "Plus he has never been to the front line since his election."
Trump's claim of not wanting to be the global policeman any longer, Shi said, is not that surprising, as US strategic contraction in the Middle East is an important move to put in practice his America first politics.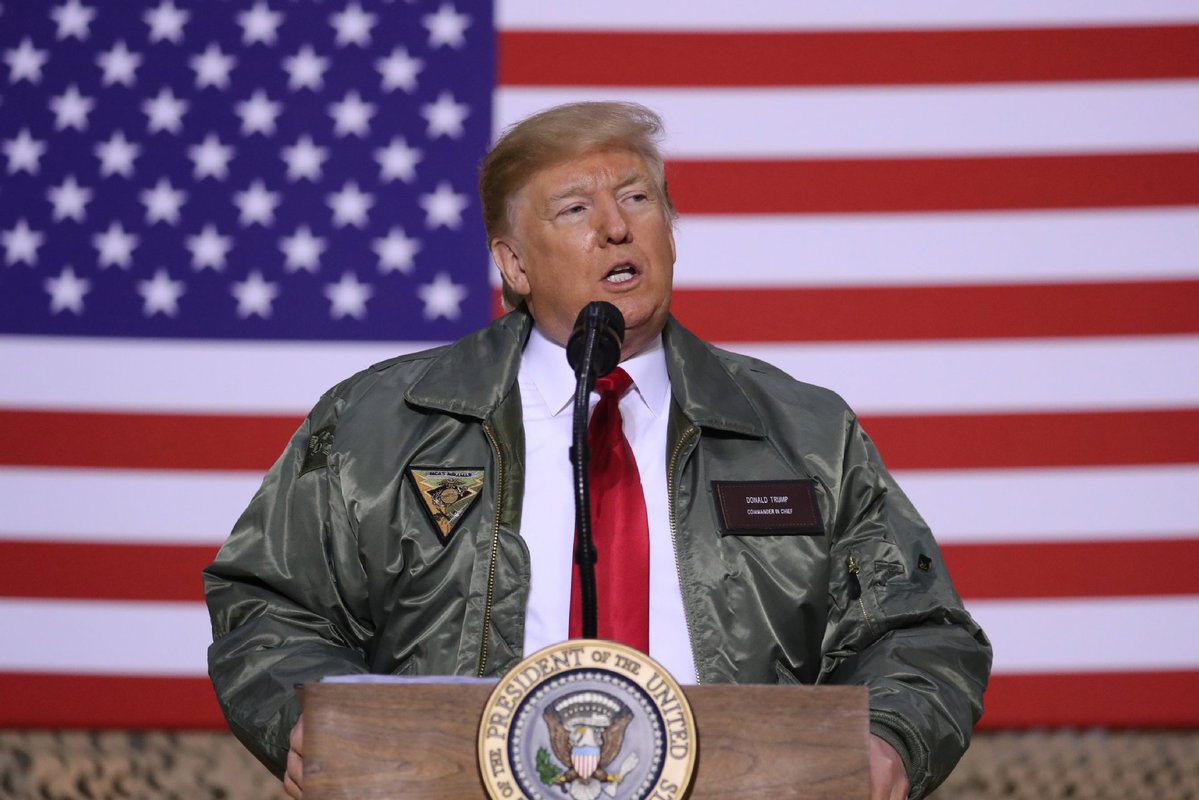 Unwilling on money
Zhang Fan, a researcher at the Institute of American Studies at the Chinese Academy of Social Sciences, said the withdrawal indicates that Trump is unwilling to spend more money on overseas military operations.
"Syria has no longer been the US' focus in the Middle East. Whether it is from a business perspective or a strategic perspective, Trump believes that he must withdraw."
As for the vacuum in the Middle East after the withdrawal, Shi said although US European allies may have the desire to fill it, they currently do not have the equivalent military capability. "The main strategy is still political and diplomatic involvement for Europe."
Trump was scheduled to have a meeting with Iraqi Prime Minister Adel Abdel-Mahdi, but later canceled and replaced it with a phone call, according to the premier's office.
During the call, Trump invited the Iraqi leader to visit the White House and his offer was accepted, said Sanders.
After departing Iraq, Trump stopped over at the US Ramstein Air Base in Germany to meet with military officials.
"We have discussed ... the US decision to withdraw troops from Syria, because this has great repercussions on Iraq," Abdul Mahdi told a press conference after a weekly cabinet meeting.
"If there is a security tension in Syria (by the US pullout), there will be a wave of migration, and Iraq will be one of the first countries to be exposed to such issue," Abdul Mahdi said.
"The terrorists may leave the Syrian territory and try to go to Iraq, and this also would have repercussions on our country," Abdul Mahdi added.
He stressed that Iraq needs to take precautions from now so that it will not be affected.
The prime minister mentioned that the US Secretary of State Mike Pompeo had informed him of the pullout of the US troops before the implementation of the decision, asserting that Pompeo confirmed that the US will continue to support Iraq in its war against terrorism.
Abdul Mahdi's comments came two days after he held a phone call with Pompeo, who explained the details of the scheduled pullout from Syria.
Recently, Trump declared a plan to withdraw all US troops from Syria, citing the full defeat of IS militants in the country.
These troops were part of a US-led coalition which has been fighting and conducting airstrikes against IS targets in both Iraq and Syria.