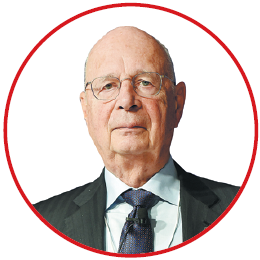 Klaus Schwab
Founder, executive chairman of the World Economic Forum
BORN:

Mar 30, 1938 in Ravensburg, Germany

EDUCATION: 1966: Doctorate in engineering, Swiss Federal Institute of Technology

1967: Doctorate in economics, University of Fribourg

1967: Master's in public administration, Harvard University

CAREER:

1963-66: Assistant to director-general, German Machinebuilding Association, Frankfurt

1967-70: Member of the management board, Sulzer Escher Wyss AG, Zurich

1971: Founder and executive chairman, World Economic Forum

1998: Co-founder, Schwab Foundation for Social Entrepreneurship

2004: Founder, Forum of Young Global Leaders

2011: Founder, Global Shapers Community

HONORS:

2018: China Reform Friendship Medal
Associating the 'Davos Spirit' with China's rising economy
World Economic Forum founder Klaus Schwab, a winner of the China Reform Friendship Medal, made tremendous efforts to work with the country after the launch of opening-up
An open, multilateral world
The World Economic Forum opened its China representative office in Beijing in June 2006. Since then, it has been determined to bring in fresh thinking and the dynamism of leaders from fast-growing and innovative companies, the so-called new champions.
The inaugural meeting of the annual New Champions event was held in Dalian, Liaoning province, in 2007.
It brought together the forum's new community of fast-growing businesses, along with technological pioneers and young global leaders. More than 1,700 business, government and NGO leaders representing 90 nations participated and shared ideas. It was a meeting of minds, and a mingling of the old and new economies.
"Schwab has sincere, genuine feelings for China, and many times he has expressed his feeling of great honor when participating in China's reform and opening-up process," said Zhu Min, head of Tsinghua University's National Institute of Financial Research and a former member of the World Economic Forum's board of directors.
"He is a thinker, as well as a practitioner, who puts the Davos Spirit into effect in the real world. The forum also proactively facilitates the popularization and promotion of technological innovation."
In January last year, President Xi Jinping, the first Chinese head of state to attend the World Economic Forum's annual meeting, made a speech in Davos. He called for joint efforts to chart the course of economic globalization and forge new models of global growth, cooperation, governance and development.
The president also called on the international community to face up to the problems caused by globalization instead of dodging them.
"Whether you like it or not, the global economy is the big ocean that you cannot escape from," Xi said. "Any attempt to cut off the flow of capital, technologies, products, industries and people between economies, and channel the waters in the ocean back into isolated lakes and creeks, is simply not possible."
Schwab called Xi's address "historically significant".
"What most impressed participants and the media was the president's commitment to an open and collaborative spirit when addressing shared challenges," Schwab said.
"Globalization has benefited the world tremendously, although the context (of economic development and exchange) has changed. Today, global trade is not only the exchange of physical goods, we also have e-commerce. We have the issue of intellectual property and investments, so the economic exchange has become different.
"Now we have to make everything to keep within a multilateral and open system," he added. "Trade wars will certainly lead to a lose-lose, not a win-win, situation. I hope that everyone will realize that maintaining an open multilateral system is in our interest."