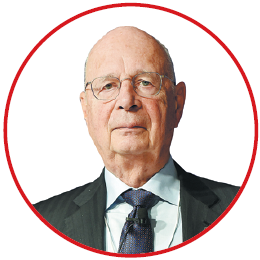 Klaus Schwab
Founder, executive chairman of the World Economic Forum
BORN:

Mar 30, 1938 in Ravensburg, Germany

EDUCATION: 1966: Doctorate in engineering, Swiss Federal Institute of Technology

1967: Doctorate in economics, University of Fribourg

1967: Master's in public administration, Harvard University

CAREER:

1963-66: Assistant to director-general, German Machinebuilding Association, Frankfurt

1967-70: Member of the management board, Sulzer Escher Wyss AG, Zurich

1971: Founder and executive chairman, World Economic Forum

1998: Co-founder, Schwab Foundation for Social Entrepreneurship

2004: Founder, Forum of Young Global Leaders

2011: Founder, Global Shapers Community

HONORS:

2018: China Reform Friendship Medal
Associating the 'Davos Spirit' with China's rising economy
World Economic Forum founder Klaus Schwab, a winner of the China Reform Friendship Medal, made tremendous efforts to work with the country after the launch of opening-up
Long relationship
There was great interest worldwide in reform and opening-up when it was announced by China's paramount leader Deng Xiaoping in the fall of 1978. As a result, Schwab invited Deng to address the Davos symposium in 1979.
Though Deng did not attend that year, Beijing sent a delegation of eminent economists led by professor Qian Junrui, director of the Chinese Academy of Social Sciences' Institute for Global Economic Research. China's presence aroused the interest of participants at the meeting, which was chaired by Edward Heath, the British prime minister.
Though there were discussions about structural crisis and stagflation during the 1979 World Economic Forum, Schwab highlighted that a platform for furthering peace and reconciliation in many parts of the world, promoting understanding between the East and West, and introducing emerging economies such as China to the international community, was much needed.
At that time, Deng initiated a program known as the Four Modernizations to reform Chinese industry, agriculture, national defense, and science and technology.
In addition to removing many orthodox doctrines, the leader also wanted to implement a pragmatic socialist market system "with Chinese characteristics".
Schwab paid his first visit to China in April 1979, marking the start of a long relationship between the World Economic Forum and China. This includes official Chinese participation in Davos almost every year since.
The forum held its first meeting in China in 1981, having sent delegations to the country in 1979 and 1980, and receiving several Chinese delegations in Switzerland and other parts of Europe. At the symposium in 1981, senior Chinese officials outlined the country's plans for economic development over the next decade.
"The WEF has been associated with China since the beginning of the reform and opening-up policy," Schwab said in September. "(This year) we are celebrating 40 years of cooperation. I have witnessed the great changes of China as it has become the world's No 2 economic power."
He praised China for its achievements in the past 40 years: "I'm sure that, particularly with the support of the fourth industrial revolution, China will continue its growth of a more qualitative nature, fortunately not just quantitative growth."
His confidence stems from the fact that China has achieved a certain level of development, and the key for growth.