When a song made a difference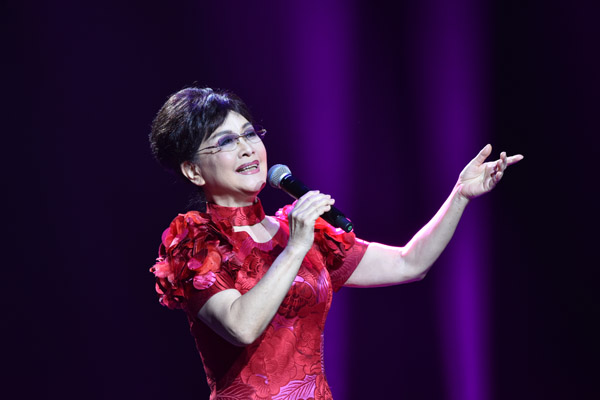 Homeland Love is more than a mellow ballad for its singer Li Guyi, Chen Nan reports.
Li Guyi's musical journey over the past 57 years has always been connected with the song, entitled Homeland Love, a mellow love ballad written by Ma Jinghua and Zhang Peiji.
You can sense her love for the song when Li, 74, pauses to sing it as if she were onstage.
"It's not just because the song brought me fame," says Li, who was then a 36-year-old singer with the Central Symphony Orchestra-now known as China National Symphony Orchestra. She first performed the song in 1980 and soon became a household name in China.
"It's because with the song, I went through a singer's worst days."
Li's performance of Homeland Love became controversial because her vocal style challenged the status quo of singing in China at the time.
Instead of using a solid, wide vocal range while singing, a style which dominated the music scene in the country then, Li sounded sweet, easy and she used the air-breathing technique, a pop-singing style.
She was criticized, and even forbidden to sing the song.
But the turning point came in 1983 when Li was invited to perform six songs at China Central Television's first Spring Festival Gala, known as chunwan in Chinese, one of the most-watched annual shows in Chinese broadcast history on the Eve of the Lunar New Year.
Though Homeland Love was not included on the list of songs she was set to perform, a lot of viewers called in, asking for Li to perform the song at the gala. The gala's director Huang Yihe made the decision to broadcast Li's performance of the song.
Since then, Homeland Love has become a hit, and is one of Li's most popular songs.
Li said at her home in Beijing that it was a beautiful song and most importantly, audience opinion about art had started to change thanks to the reform and liberation of thought that went on through the 1980s.
She said that it was during this time, China started to develop its own pop music, which offered a platform for songwriters to create "original material".
The veteran singer is now on a list of 100 outstanding individuals who greatly contributed to the country's 40 years of reform and opening-up.
This October, along with her vocal students-over 20 professional Chinese singers, Li held a concert to celebrate the 40th anniversary of the launch of China's reform and opening-up.
The concert saw the musicians perform over 30 songs written by Chinese songwriters since 1978, including Homeland Love.
Li said that the last 40 years has brought about a change for musicians, besides offering economic opportunity for the country.
She said that beforehand, songs performed on TV were similar grand performances dealing with big topics.
"But after that, a diversity of music styles started to emerge and songwriters tended to depict personal emotions," she says.