Breaking musical boundaries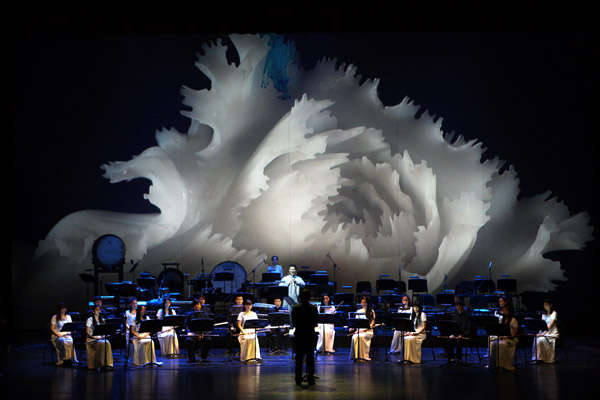 A concert featuring works by an American pianist for traditional Chinese instruments is to be staged in Beijing, Chen Nan reports.
When American composer-pianist Joel Hoffman first encountered Chinese music decades ago, he found it interesting, exotic yet forbidding like a closed door. But his curiosity and need to understand has always been much stronger than the difficulty of translation.
"It's impossible to say whether the motivation is more like the wish to solve a crazy difficult puzzle or simply love.
"It must be both," says the New York-based musician, who was born in Vancouver, Canada, in 1953.
He received degrees from the University of Wales and the Juilliard School in New York before becoming a professor of College-Conservatory of Music, University of Cincinnati.
Now, a guest professor at the China Conservatory of Music, he has been visiting Beijing twice a year, for the past decade, besides working with a number of talented musicians in China, including instrumentalists, conductors and composers.
Among the people he works with is Chinese bamboo flute player Zhang Weiliang, who is a professor and composer for the China Conservatory of Music.
Six of Hoffman's nine works written for Chinese musical instruments were commissioned by Zhang, including a bamboo flute concerto for him.
Their latest collaboration, The Shadow of Water, composed by Hoffman for six bamboo flutes, pipa, guzheng (Chinese zither), erhu and vibraphone, will be premiered at a concert on Wednesday at the National Center for the Performing Arts in Beijing.
The concert will premiere eight works written for traditional Chinese musical instruments, with the theme of water, which is one of wuxing, or the five elements-water, wood, fire, earth and metal-in traditional Chinese culture.
Speaking about what made him take up his latest assignment, Hoffman, who has composed two works for Chinese traditional orchestras besides chamber works of various sizes and kinds, says: "For many years I was fascinated by Chinese traditional music and its remarkable set of instruments. But I am also interested in the music of Debussy. So when Zhang Weiliang commissioned me to write a piece on water, I immediately thought of the piece by Debussy called Reflets dans l'eau," says Hoffman.