Huawei CFO's arrest raises suspicions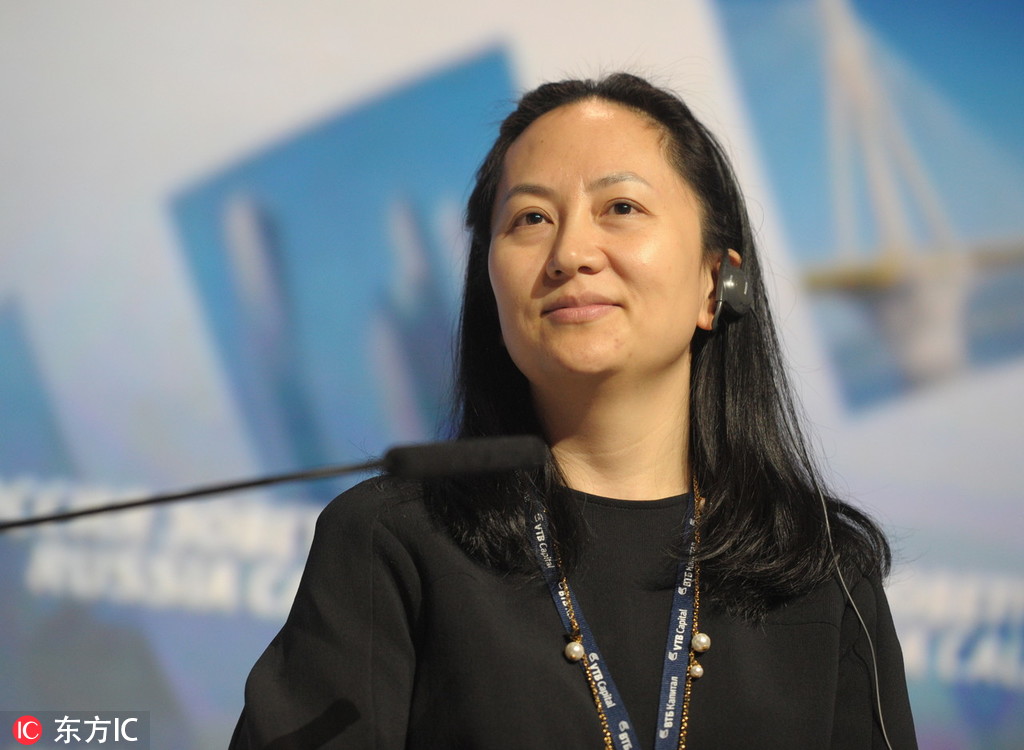 Observers suggest 5G tech race may be factor; Trump talks of intervening to help trade deal
The arrest of Huawei's chief financial officer in Canada at the behest of the United States on a charge of violating US sanctions on Iran has stirred speculation about whether the target is the Chinese high-tech company itself.
The executive, Meng Wanzhou, 46, was released on bail on Tuesday evening in Vancouver, 10 days after she was initially detained at Vancouver International Airport.
And in a Reuters story published Tuesday evening, US President Donald Trump said he would intervene with the US Justice Department in the case against Meng if it would help secure a trade deal with Beijing.
"If I think it's good for the country, if I think it's good for what will be certainly the largest trade deal ever made – which is a very important thing – what's good for national security – I would certainly intervene if I thought it was necessary," Trump said.
Jeffrey D. Sachs, a professor at Columbia University, in a piece Tuesday for opinion site Project Syndicate, argues that Meng's arrest could have been done for commercial reasons.
"The US is trying to target Huawei especially because of the company's success in marketing cutting-edge 5G technologies globally," wrote Sachs, who is also the director of Columbia's Center for Sustainable Development and of the United Nations' Sustainable Development Solutions Network.
"The US claims the company poses a specific security risk through hidden surveillance capabilities in its hardware and software. Yet the US government has provided no evidence for this claim."
Huawei Technologies Co Ltd, based in Shenzhen, is the world's largest supplier of telecommunications network equipment and second-biggest maker of smartphones, with revenue of about $92 billion last year.
Meng, the daughter of Huawei founder Ren Zhengfei, faces accusations that she misled multinational banks about Iran-linked transactions, putting the banks at risk of violating US sanctions.
Justice William Ehrcke, at a court hearing in Vancouver on Tuesday, granted bail to Meng, subject to a guarantee of C$10 million ($7.5 million) and other conditions.
"I am satisfied that on the particular facts of this case, including the fact that Ms. Meng is a well-educated businesswoman who has no criminal record and of whom several people have attested to her good character, the risk of her non-attendance in court can be reduced to an acceptable level," Ehrcke said.
Meng will be subject to surveillance at her Vancouver home and must surrender her Chinese and Hong Kong passports. Meng cried upon the announcement from the judge.
The judge ordered Meng, a mother of four, to remain in a restricted area of Vancouver, wear a GPS tracker, pay for security surveillance and agree to unannounced visits by police. She won't be released from custody until she fulfills the bail terms.
The US has 60 days from the arrest date to turn over its full extradition case with supporting evidence.
Canadian Prime Minister Justin Trudeau said the matter is one for the courts to decide.
Professor Sachs compared Huawei's case to those of a large number of companies that have violated US sanctions against Iran and other countries.
"In 2011, for example, JP Morgan Chase paid $88.3 million in fines in 2011 for violating US sanctions against Cuba, Iran and Sudan. Yet (CEO) Jamie Dimon wasn't grabbed off a plane and whisked into custody.
"Meng's arrest is a shocking break with practice," Sachs wrote. "Yes, hold CEOs and CFOs accountable, but start at home in order to avoid hypocrisy, self-interest disguised as high principle, and the risk of inciting a new global conflict."
The arrest also has stressed financial markets over concerns it will raise US-China tensions in trade negotiations that must be concluded by March 1.
In an opinion piece in The Washington Post, author Zachary Karabell wrote that "the quest against Huawei is a ridiculous overreach — predicated on an assumption that the United States can dictate how foreign competitors conduct business".
"More important, global supply chains are now deeply interconnected and touch multiple countries and numerous companies. Samsung, for instance, is the second largest cellphone provider in Iran, behind Huawei, while the Swedish telecom company Ericsson has been selling equipment to Iran even under the sanctions."
Karabell said the US' move "exposes American executives to potential retaliation in China and abroad in a tit-for-tat that will chill an already frosty business climate, with direct effects on the domestic American economy and markets," he said. "And it may succeed only in pushing technology even further into national camps that compete and develop their own protocols, which appears to be happening with the evolution of artificial intelligence."
Wang Xiangwei, former editor of the South China Morning Post, in an opinion piece, wrote: "It is highly ironic that while the US goes around accusing China of being a bad actor undermining international norms, it uses its long-arm jurisdiction and mighty financial system to ensnare foreign nationals for its own purposes. All this is done without presenting any shred of evidence beforehand, a clear sign of American hegemony if nothing else."
Joe Nocera, writing for Bloomberg Opinion, said of the arrest: "What I didn't expect was the absence of any outcry in the US. Commentators have focused on the arrest's effect on tech stocks, and on its potential to further damage US-China relations. But no one seems outraged at the possibility that the US nabbed a top Chinese executive as a proxy for a company it may want to punish."
Reuters and Bloomberg contributed to this story.
Contact the writer at williamhennelly@chinadailyusa.com