Largest cruise economy taking shape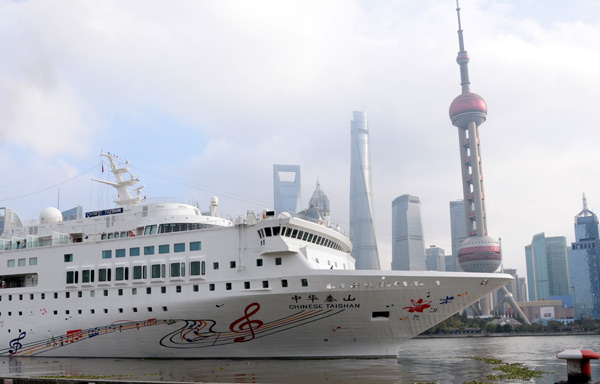 International travelers from 53 countries can enter the Chinese mainland through the ports in Shanghai, Jiangsu province and Zhejiang province.
Publicity for visa-free policies can attract more inbound foreign tourists to enter China by cruises, the Shanghai government said in its statement.
South China's island province Hainan has also started a pilot run of its 15-day visa-free policy for tourist groups who take cruises and enter the country from ports in Hainan.
The plans for upscale cruise liner terminals are shaped by the commercial success of duty-free shops at key airports like the Shanghai Pudong International Airport, fueled by a constantly growing number of international travelers with strong spending power.
The airport said in its earnings report that income growth of non-aviation sector mainly comes from the growth of duty-free retail. Tourists spend not just on hotels, local travel, food and shopping at malls and other areas, but also at airports.
China is the world's top outbound tourism market. According to the United Nations World Tourism Organization, the country's 142 million outbound travelers spent an estimated $258 billion traveling abroad last year.
If they are encouraged to spend at home as well, and if more Chinese people are to travel, then new attractions like cruise trips and modern terminals at ports could prove a big draw.
So, Shanghai will encourage cruise operators and third-party agencies to further develop the domestic cruise tourism markets. Efforts are underway to introduce linkages between cruises, airlines, trains and buses, to enable multimodal transport for travelers.
In addition, the city will promote cruise tours at airports, train stations and other places with large passenger flows.
At the corporate level, CSSC Carnival Cruise Shipping Ltd, the China-based joint-venture cruise liner, will operate its own fleet to serve Chinese guests by the end of 2019.
It announced an agreement to purchase two existing ships from Carnival Corp's Costa Group, a major cruise operator in Europe and Asia.
The first of these ships, the Costa Atlantica, is scheduled to be transferred to the new Chinese cruise line by the end of 2019.
Currently, the Costa Atlantica mainly sails from southern China seaports like Shenzhen to Southeast Asian countries like Vietnam and the Philippines. The Costa Atlantica's sister ship, the Costa Mediterranea, will be transferred at a later date, according to the company.
Besides, the joint venture signed a contract to order two new cruise ships, the first China-built large cruise fleet.
The two new cruise ships will be constructed by Shanghai Waigaoqiao Shipbuilding Co Ltd, a State-owned shipyard in Shanghai. The first ship is expected to be delivered in 2023 to serve the Chinese cruise market.
The agreement also gives the joint venture the option to order four additional China-built cruise ships to serve the growing demand of Chinese consumers.
Thamm of Carnival Asia said: "As a large, dynamic and underpenetrated cruise market with continued long-term projections for outbound tourism growth, China represents a significant opportunity for the cruise industry to raise awareness, consideration and demand for cruise vacations in the coming years."
But the cruise industry in China faces a significant hiring challenge in the face of growing demand. By 2020, the talent gap in the sector will reach 280,000, according to the Cruise Lines International Association.
MSC Cruises, one of the major cruise lines with a dominant market share in Europe, South America and South Africa, entered the China market in 2010. The company said up to 2022, it needs 32,000 new crew members, including entry-level employees and mid-level managers.
The company said it is actively looking for partnerships with educational institutions in China, and would like to build a global network of MSC training academies.
It also said its crew members will be taught languages and be made eligible to serve in ships around the world, as per the company's staff rotation policy that covers its whole fleet.