DJI to invest in farm drones, train operators
Share - WeChat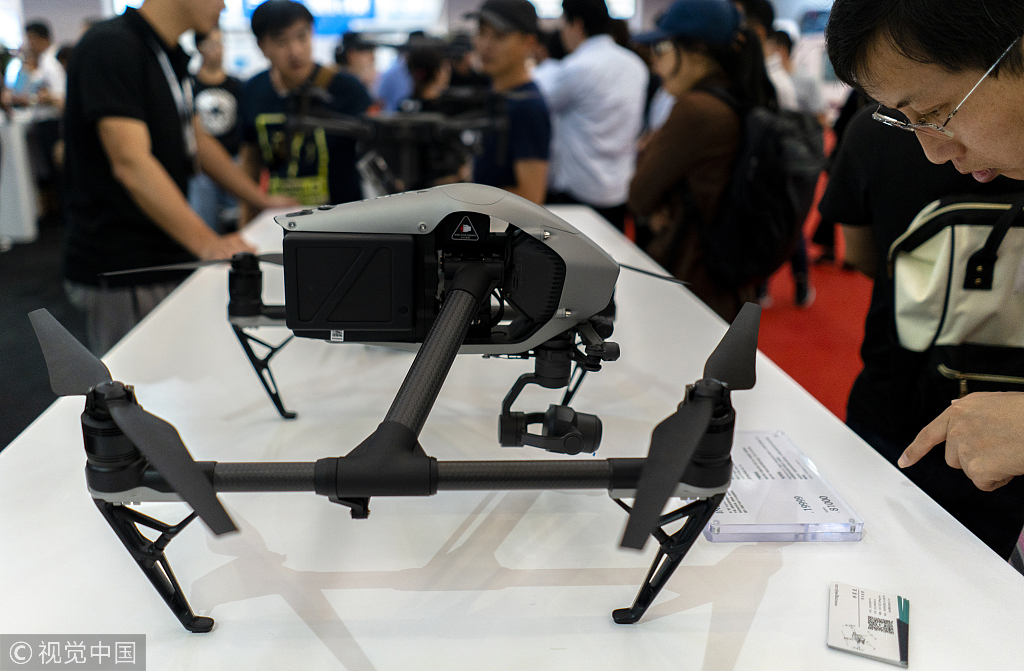 1,000 retail stores, 600 training centers across the country are planned for 2019
DJI, the world's largest commercial drone manufacturer by market share, plans to further invest 10 million yuan ($1.46 million) in agricultural drones and cultivating drone operators in the next year.
The move aims to help farmers improve the efficiency of spraying pesticides and increase the use ratio of intelligent agricultural equipment.
DJI said it will open 1,000 brick-and-mortar retail stores, train over 20,000 professional drone operators and establish more than 600 training branches across the nation in 2019. It will also increase subsidies for purchasing agricultural drones, and enhance its maintenance and after-sales services.
The company launched its latest agricultural drone, the T16, on Tuesday, which features an upgraded loading capacity, as well as dynamic systems to increase working efficiency and accuracy. Drone operators who use such drones can spray pesticides on about 10 hectares of farmland an hour.
With the modernization of agriculture, the demand for advanced farming devices has been growing significantly. Industry statistics forecast the penetration rate of agricultural drones in China will reach more than 40 percent in 2023, with sales reaching 16 billion yuan.
The government has also issued policies to promote the use of modern agricultural machinery, such as offering subsidies to encourage the use of drones in agriculture.
DJI said it is bullish about the prospects for farm-specific drones, as the demand for such kinds of drones is huge and the whole industry is still in exploration mode.
In addition to consumer drones, which are mainly used in aerial photography, demand for industry drones is large in China, with wider applications such as farming, construction, security and disaster relief.
The Shenzhen, Guangdong province-based company, which currently accounts for 70 percent of the global consumer drone market, is devoting a great deal of attention to industry drones.
In November 2015, DJI launched its first agricultural drone, the MG-1, marking its diversification into the industry drone market.
It unveiled an upgraded agricultural drone, the MG-1S, in 2016 and the MG-1S Advanced last year, with upgraded radar and dynamic systems.
DJI later rolled out a series of financial services to support the drones' purchasing, operation and related training.
So far, DJI has established over 150 agricultural drone training branches, trained 700 professional teachers and 14,000 drone operators.
The Qianzhan Industry Research Institute forecast that the value of the domestic agricultural drone market will reach more than 12.8 billion yuan by 2021, with an annual compound growth rate of 38 percent.
"Applications in industry are beneficial for DJI to improve its technology, and its success in the consumer drone market will help DJI to further widen its industrial application fields," said Pan Xuefei, a senior analyst at market research firm International Data Corp.