Smart appliances enter more Chinese households
Share - WeChat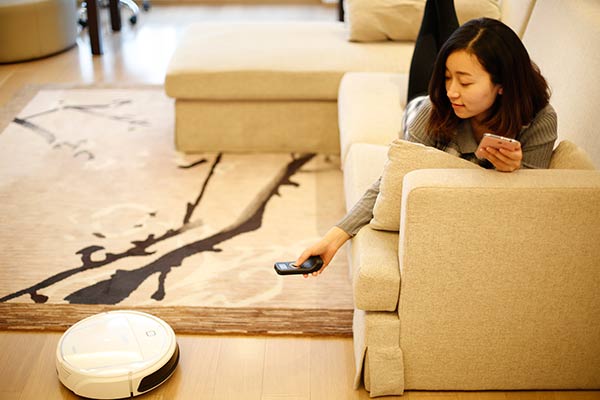 HEFEI - Quality and customized smart appliances are catching on among urban households in China as cities are embracing the emerging trend of an "intelligent home," -- home system rich in modern conveniences.
"Robot vacuum cleaners, smart dishwashers and TVs have been included on our shopping list," said Liu Jie, who is busy decorating his new apartment in East China's Anhui province.
"There is a range of available choices on the market. These smart things help save me time while delivering a more modern lifestyle," Liu said.
Electronic appliances are becoming smarter and entering more households in China.
Robot vacuum cleaners have become one of the most popular appliances in China last year, according to a research released by e-commerce giant Alibaba Group.
"People's favorite appliance picks have changed over time," said Liu Mingbin, father of Liu Jie. "The most-bought pieces for newlyweds in the 1970s were TV sets, washing machines and refrigerators."
With the influx of more startups, a booming smart appliance industry also mirrors people's upgrading of their consumption and the huge consumption potential in years to come.
During this year's online shopping bonanza on Nov 11, Suning.com, another e-commerce giant, saw the biggest sales growth of intelligent locks and smart speakers.
Also, Suning's sales of robotic vacuum cleaners, electric toothbrushes and dishwashers surged by 132 percent, 122 percent and 121 percent respectively so far this year.
China's smart appliance market is expected to grow at an average annual rate of 45.3 percent between 2017 and 2022, and is likely to have a value of 162.7 billion yuan ($23.6 billion) by 2022, according to internet statistics company Statista.
Smaller and smarter appliances are becoming the new trend. They are created to meet the needs of the younger generation, major contributors to a strong consumer market, an industry insider said.
"These appliances can be really smart and really cheap," said Zhang Ning in Hefei, capital city of Anhui province. "My 89-yuan smart speaker helps me voice control the air-conditioner, television and lamps. It also recognizes my voice and helps me play songs, report the weather and set my wake-up call."