Tech lifts fortunes of port city
Share - WeChat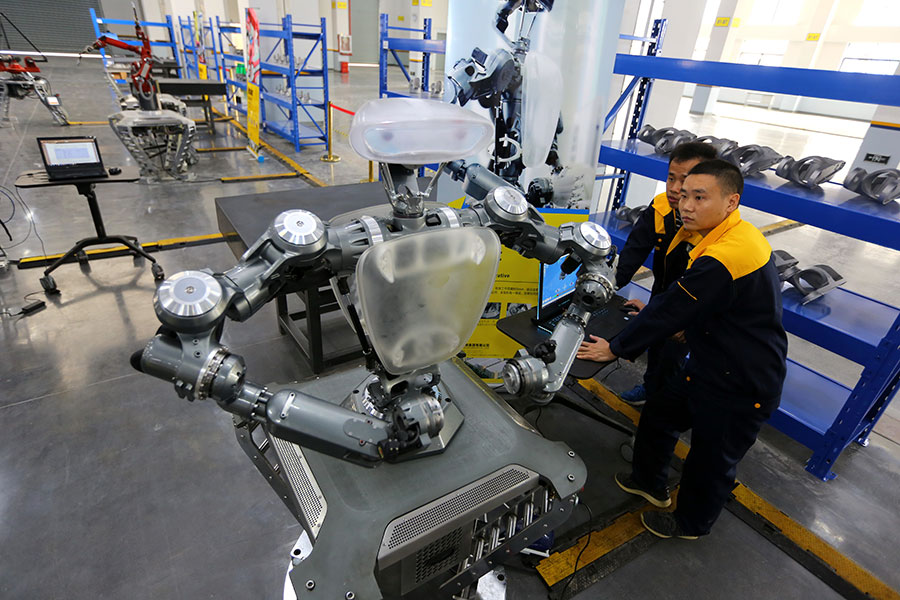 Companies are adopting new approaches to raise efficiency
At a spacious new plant operated by Hsoar Group, technicians were recently installing equipment that can produce a cycloidal speed reducer, a major component of robotic swivel joints.
In two months, the plant in Wenzhou, Zhejiang province, will start producing parts for robots, as well as complete robots, said Huang Zhi, the company's technical director.
Hsoar, which was founded in Ruian, a county-level city, in 1993 and specializes in auto parts, is hoping the robot project will help transform the company from being labor-intensive to one driven by high-technology.
"We believe intelligent manufacturing will be the future," Huang said.
The project is an example of how the private sector in Wenzhou-the birthplace of the Chinese private economy after the country's reform and opening-up policy was launched in 1978-is upgrading to seek new growth drivers to maintain its advantage.
As 78 percent of its area is mountainous, the port city struggled to develop agriculture and large-scale industries. However, reform and opening-up provided residents with opportunities to start small businesses.
In the early 1980s, more than 300,000 farmers started their own businesses. They created more than 40 national-level industrial clusters of small businesses that made everything from clothes and shoes to electrical components.
Boosted by the private sector, Wenzhou's annual GDP has increased by 412 times in the past four decades, rising to nearly 541.2 billion yuan ($77.88 billion) last year from about 1.3 billion yuan in 1978.
The city has formed five traditional industries in the fields of electronic components, shoes, apparel, automobile parts and pump valves. Although all five dominate the domestic market, they are at the low end of manufacturing, which is energy-consuming and labor-intensive.
Sensing a grim future ahead because of rising labor and energy costs, as well as competition from other high-end manufacturers worldwide, entrepreneurs in Wenzhou are exploring high-tech, intelligent manufacturing solutions.
Hsoar has invested 850 million yuan in its robot project since 2010 to develop speed reducers. Last year, it succeeded, making it the fourth company in the world to master the technology for mass production. The output value of the project is expected to reach 300 million yuan in 2019, making it the company's major business, Huang said.
In addition, garment manufacturer Baoxiniao Group spent two years and 100 million yuan upgrading its manufacturing base to a cloud-based operation. Intelligent production lines and the integration of its supply chain, distribution and sales services have shortened the company's production cycle from 15 to seven days.
"Now, we can make 200,000 suits a year, double the standard production lines," said Qiu Chengkui, deputy head of the company.
The Wenzhou government has supported the high-tech trend. Loans and subsidies are available for private enterprises' intelligent manufacturing projects, and project upgrades can get subsidies of at least 8 percent of the investment amount.
Because most of the city's small enterprises began as home-based operations, the market is fragmented, and many still operate as family businesses. To tackle this problem, the city government is building industrial parks for small-business operators to offer cheaper space, standard factory plants and better financial services, helping them cut costs and focus more on innovation. The city plans to build 142 of these parks by 2020.
To boost the private sector, the government has also announced measures to help private companies with upgrades. These include reducing the costs of land use, electricity, logistics, financing and human resources.
"With a series of measures, we aim to promote sustainable growth of the nonpublic sector and support those engaged in it to ensure the private sector stays profitable," said Chen Jianming, vice-mayor of Wenzhou.
Ma Zhenhuan contributed to this story.