China plays key role in Ubisoft's strategy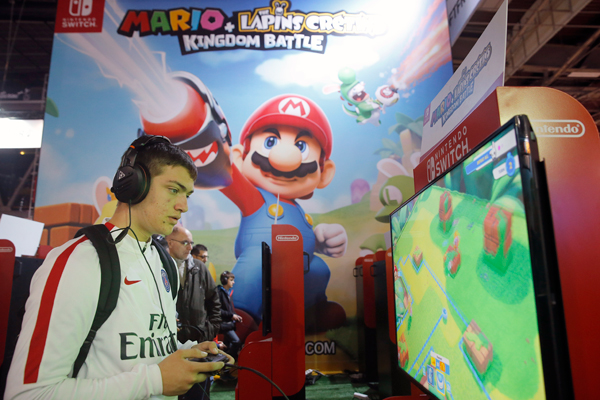 Independence is crucial in responding to rapid industry changes, CEO believes
For gamers, Ubisoft is associated with some of the industry's biggest titles-Assassin's Creed, Far Cry and The Crew. Each of these so-called AAA games requires months or years of development, huge teams and vast production budgets.
It's all a long way from when Yves Guillemot and his four brothers founded the company in 1986. Since then, Ubisoft has grown from a dream into a gaming empire with more than 40 development studios across five continents.
It has the biggest in-house creative force in the industry, with more than 80 percent of its 14,000 employees dedicated to creation. Its turnover for the first quarter of its fiscal year 2018-19, which ends on June 30, 2019, came in at a record high of 400 million euros ($450 million).
For more than three decades, Ubisoft has remained a relatively independent gaming company, which Guillemot said is "crucial" in responding instantly to changes in the rapidly evolving gaming industry.
Its struggle to fight off French media conglomerate Vivendi's hostile takeover bid starting in 2015 is testament to this. The takeover attempt finally concluded in March this year, with Vivendi selling all of its shares in Ubisoft. Tencent later invested in Ubisoft and now holds 5 percent in the company.
China has been an important part of Ubisoft's global production line. The company set up a studio in Shanghai in 1996 and established a Chengdu studio in 2007.
The annual Chinese gaming industry pageant-China Digital Entertainment Expo and Conference, or better known as China Joy-is a key fixture for the company.
During this year's event, China Daily talked with Yves Guillemot, co-founder and CEO of Ubisoft, about the rise of female players worldwide, the proliferation of mobile games and the importance of staying nimble in the fast-moving gaming industry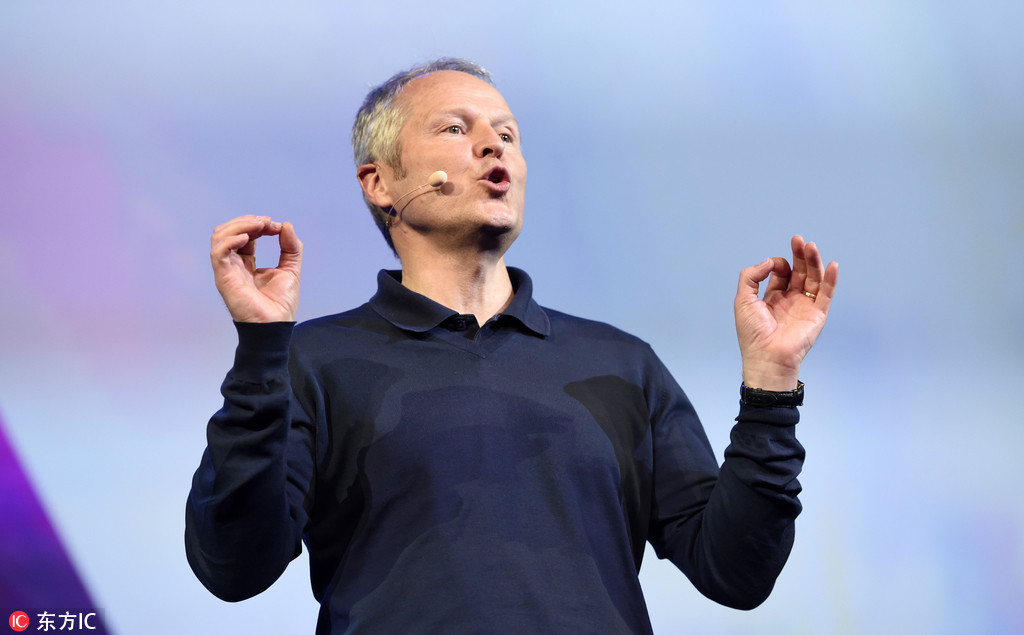 What are the newest products featured at your booth at this year's China Joy?
We are able to show some virtual reality games, which is a huge step forward. We demonstrated the racing game The Crew 2 and Rainbow Six: Siege. We could also show a certain number of products like Just Dance, as well as some other titles more popular among female gamers.
Have you noticed the rise of Chinese female players?
Yes, especially on mobile. I was amazed at the exhibition to see a lot of women looking at games. It is a big change and also a good evolution. The better balanced it is, the more publishers are creating products for all the different people playing. The trend is global. But because mobile is stronger here in China, it is actually more important.
Ubisoft's sales revenue hit a record high during the first fiscal quarter of this year. What are the reasons for that?
First, games stay in the market for a longer time now. The games that we launched previously would stay in the market for only 18 months. But now, we continue to give support to those games and content on a more regular basis, so they sell for five to 10 years.
Second, players are increasingly more digital. We can sell games at different prices. Before, they were distributed for under 20 or 30 euros each. They disappeared from stores because they could not make money and we could not make money at that price. Now that the industry is moving toward digital, we can sell at even $2 or $3 apiece.
The most important reason is that we constantly improve the quality of our games, which is about increasing sales each time we launch a new game.
What about the performance of the Chinese market?
We had 90 percent year-on-year growth in China last year. More and more Chinese consumers are interested in our games. They know the brand perfectly.
Globally, the PlayStation 4 is the largest income earner for you. But is the story different in China?
At present, PC and mobile are the two major growth drivers for us in China. In Europe and the United States, it is really about the PS4. But we think that if Nintendo is also coming to China, console games could sell a bit more, because it is a different approach.
Console games require 20, 30 or even 50 hours of gameplay. You have to pay at first, but then you can play whenever you want without paying. But PC and mobile are really free to play. So it will be a good complement.
Do you think that console games will see more opportunities in China with the rise of virtual reality technology?
Yes, I think so. What I see first is streaming, which is on the rise in China. The possibility of playing games on big servers and gaining the advantage of that experience on devices is taking shape quickly in China. It is about players all over the world building something together.
Virtual reality will take the business to a different level and take in more players because it will be a different approach to playing video games. With streaming and the development of 5G, we will be able to stream AAA games on mobile devices.
Ubisoft has remained independent for nearly three decades. How did you achieve that in this industry, which sees frequent mergers and acquisitions? What are the advantages of being relatively independent and what are the challenges?
We are in the creation business. It is very important to be able to take risk. For that, agility is crucial. If you are part of a huge group, you have to ask many people if you can do certain things. You cannot move fast enough to react to the changes in the industry.
Therefore, it is crucial to be in the form of a smaller group that can act fast. Also we need to have lots of fun to be more creative. It helps the company to be more efficient.
What are your suggestions for independent studios in China, since local players are actively acquiring smaller players that have put out blockbuster games?
It is very important that the Chinese gaming industry has middle-sized companies. Having different visions of what the industry can be will bring more diversity for players. If it is always the same because if there are too few companies, the games will be less interesting and thus played less.
So it is very important to have different groups with different approaches. I am not too worried about China. There are so many new companies coming up. Given the abundant cash in the market, companies can develop fast.
For the past few years, I have seen quite a lot of good Chinese companies with good new ideas. I am always surprised when I come here to see the energy and companies' appetite for going worldwide and creating new types of experiences.
What do you think of the production capability of Chinese studio staff?
They are already creating games in China which are published worldwide. The Shanghai studio used to work on the downloadable content for the game Far Cry 5. Recently, they did a part for The Crew 2. The Chinese creators will definitely move further and exert more of their influence onto the global gaming industry.
CV
Name: Yves Guillemot
Age: 58
Nationality: France
Career:
1986-present: Co-founder, CEO and chairman of Ubisoft Entertainment SA
Education:
Institute de la PME, NDLR
Family: Married with three children