Ultra runner Chen takes up Olympic ski challenge
Share - WeChat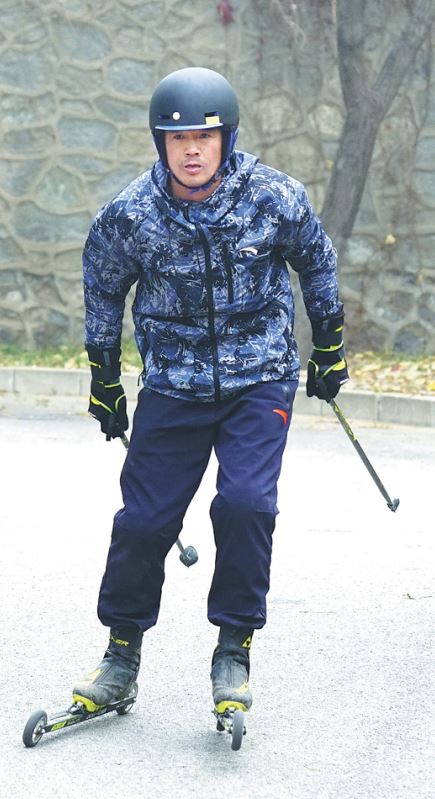 China's bid to enlarge its 2022 Winter Olympics squad by siphoning athletes from non-ice-and-snow spheres isn't limited to ambitious young guns.
The strategy is also proving alluring for veterans, with celebrated ultra runner Chen Penbin living up to his reputation for the extreme by training to become a cross-country skier. "I achieved a lot as an ultra marathon runner, but now I have to start from scratch again," said the 40-year-old Chen, known to his friends as "The Madman."
"For me, life is made of challenges. More importantly, it's a chance to win honor for my country. It's about wearing the national flag on my chest."
Chen has a history of going to great lengths to show his national pride.
He ran his first international ultra marathon in 2009 at the Ultra-Trail du Mont-Blanc in France, but, in the absence of a national team jersey, he sewed the flag onto his shirt. "I always want to serve my country and bring back honor," he said.
The Zhejiang native is one of fewer than 100 athletes worldwide to have completed ultra-marathons on all seven continents, and in 2015 he made global headlines by running 100 marathons in 100 consecutive days.
Chen continues to defy his advancing years. In September, he became the first Chinese winner of the 273-kilometer Grand to Grand Ultra in the western United States (Utah to Arizona).
His feats are even more astounding considering he was a commercial fisherman for nine years.
"Even my father thought I was crazy when I decided to become an ultra-marathon runner, but I succeeded," said Chen.
"I proved myself, so people believe in me now. Now I've just decided to have a new start in winter sports and my family supports me."
Chen has just begun his new adventure, spending around three weeks training with a national cross-country skiing squad before heading to Finland next week to continue his reeducation.
He has yet to take on any snow trails, however, first adjusting to his new sport on a pair of roller skis.
"There are many challenges ahead, and I can fall multiple times a day on the roller skis," said Chen.
"Also, it's different from running. The sport requires great upper-body strength. As a fisherman, I pulled the net a lot. I thought I had enough upper-body strength. However, compared with professional skiers, I still need lots of training."
The good news for Chen is that he won't have to endure the lonesome training he undertook for marathons as he's now surrounded by a team of experts.
"We found out that joint flexibility and the upper-body strength of Chen should be improved, and a team comprising of trainers, physicians and a nutritionist will help him," said Chang Xi, one of Chen's conditioning coaches.
"He will also have foreign coaches in Finland. Chen has tremendous cardio-respiratory capacity and our job is to help him to master the skiing skills as soon as possible.
"We have been friends for years and I have always known how ultra-diligent he is. We believe in him."
All that trust and expectation equates to pressure, however.
The fact that most of Chen's teammates are 18-year-olds from canoeing or athletics backgrounds adds extra strain.
"I'm old enough to be the father of most of my teammates, but I've just decided to be young again," said Chen.
"I will be 44 at the Beijing Olympics. However, there are examples of skiers who have produced great performances at that age. I have no fear and I will do my best."
Meanwhile, another high-profile crossover athlete is also making progress with his new winter discipline, with former sprinter Zhang Peimeng - once China's fastest man over 100 meters - recently completing his first skeleton training program for the Olympic sliding sport in Germany.