Searching for the Lotus-Born Master (I)
Editor's note: Laurence Brahm first came to China as a university exchange student from the US in 1981 and has spent much of the past three and a half decades living and working in China. He is a lawyer, an economist and founding chairman of the Himalayan Consensus. He is also an award-winning documentary film director specializing in extreme Himalayan expeditions. His latest film Searching for the Lotus-Born Master (2018) has received a dozen international film festival awards and accolades.
Starting Nov 14, China Daily is publishing behind-the-scenes stories about the documentary every Wednesday, with nine episodes total. Please stay tuned and join this incredible journey.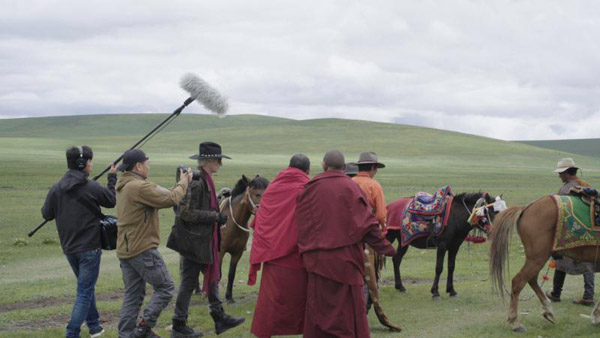 Searching for the Lotus-Born Master is a documentary that explores the life of Padmasambhava, the father of Vajrayana or Tibetan Buddhism. It beckons to ask: was he also the father of quantum physics?
《寻找莲花生大士》是一部探寻金刚乘即藏传佛教祖师莲花生大士生平的纪录片。我们常常在想:难道莲花生大士也是量子物理学的鼻祖?
Searching for the Lotus-Born Master was filmed over an intensive six-month period by Shambhala Studio. The expedition teams crossed the Himalayan region - five countries and extreme climates covering over 20,000 kilometers. The expedition team followed handprints and footprints he left across the Himalayas, scaled the snow mountains he crossed, discovered the sacred lakes where he performed magic and explored the caves where he practiced tantric meditation. The team sought the wisdom of great lamas, dedicated scholars and scientific innovators, seeking to prove the legend true.
经过六个月的紧凑拍摄,香巴拉工作室终于拍完了《寻找莲花生大士》纪录片。在极端的天气条件下,我们的探险队走遍了喜马拉雅地区的五个国家,总行程达两万公里。我们追随莲花生大士的足迹,爬越白雪皑皑的山巅,找到他施幻法的圣湖,也曾去他禅修闭关的山洞探秘……我们在拍摄途中集思广益,采访了许多佛教大德、资深学者及科研科创家,并试图证明这个传说是真实的。