Protecting mangroves a priority for city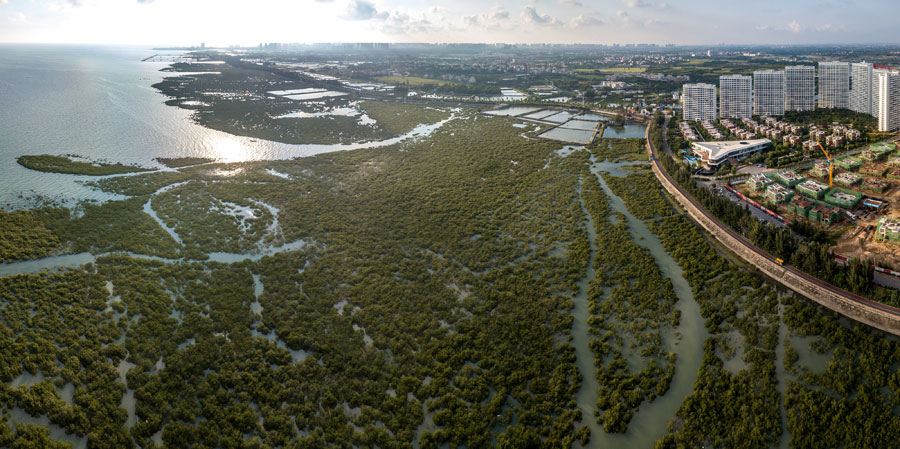 Beihai, a coastal city in the Guangxi Zhuang autonomous region, has made great efforts to preserve mangrove trees, which play a key role in protecting marine biodiversity.
To protect the mangroves, Beihai has adopted multiple approaches, including legislation, creation of reserves and restoring wetlands in recent years, said Feng Feng, a staff member in the Golden Bay Mangrove Ecotourism Zone.
The zone is a wetland reserve dedicated to the protection of the salt-tolerant mangroves, which can endure the harsh conditions at the seaside.
Cutting mangroves is prohibited in the protection zone, and patrols are carried out regularly to prevent violations, said Feng, adding that special areas have been designated outside the reserve for fishermen.
"Protecting mangroves in the reserve is not easy, as the forests are close to the urban center and human activity," Feng said.
To protect the species, the city has banned polluting industrial operations around the protection zone and has drained fish ponds that were built on former mangrove swamps to return the land to the trees.
Beihai is home to more than 10 percent of China's mangroves and has established eight conservation zones.
The trees are sometimes called "ocean guardians" as they protect marine biodiversity, safeguard coastal areas from erosion and storm surges, and improve the marine environment. Mangrove swamps also provide habitat for fish, crabs, mudskippers and egrets.
However, over the past half-century, more than 70 percent of mangrove forests in China have vanished because of human activity.
Feng said that in the past, many residents of Beihai would cut down mangrove trees to build fish ponds. It wasn't until the early 21st century that their awareness of environmental protection was enhanced and such activities ceased.
Feng said Beihai has also been trying to revive mangrove forests through artificial cultivation. Every year, more than 40,000 mangrove seedlings are planted in the coastal swamps. The survival rate of the seedlings is less than 5 percent because the plants are demanding and don't tolerate pollution, Feng said.
A regulation on the protection of mangroves legislated by Guangxi is set to take effect in December. Under the regulation, land reclamation projects are strictly forbidden in mangrove areas, and cutting them down or doing other damage to the trees is not tolerated.
As a result of the conservation efforts, mangrove areas in Beihai have increased from more than 3,100 hectares in 2002 to more than 3,400 hectares.