Companies showcase innovative drugs
Share - WeChat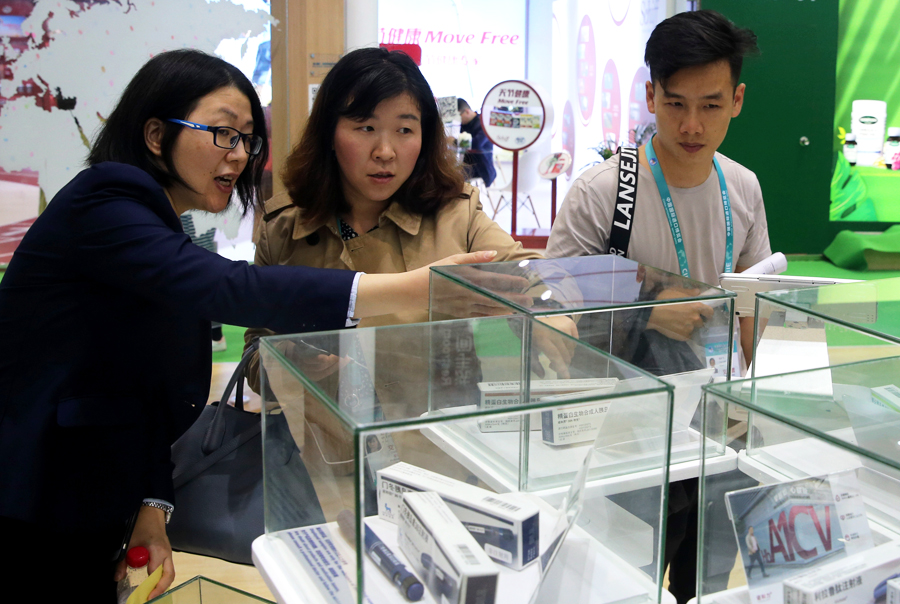 Chinese government has sought to accelerate listing of medications
The ongoing China International Import Expo offers a great platform for global pharmaceutical companies to strengthen cooperation with China and give their businesses fresh momentum, industry executives said, as the country works to provide quality and accessible healthcare products and services.
Many are showcasing their most advanced innovations and technologies, ranging from rare disease medication to precise healthcare solutions, in the Medical Equipment and Health Care Products Hall, to further tap the fast-growing Chinese healthcare market.
The market is expected to reach 16 trillion yuan ($2.32 trillion) by 2030, according to the Healthy China 2030 blueprint released by authorities in October 2016.
China is the world's second-largest pharmaceuticals market, and it is forecast to grow from $108 billion in 2015 to $167 billion by 2020, representing an annual growth rate of 9.1 percent, according to the 2016 Top Markets Report Pharmaceuticals (Country Case Study), released by the United States' International Trade Administration in 2016.
Total public and private healthcare expenditure reached $640 billion in 2015 and is expected to almost double to $1.1 trillion by 2020, as the government rapidly expands universal insurance coverage, it said.
CIIE brings together companies and organizations from around the world, with a raft of supply-demand matchmaking events, industry symposiums and product-launch events.
"Sanofi is demonstrating its outstanding global R&D achievements through this new platform, strengthening cooperation with Chinese stakeholders, and delivering on its commitment to cater to the health needs of the Chinese people as it plays a more active role in China's health ecosystem," said Jean-Christophe Pointeau, country chair of Sanofi China.
In 1982, the French company became one of the first top international healthcare companies to set up an office in China.
Its 300-square-meter booth at the expo showcases its pipeline of new products, innovative integrated healthcare solutions and multifaceted collaboration projects, including six innovative drugs and vaccines being shown for the first time in China.
"CIIE is a rare opportunity to exchange ideas with partners inside and outside the industry to jointly explore how to provide high-quality healthcare products and treatment solutions for the Chinese people," said Pointeau, who is also chairman of the research and development-based Pharmaceutical Association Committee, an organization representing multinationals in China.
Thanks to the government's efforts to accelerate listings of innovative drugs, Sanofi is developing and introducing drugs to China more quickly, he said, adding at least 16 products and medicines are expected to be launched in the country by 2025, especially in the areas of cancer, chronic diseases, rare diseases and vaccines.
It has already introduced more than 40 high-quality innovative drugs and vaccines to China, covering seven of the country's 10 deadliest diseases, including cardiovascular disease, cancer and diabetes.
Before CIIE, Sanofi adjusted its organizational structure to create a China and emerging markets global business unit, which Pointeau said showed the growing importance of China, the company's second-largest market.
Pointeau, also a member of the Committee of Sino-French Entrepreneurs, said Sanofi will strive to list innovative drugs and vaccines in China simultaneously with or even ahead of listings in Europe and the US.
Novartis Group China, an affiliate of the Swiss healthcare giant, is displaying its groundbreaking medicines and technologies at CIIE, including a number of innovative medicines for heart failure, respiratory disease, blood diseases, lung cancer, kidney cancer and breast cancer.
It is also demonstrating its CAR-T cell therapy Kymriah-an immunotherapy for cancer-and molecular visualization technology that combines virtual reality to help researchers study complex molecular structures, design innovative drugs and accelerate development of new drugs.
On Tuesday, the company kicked off a diabetic eye disease prevention and control project, using artificial intelligence technologies to help interpret images of the back of the eye. "CIIE is an international trade-exchange platform, and we value the opportunity to bring Novartis' diversified products and globally cutting-edge healthcare solutions to Chinese people," said Yin Xudong, president of Novartis Group China.
The Chinese branch of Takeda, a Japanese pharmaceutical company that entered China in 1994, is using smart technology at CIIE to deliver the message that it is patient-focused, innovation-driven and a global player.
Takeda, the biggest Asian pharmaceutical company, said it plans to list more than seven innovative drugs in China in the next five years, covering digestion, neuroscience and oncology. "New products listed in China will be more than in any other country in the world. The Chinese market has always been at the core of our global development strategy," said Shan Guohong, president of Takeda China.
Christine Zhou, senior vice-president at Novo Nordisk and president of the Danish multinational's China branch, said CIIE provides an open platform for all economies and major pharmaceutical companies to showcase themselves, exchange ideas and seek cooperation.
"China's pledge to further open its market to foreign companies tremendously improves the country's economic development, making the Chinese market one of the most attractive in the world," Zhou said.
"The continuous opening-up leads the healthcare industry in the direction of encouraging innovation, focusing on quality and emphasizing efficiency."
In the next seven to eight years, Novo Nordisk plans to bring 10 innovative medicines to the Chinese market to treat a range of illnesses.
Wang Ying contributed to this story.