CIIE - A platform for 'new era, shared future'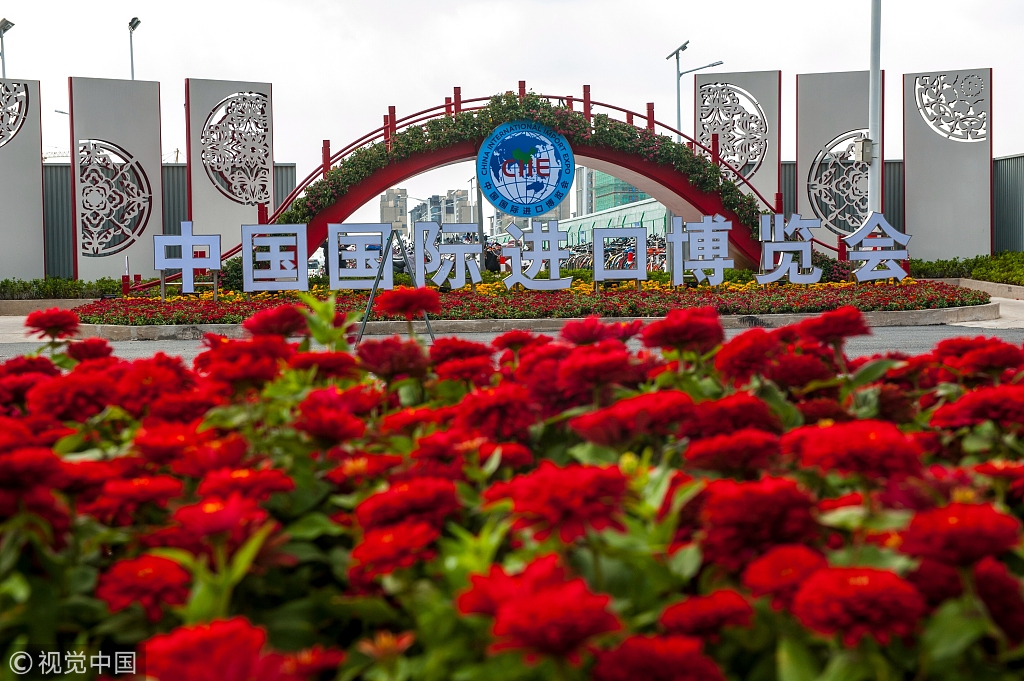 In May 2017, President Xi Jinping announced at the Belt and Road Forum for International Cooperation that China would hold China International Import Expo (CIIE) in 2018.
The Ministry of Commerce and Shanghai Municipal People's Government will host CIIE from November 5 to10 with the support of World Trade Organization, United Nations Conference on Trade and Development, and United Nations Industrial Development Organization. More than 2,800 companies from over 130 countries and regions, including all the G20 member states, as well as high-level political dignitaries, business leaders and heads of international organizations from around 150 countries and regions will participate in the event. Meanwhile, Beijing will send a delegation of 4,741 companies – 1,018 State-owned companies, 789 local companies from Chaoyang district and 297 from Haidian district – to the CIIE.
The CIIE offers national pavilions on trade and investment, which display trade and investment achievements of participants, including latest development, industrial conditions, investment environment, culture and tourism and specialty products.
The section of trade in goods includes six exhibition areas: High-end Intelligent Equipment; Consumer Electronics & Appliances; Automobile; Apparel, Accessories & Consumer Goods; Food and Agricultural Products; Medical Equipment & Medical Care Products.
The section of trade in services comprises Emerging Technologies, Service Outsourcing, Creative Design, Culture & Education, Tourism, Logistics and Comprehensive services.
The CIIE carries much weight for the world in general and for China in particular and will change China from the "world's factory" into the world's manufacturing products and support its "go global" and "bring in" policy. With the world's largest population, China is the second-largest economy and the second-largest importer and consumer in the world. Now China has entered a development stage at which consumption keeps increasing, indicating enormous potential for the growth of consumption and import. In the next five years, China is expected to import products and services valued at more than $10 trillion, which provides a historic opportunity for enterprises across the world to enter the huge Chinese market.
"There are very few industries in the future where companies can, and will be able to compete on a global basis or even in their home country, if they are not in the Chinese market, being in touch with the latest trends, or the latest problems or challenges," Robert Kuhn, chairman of the Kuhn Foundation, is cited as saying. On the other hand, with the entering of global market to China, there will be a more competitive environment and the domestic companies will feel to be more productive and innovative in their production.
The participation of Xi, who will deliver a keynote speech, and leaders of 18 countries unfolds the significance of the event for the public. It is believed that Xi will reiterate opening wider to the outside world, bilateral and multilateral cooperation, openness and inclusiveness, mutual cooperation for strengthening the Silk Road Economic Belt and 21st Century Maritime Silk Road – which were put forward by Xi in 2013 – and building a community of shared future for mankind.
The upcoming event, which places emphasis on opening wider and exchanges between China and the rest of the world, will bring a new hope for the countries along the Belt and Road. Viewing China's firm decision and huge economic capacity and development, the BRI members will believe that the China-proposed initiative will come into reality. Thus, they will also take more practical steps through aligning their trade and economic activities in the frame of BRI to catalyze the fulfillment of this initiative. In short, this event is an international public good in promoting the BRI, economic globalization and inclusive and mutually beneficial development, offering a Chinese plan for building a community of shared future for mankind, as the theme "New Era, Shared Future" suggests.
Exhibiting trade in service also includes cultural shows (sculpture, painting, music, dance and opera) and overseas intangible cultural heritage (folk art, folk music, folk dance and fold handicrafts) and education, said officials from China International Import Expo Bureau while addressing media delegation in July at National Exhibition and Conventional Center – the world's biggest single structure and exhibition complex in Shanghai. Thus, the event will facilitate the participating countries to showcase their cultural products, too.
All in all, building a community of shared future is in strong need of openness and multilateral trade and land-based and oceangoing routes, similar to the Silk Road Economic Belt and Maritime Silk Road, to be connected globally for trade and commerce. A community with shared future should be open and inclusive, encourage global economic development, and pave the road for cultural exchanges, these are all the objectives behind the CIIE.
The author is an Afghan journalist and freelance writer based in Beijing.
The opinions expressed here are those of the writer and do not represent the views of China Daily and China Daily website.
Most Viewed in 24 Hours
China stories