Bollywood actor Aamir Khan expresses condolence on Chinese novelist Jin Yong
Share - WeChat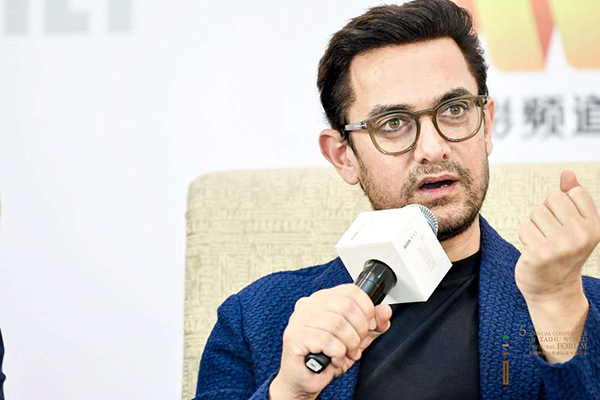 Bollywood actor Aamir Khan expressed his deep condolence on the death of popular Chinese martial arts novelist Louis Cha.
The novelist, also known as Jin Yong, died at the age of 94, on Tuesday, after fighting with several health issues.
His death left a shock in many literature lovers, among them popular film and literature persons across the world have been expressed their thoughts.
As a former journalist and newspaper editor, Cha was considered as the grandfather of Chinese martial arts, or wuxia, fiction. He was known for writing the Legends Of The Condor Heroes series of books.
Aamir Khan, star of popular Indian film Three Idiots, shot to fame in China for his movie "Dangal" also posted on Weibo about Cha's passing, professing himself a fan of Cha.
His post reads, "I am very saddened to hear the sad news of Mr Louis Cha passing away. His book The Deer and The Cauldron gave me a lot of joy. I read it just a few months back. I wish I could have met him. He has given so much joy to so many generations. I am his big fan. I would like to offer my heartfelt condolences to his family. May he rest in peace."
Aamir has always admired Cha for his works and the kind of inspiration he had felt reading Cha's novels. In a former interview with Xinhua Aamir were too vocal about Cha's works.
Moreover, In an interview with a Chinese private channel Aamir mentioned his affection to the novel The Deer and The Cauldron, one of Cha's popularly acclaimed novels.
Cha's works were largely set in the world of the jianghu, a pugilistic society where martial arts exponents travel China trading blows, teaching skills and upholding a strict code of honor.
He was one of the best-selling Chinese authors, with more than 300 million copies of his works sold worldwide. Hence, not only for Aamir but also Cha is an inspiration for people across the world. This makes his loss consider as a remarkable void to an era.
Most Popular