Dalian Port sets ambitious agenda for transformation
Share - WeChat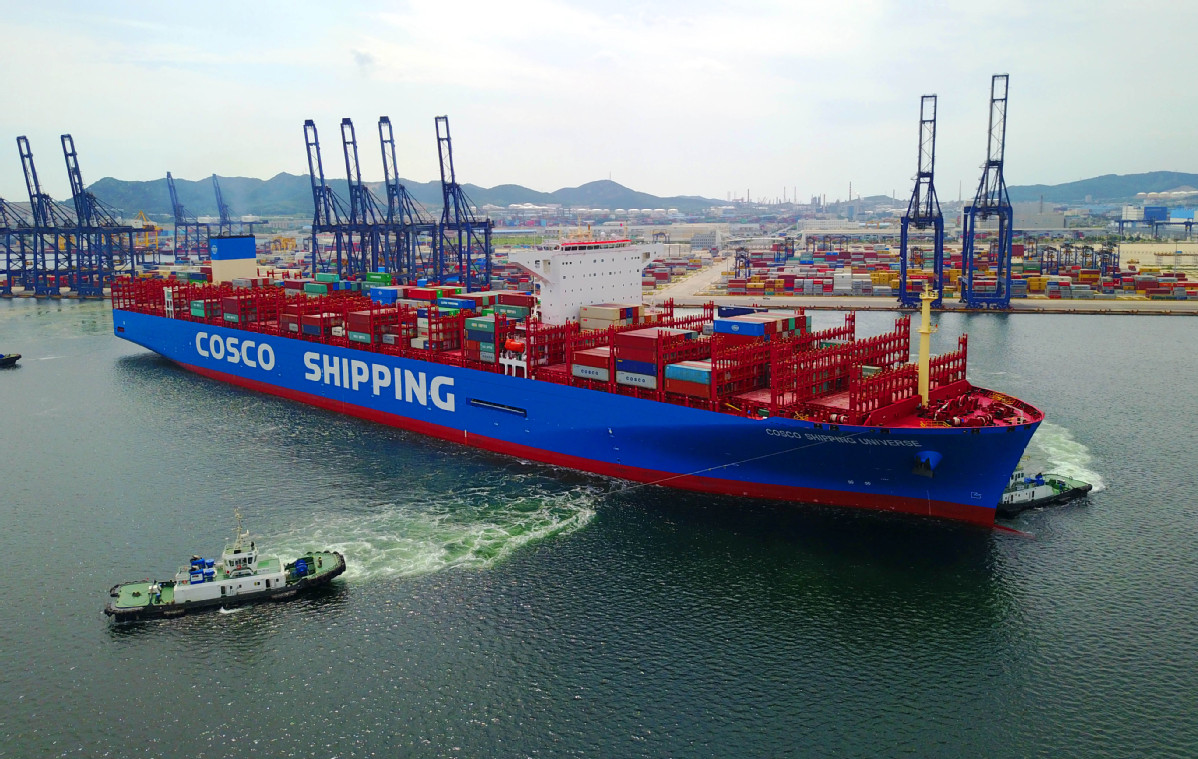 City says it will seize chance to promote industry to new level in modern logistics
Yu Bing, 44, started his career as a terminal operator at Dalian Port in Liaoning province. In 1993, few ships visited, and Yu's monthly salary was only 400 yuan ($57).
All that has changed.
China's reform and opening-up policy, which started in 1978, has brought a boom in State-owned business to China's northeastern provinces, and many companies hired a large number of workers to expand their factories and enhance their market presence.
In 2003, the central government proposed the revitalization of northeastern China, including a plan to build Dalian into an important international shipping center for Asia. Business at the port started to pick up.
By the time Yu was working as director of the dock control tower in 2004, more than 100 ships arrived at the port on average every week.
Now Yu is director of terminal operations and manages 18 tracks at Dalian Container Terminal Co, a subsidiary of Dalian Port Group.
He has witnessed the port's transformation from a beach full of oysters to a modern distribution center of 1.96 million square meters in Dayaowan Bay.
The terminal processed 9.7 million containers in 2017, more than 13 times that of 1992, according to the city.
With more than 300 routes, Dalian port has since become one of the biggest ports for international trade in China, connecting 116 cities at home and abroad.
However, with rapid development of technology and a shortage of coal, the port nowadays faces the potential challenge of losing its market leading position.
Dalian saw throughput of 460 million tons of cargo last year, and revenues generated from the port business has contributed to more than half the city's total economic growth.
Major reconstruction of the port began as Dalian burgeoned into a multicargo transition center. For example, except for traditional minerals and container transportation, cars and large mixed minerals became the major commodities for export.
Zhang Chunsheng, deputy director of the business department at Port of Dalian Group, said the number of suppliers increased as the market grew.
"The company felt much more pressure than before to provide more market value," he said.
In 2003, the port group, a State-owned company operated by the Ministry of Transport, has been taken over by the Dalian municipal government. Since then, the group has expanded its business portfolio to new categories of cargo, including soybeans, to compete with neighboring smaller ports.
Focusing not only on international trade, the port has taken on more social responsibility in the booming market.
In 2006, Dalian Port Limited Co, a part of the Port of Dalian Group, listed shares in Hong Kong and Shanghai. It was the first listed port company in the country.
For Yu, the company worker, the changes have been positive. His annual salary, for example, climbed to 280,000 yuan.
By 2015, more than 97.8 percent of international containers from three provinces in Northeast China have moved through Dalian Port, according to local officials.
The port's development has played an important role in the city's economic development. During the 12th Five-Year Plan (2011-15), customs revenue in Dalian increased annually by 15.9 percent, significantly boosted by the port.
However, in recent years, coal and petroleum resources have dwindled in the region, resulting in less cargo volume for Dalian Port. The port is now ranked No 8 among all ports in China.
It has striven to adopt advanced technology to rejuvenate business. According to Zhang, the port has applied an electronic custom reporting system to help shipping companies shorten their transit time.
"But the improvement of the entire port system will take more time and effort," Zhang said.
Located in the Dalian Free Trade Zone in Jinpu New Area, a new economic zone set up by the central government in 2014 to boost the local economy, the port has also attempted cooperation with local companies for future development.
Li Xiaochao, deputy director of Jinpu New Area, where the central harbor of Dalian port is located, said industrial upgrades and new technological development will play an important role in the district's improvement.
Li said he welcomed other new industries in Jinpu New Area as a way to boost the local economy and to provide new opportunities.
The municipal government promoted a construction plan to build Dalian into an international maritime center in 2016, aiming to set up a pilot zone for revitalization in 10 years.
In 2017, the port handled 455 billion tons of cargo, up by 4.3 percent year-on-year. Fixed-asset investment hit 1.15 billion yuan.
According to the municipal government, Dalian will seize the opportunity to promote the port industry to a new level in modern logistics and harbor development in the future.