How to turn mud into gold
Share - WeChat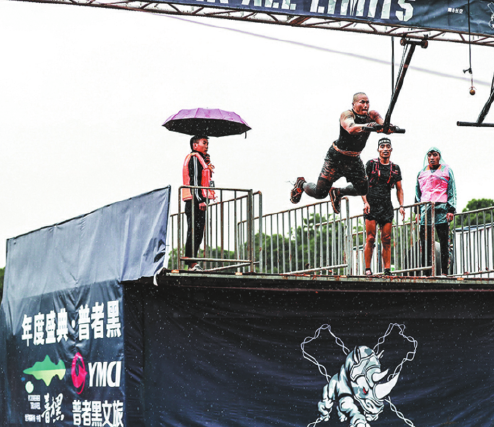 While regular marathons have become ubiquitous in China, athletes and organizers crave more exciting and innovative ways to promote the cities that host races.
One of the more stylish variations is the X-Mudder obstacle race, which on Saturday featured 2,000 competitors plodding, splashing, climbing and crawling through a muddy "battlefield" for 500,000 yuan ($72,000) prize money at picturesque Puzhehei scenic area in Qiubei county of Wenshan Zhuang and Miao autonomous prefecture in Yunnan province.
The area boasts clusters of limestone peaks, karst caves and natural lakes.
Combining extreme physical and mental challenges and an incredible natural setting, the Puzhehei race marked the final stop of the X-Mudder season after similar events in Shanghai, Beijing, Chengdu of Sichuan province and Kunming of Yunnan province.
Huang Sichen, founder of Beijing Beetle International Sports & Culture Co Ltd, which organizes the X-Mudder series, said: "Next year we will have deeper cooperation with our partners in building a leisure sports industrial belt. Our goal is to make people want to visit the towns or counties that host our races maybe a month or two ahead of the event."
In cooperation with Yunnan Puzhehei Culture Tourism Development Co Ltd, the course and facilities that were used will be left in the county to build a leisure sports park to help facilitate development of local tourism.
"The X-Mudder race matched our development goal of promoting a healthier lifestyle and local tourism," said Yuan Shengneng, deputy head of Qiubei county.
The Puzhehei course offered three levels of challenge: ultimate, classic and family race.
The ultimate race was the most difficult in the event's history, with 800 runners challenging the muddy 25-km track and 40 obstacles, including high walls, a swamp and an ice river.
Not everyone was able to finish - which only served as motivation to try again next year.
Sun Jian, a competitor from Shanghai said: "I will train harder in terms of my physical endurance and strength when I go back home. The next time I'll reverse the shame of not finishing the race."
That's exactly what the organizer wants.
"X-Mudder is an extreme test that requires the challengers to have great physical coordination and mental strength," said Huang.
"One of our priorities is to promote a healthier lifestyle to match our country's national fitness program. Also, we are considering making the race international. This year we only had around 20 foreign runners, but we want more in the future."
The X-Mudder is also a boon for local tourism.
Chen Gang of Beijing traveled with his family to enter the race and enjoy Puzhehei's scenery and hospitality.
"I am a hardcore X-Mudder runner and I participate in the Beijing stop each year," said Chen. "Apart from being attracted by the final challenge of the year, I also wanted to take my family to have a great holiday in such a picturesque area."