Delivering connected future in China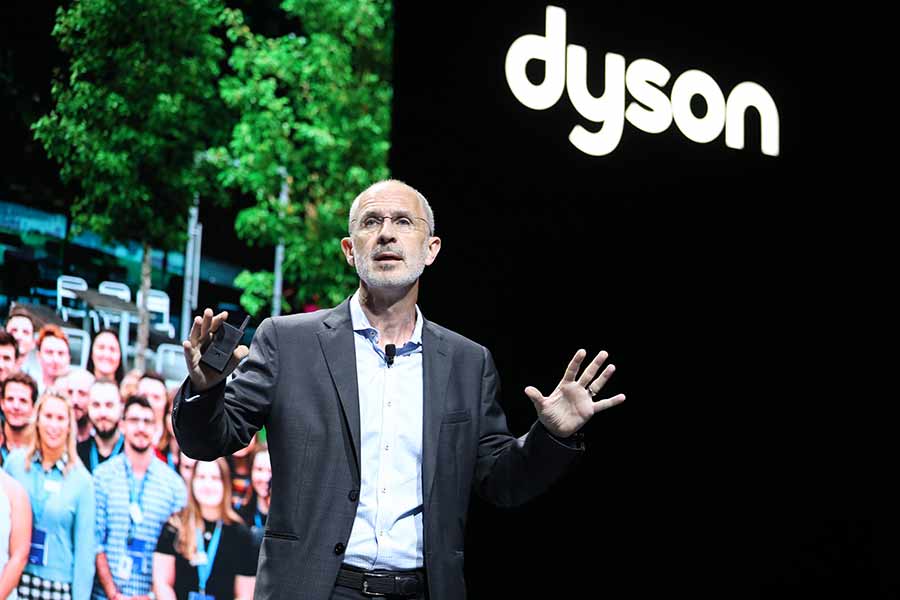 Jim Rowan leads British tech firm Dyson's efforts to offer smart appliances to Chinese consumers
Jim Rowan, CEO of British technology company Dyson Ltd, plans to grow the number of its stores from 710 in 50 Chinese cities this year to 1,000 by 2020 across China.
Chinese consumers have a growing demand for smart and connected household appliances, he said.
In light of the increased affluence of Chinese people, the country's ongoing consumption upgrade, and the younger generation's strong purchasing power, Dyson introduced three products in the China market recently.
Its dust-cleaning robot, an air-purifier that can also blow hot or cold breeze, and a desk lamp with a 60-year life cycle and capability to support the user's body clock, made it to retail shelves in mid-September.
"Even though we have managed robust sales in China so far, we found that Chinese customers are incredibly inquisitive and hungry for information. They want to embrace new technologies and are fairly open to disruptive products," he said. "Therefore, we must act fast to seize all the market opportunities to retain robust growth."
Rowan has been visiting China frequently ever since he was named the company's global chief executive in October last year. He said Dyson, in addition to launching vacuum cleaners and environment control machines, will seek to boost sales of its various products like heaters and electronic beauty products in China.
"After five years of development, we think the Belt and Road Initiative has drastically cut the time to trade goods between Asia and Europe. The advantage in logistics is obvious," said Rowan, who previously served as Dyson's chief operations officer for five years.
Currently, about 35 percent of Dyson's components come from China, and they are shipped to the companies' plants in Southeast Asian countries including Malaysia and the Philippines. Supported by over 350 employees, the company's head office for China is located in Shanghai. Its staff size will be further expanded, Rowan said.
Eager to understand more about China as well as making China understand Dyson, the group opened a new technology lab in Shanghai last year. Dyson's research and development center followed a 200-percent sales surge in China.
The R&D unit is part of the company's 2.5 billion pound ($3.2 billion) global expansion plan, evidence of Dyson's increasingly fruitful dealings in Asian markets.
With China becoming its second-largest market by sales after the United States, Dyson's annual turnover surged 40 percent year-on-year to $4.82 billion in 2017, which yielded a profit of $1.1 billion, up 27 percent year-on-year. It has over 11,750 employees globally, including more than 4,450 scientists and researchers.
Rowan said Dyson Demo - it is a space engineered to encourage visitors to pick up, test and experience the company's products - is currently focused around Shanghai, Beijing and Hangzhou. The company also has boutique stores in these cities and another two in Guangzhou.
About 10 million product demonstrations will be delivered by Dyson's staff at its retail outlets this year.
Besides deploying resources in top-tier cities, Dyson will open 19 shops in Chengdu, Tianjin, Chongqing, Qingdao and Wuxi next year.
The Wiltshire-headquartered group also discovered that unlike markets in Japan and Europe, where people still prefer to visit the store to select their products, half of its business transactions in China are completed on e-commerce platforms using smartphones.
"As we grow in China, so must our ability to localize apps and software, bringing technology online quicker than ever before," Tom Bennett, head of Dyson Shanghai Technology Lab, said. "As a country, China is right at the forefront of an intelligent machine revolution, so we will be seeking its brightest minds to join us in shaping the connected Dyson technology of the future."
Rowan said he hopes Dyson will export self-developed electric cars around 2021. The company said it will invest 200 million pounds to create labs and over 10 miles of testing roads at the end of August 2019. The facility will be established at the former Hullavington Airfield in England. The company will inject 2 billion pounds investment in the electric vehicle project over the next few years. It expects the first car to roll off the production line in 2021.
Even though the prices of foreign brands are higher than those of domestic ones, wellknown brands such as Dyson command loyal fans in China. The trend is boosted by China's huge consumer base, a fast-growing e-commerce business, fast 4G networks and the expected launch of 5G networks in the near future, said Sun Fuquan, a researcher at the Beijing-based Chinese Academy of Science and Technology for Development.
Rowan started his electronics career in 1986 as a manufacturing engineer, after majoring in mechanical and production engineering, and electrical and electronic engineering, at Glasgow Caledonian University and the Glasgow School of Technology respectively. He likes to play tennis with his four children aged between 13 and 21 during his off-time.