Neighbors must make concerted efforts to fully embrace treaty
Share - WeChat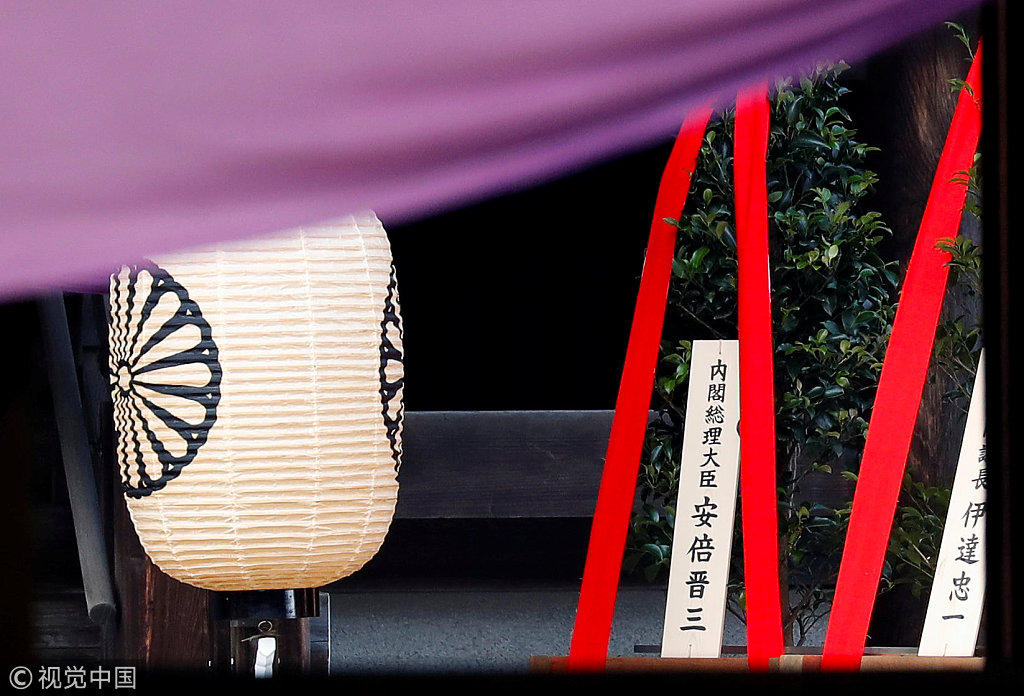 Premier Li Keqiang has officially invited his Japanese counterpart Shinzo Abe to visit China from Thursday to Saturday. It will be the first official visit to China by a Japanese prime minister in seven years.
During Abe's stay in China, China and Japan will observe the 40th anniversary of the signing of their Treaty of Peace and Friendship and hold the first forum on their cooperation in exploring third-party markets.
Li's visit to Japan in May was one of the steps that warmed the ties between the two East Asian nations.
Hiroaki Nakanishi, chairman of the Japan Business Federation-Japan's most powerful business lobby-visited Beijing in September and October, accompanied by Japanese business leaders. He expressed willingness to deepen economic exchanges with China.
The ruling parties of the two countries-the Communist Party of China and the Liberal Democratic Party along with its coalition partner the Komeito-held their regular dialogue in Hokkaido on Oct 10. Toshihiro Nikai, the LDP's secretary-general, said Japan gives a high appraisal to China's Belt and Road Initiative and is willing to promote dialogue and cooperation between the two countries.
In his meeting with Song Tao, head of the CPC's international department, in Tokyo, Abe said exchanges of views between the ruling parties is important for bilateral ties. He added that Japan wants to join hands with China to move the ties forward, develop cooperation with China on specific projects in every area and strengthen political trust.
Leaders of the two countries have agreed that the relationship is returning to a normal track. A view shared by people in China.
An annual opinion poll jointly conducted by China International Publishing Group and Japan's NPO in August and September showed that 40 percent of Chinese had a good impression of Japan. It was the highest percentage since the survey was conducted in 2005. Only 26.4 percent of people in China had a worse feeling of the neighboring country, down by 23.3 percent in 2017.
Chinese have a different view of Japan nowadays because an increasing number of them have toured the country. Japan was the favorite destination Chinese tourists visit during the weeklong national day holiday. More than 4.05 million people from the Chinese mainland toured Japan in the first half this year. Japan's tourist agency expects more than 40 million travelers from China by 2020.
However, Japanese perceptions of China have remained unchanged in recent years, with 86.3 percent of them having a bad impression of China and only 13.1 percent having good words for China this year.
The 2018 Tourism Highlights Report released by the United Nations World Tourism Organization found that China attracted 60.7 million international travelers last year, the fourth on the list of top 10 international tourist arrivals. But China is not an attractive destination for Japanese. Their knowledge of their large neighbor is from Japanese media.
Forty years ago, China and Japan signed the Treaty of Peace and Friendship, officially putting an end to enmity. It is the time to revisit the document and boost ties as trust between the two countries remains scarce.
More than 79 percent of Chinese take Japan as a military threat to their country. And 56.1 percent of people in China expect a military conflict between the two countries, compared with 27.7 percent of Japanese seeing it that way.
In the China-Japan Treaty of Peace and Friendship, the two countries pledge to settle all disputes by peaceful means and refrain from the use or threat of force.
At the 14th Beijing-Tokyo Forum held in the Japanese capital on Oct 14-15, security specialists from China and Japan were direct, no-nonsense in their assessments of the military ambitions of each other's country. Chinese military experts questioned Japan's free and open Indo-Pacific strategy and the Japan-US alliance, while their Japanese counterparts remarked on China's defense budget and endeavors to protect its sovereignty in the South China Sea.
China and Japan still have a lot to do to clarify doubts and build trust.
The author is China Daily Tokyo bureau chief. caihong@chinadaily.com.cn
Most Viewed in 24 Hours
China Views