Westlake University a model of reform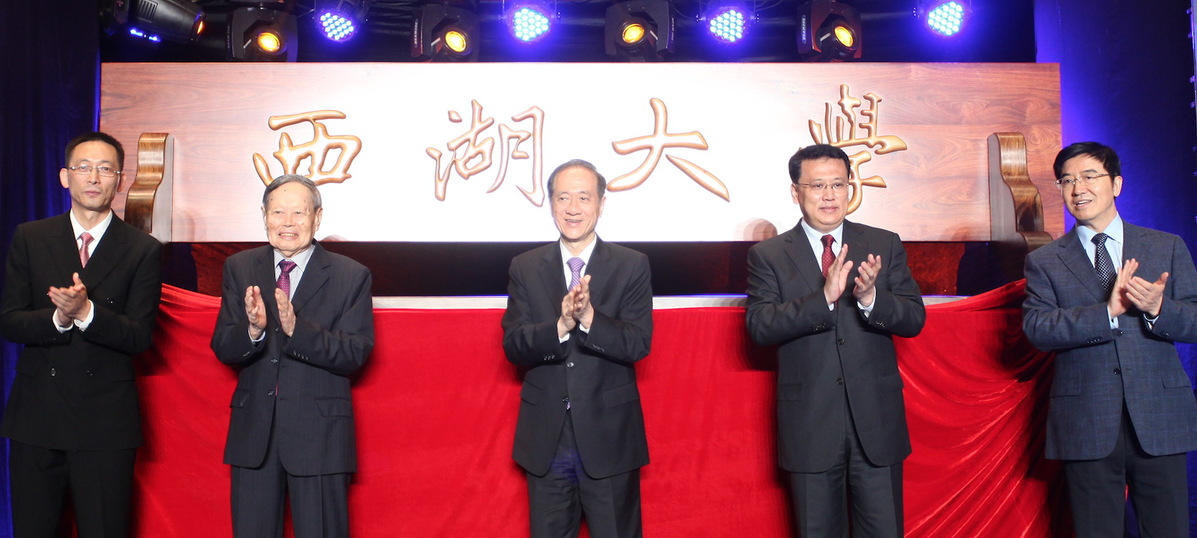 Private college in Zhejiang province will set pace for innovation, ministry says
The founding of Westlake University, China's first private university aimed at cultivating high-level talent in advanced technology, marks a significant step in efforts to reform the higher-education sector and foster innovation, the Ministry of Education said.
In a congratulatory letter sent for a founding ceremony on Saturday, the ministry said it hopes the university will focus on basic advanced scientific research and become a top higher-education institution with Chinese characteristics.
The presidents of more than 50 universities attended the ceremony in Hangzhou, Zhejiang province, along with Nobel laureates Yang Zhenning, James Watson, Jean-Marie Lehn, Brian Kobilka and Fraser Stoddart.
Shi Yigong, president of Westlake University, said the university aspires to become a pioneer in China's higher-education reform and a cradle of innovative talent in advanced science and technology.
"We want to build the university into a truly international higher-education institution," he said.
Initiated by a team of seven top Chinese academics, including Shi, a Princeton University-trained molecular biologist, the university won approval from the Education Ministry in February.
Expectations have been running high, as it will be China's first private university to grant doctorates. One aim is to rival international counterparts such as Rockefeller University and the California Institute of Technology, both in the United States.
Construction of the main Yungu campus, in Hangzhou's Xihu district, began in April. The first phase of construction covers 450,000 square meters and is expected to be completed by the end of 2021.
The university launched a global recruitment campaign for academics in July 2016 and has received more than 5,000 applications. So far, it has recruited 68 academics from 13 countries to teach physics, chemistry, engineering, biology and basic medicine, among other subjects.
The first 19 PhD candidates were enrolled in September last year, with a further 120 arriving in August.
"It's a common aspiration for all of us that Westlake University-like Hangzhou's West Lake-will win acclaim at home and abroad, and eventually become one of the world's leading universities," Che Jun, Party secretary of Zhejiang, said at the founding ceremony.