A foodie's landmark in Chengdu
Share - WeChat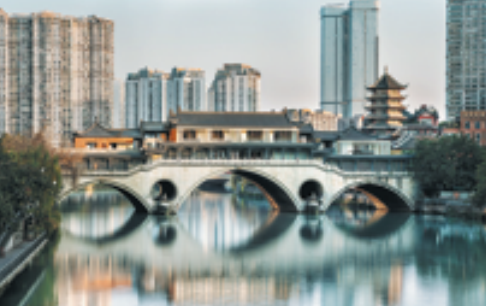 The Bridge, located at Anshun Bridge-one of Chengdu's most important historical landmarks-is the first restaurant project on the Chinese mainland by Chinese chef, Andre Chiang.
The origin of the bridge, depicted in Travels of Marco Polo, can be traced back to the 13th century. Hundreds of years later, The Bridge is a symbol of the dramatic changes witnessed by Chengdu over the years.
The interior of The Bridge was created by the founding partners of design agency Neri& Hu, Lyndon Neri and Rossana Hu.
The restaurant is their first project in southwestern China, and their design concept envisions a "hanging lantern" to recall the clarity and unity of the historical building.
Throughout the restaurant, imagery of Chinese mythological creatures offer a tangible link with the history of Anshun Bridge and Chengdu as a whole.
The restaurant, which can seat 270 guests over two floors, is divided into the 150-seat Salon de Bridge dining room, the reception lounge and two private dining rooms-Hanging Lantern and The Currents.
The restaurant offers both set menus and a la carte dining.
Chiang's exclusive "four chapters" set menu takes guests on a culinary journey in the style of a traditional Chinese banquet.
"We need to follow the way in which nature guides us and bring out the best flavor from local produce," says Chiang.
"My goal for The Bridge is to render into experience-for all senses and dimensions-the most intrinsic elements of Sichuan flavor."
The food that executive chef Li Hongshun provides presents a diverse perspective of Sichuan cuisine-from classic dishes and modern molecular gastronomy to obscure historical recipes thought to be lost to the mists of time.
Most Popular