Huawei pins hopes for growth on Mate 20 Pro
Share - WeChat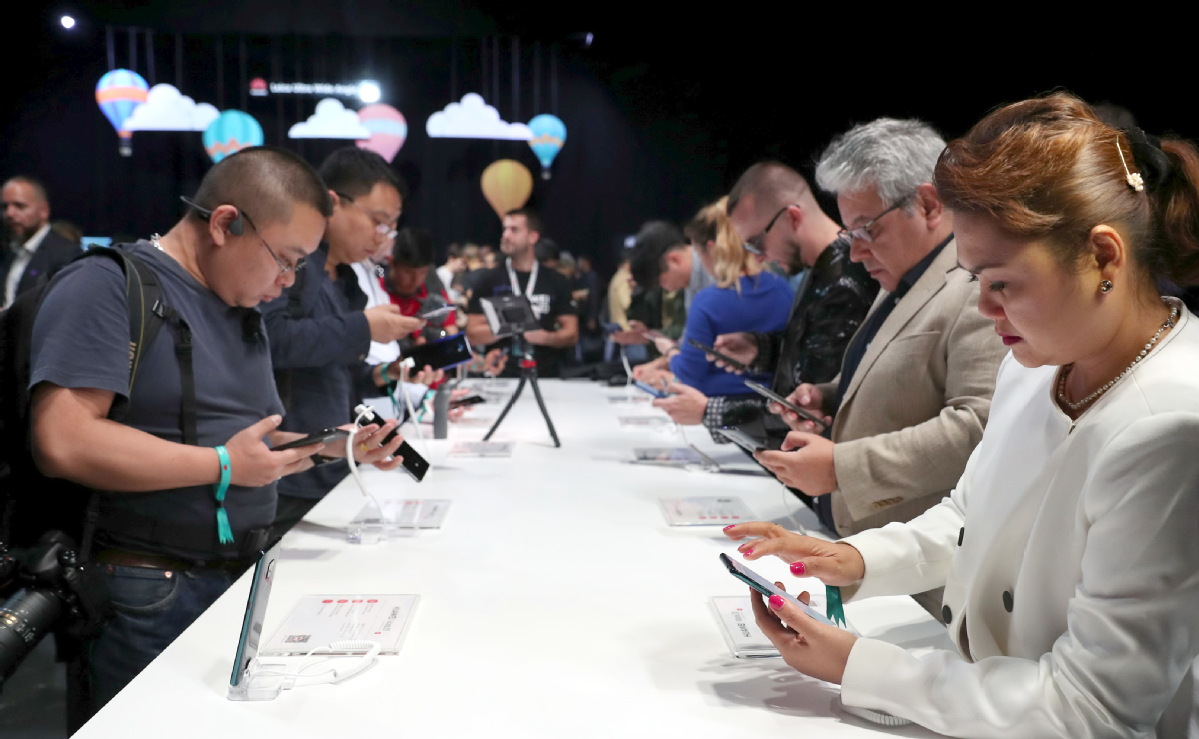 London launch marks firm's biggest push to differentiate from rival products
Huawei Technologies Co Ltd, which overtook Apple Inc as the world's second-largest smartphone vendor in the second quarter, has unveiled its most powerful product in London, as it steps up efforts to maintain its growth pace.
The Mate 20 Pro, priced at 1,049 euros ($1,214), is designed to compete with the iPhone XS Max and Samsung Technology Co's Galaxy Note 9. It is arguably Huawei's biggest push to differentiate its device from rival products by bringing a handful of unique features to the table.
Huawei is now China's largest telecom equipment maker. After beating Apple in terms of quarterly global smartphone shipments, the Shenzhen-based company is aiming to ship 200 million smartphones this year. That is roughly the same as Apple's annual shipments of 200 to 210 million units.
The flagship handset, unveiled on Tuesday night, features facial recognition security solutions similar to the iPhone XS Max. But it comes with a plus, an in-screen fingerprint sensor, which allows users to unlock their handsets either way.
On top of three rear-facing cameras, the Mate 20 Pro has an artificial intelligence engine that can scan real-life objects and turn scans into an animated emoji. The premium device can also wirelessly charge other phones, setting it apart from other smartphones which look and operate increasingly the same.
Nicole Peng, senior director of market research company Canalys, said the Mate 20 series marks a steady improvement from its predecessors. And they are positioned as Huawei's major weapon in the fourth quarter when consumers tend to spend big money on new gadgets.
"In addition to Apple, Huawei is the only high-end brand for domestic consumers. As long as it has a steady progress in products, its market share will rise," Peng said.
But more efforts are needed for Huawei to ramp up its marketing campaign in overseas markets. Also, attention must be paid to the growing similarity between its own Mate and P series sub-brands, which may dent the other's sales, she added.
Huawei said it has so far sold more than 10 million of its last-generation Mate series smartphones.
As of June, the company had a record high share of 15.8 percent of the global smartphone market, with Apple accounting for 12.1 percent, according to market research company International Data Corp.
Data for the third quarter has yet to be published and it remains to be seen whether Huawei can beat Apple in annual shipments, given that it is encountering growing challenges in the United States, a market of great importance to realizing its global ambitions.