Italian performance style finds home in China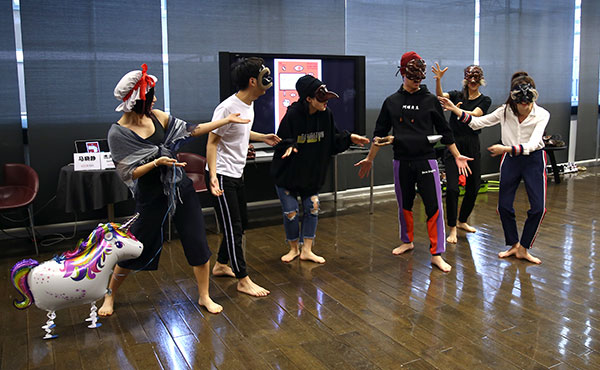 Culminating in six young Chinese actors showcasing a scene from William Shakespeare's A Midsummer Night's Dream, a nine-day workshop led by British actor Geoff Beale concluded in Beijing on Oct 7.
Armed with a few masks Beale, along with Chinese director Zou Shuang and a teacher from the Beijing Film Academy, Ma Xiaojing, demonstrated the Italian commedia dell'arte tradition, which he has been practicing for over two decades. At the workshop, he tries to inspire young Chinese actors with the well-worn comedy approach.
"Here we have masks which tell different genders, personalities and functions," Beale said. "I am particularly excited about one mask, a monkey face, which is exactly like the role in Chinese legend, Monkey King."
When he puts on the mask, he uses his physical movements rather than language to showcase the character.
>"This is the chemistry of a mask from hundreds of years ago which rsonates with people from different countries now," he added.
Beale and Howard Gayton co-founded the Ophaboom Theatre Company in London in 1991, which specializes in creating and performing contemporary works in the commedia dell'arte tradition.
With origins in the 16th century, commedia dell'arte started as street art, which has performers use stock characters to create a vibrant, highly physical performance.
"The audiences are not quiet. They are part of the show," Beale said.
Having intensively trained with artists specializing in physical theatre and commedia dell'arte, including Antonio Fava and Carlo Boso, Beale believes the art form is still relevant today, not only to the audience but also the actors.
"It offers the actors a different way to discover themselves. When they put on the masks, they forget about themselves. It's a process of gaining confidence," Beale said.
He added that by working with Chinese students and teachers, he realized the Chinese language has a great deal of "possibility, creativity and complexity".