Alibaba's Jack Ma takes rich list crown
Share - WeChat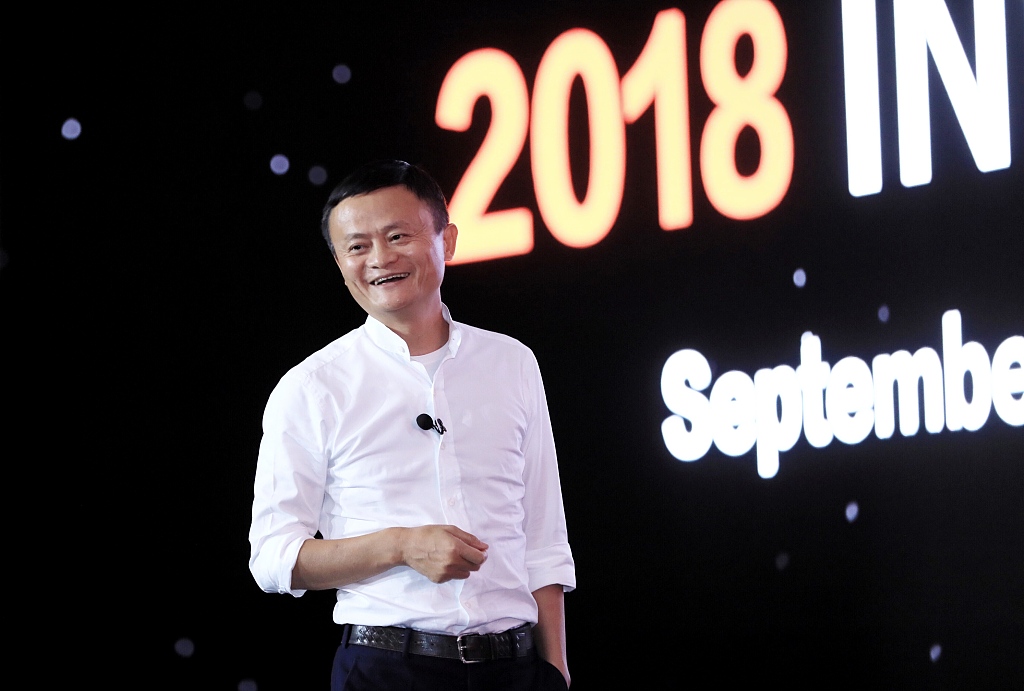 E-commerce giant Alibaba's founder Jack Ma topped the 2018 Hurun China Rich List released on Wednesday, the second time he has reached this pinnacle of wealth in the past four years.
Ma and his family's wealth increased by $10 billion to $39 billion, on the back of a hike in the valuation of online payment arm Alipay's mothership Ant Financial.
Alibaba's market value reached $390 billion by the end of September, making it the most valuable company established in China and one of the 10 largest companies globally. The value of Ant Financial exceeded $100 billion.
Last year's No 1, Xu Jiayin, chairman of real estate developer Evergrande Group, was demoted to second place this year, with his wealth shrinking $6 billion to $36 billion. However, his company's sales in the first half of this year rose 25 percent to exceed $40 billion.
Technology giant Tencent's founder Pony Ma dropped one place to third with a personal wealth of $35 billion. This is the first time that his fortune has shrunk since he first made it onto the list in 2005.
Rupert Hoogewerf, chairman and chief researcher at Hurun Report, said this can be largely attributed to Tencent's share price decline due to the central regulator's tighter controls on the total number of digital games in the market.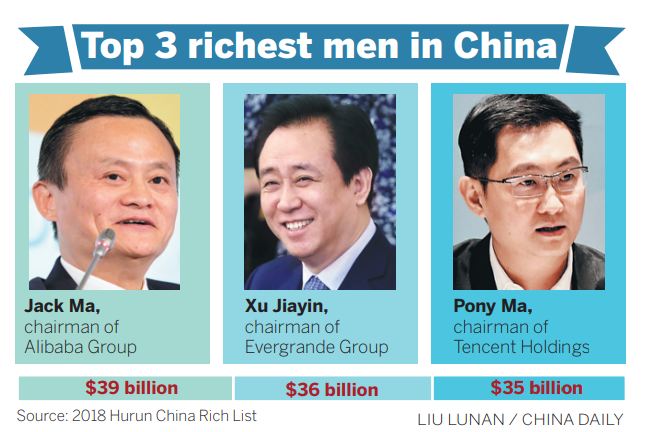 The Hong Kong-listed company has shed nearly 40 percent in market value so far this year. It registered a decline for the ninth consecutive day on Wednesday by closing at HK$286.4 ($36.5). While it jumped to be one of the top five companies in the world in terms of market value at the beginning of this year, along with Apple Inc and Microsoft Corp, it has now been squeezed out of the top 10 list.
The top 10 billionaires on the latest list created seven Fortune 500 companies. Hoogewerf said these rich people have created "globally influential companies".
There were 219 new faces on this year's rich list, led by 38-year-old Huang Zheng, founder of e-commerce company Pinduoduo. Huang started Pinduoduo only three years ago and his personal wealth has now surged to $14 billion, putting him at 13th on the list.
According to Hoogewerf, Huang made his wealth grow over 100 billion yuan ($14.4 billion) in the shortest time period.
However, this year only 1,893 individuals made it onto the list, which has a threshold of 2 billion yuan, down 11 percent from the total number of 2,130 last year. This is the first downsizing of the list since 2012.
Hoogewerf said the almost 20 percent decline in A shares so far this year and trade tensions between the United States and China were the main reasons for this.
The manufacturing industry generated the most billionaires on the latest rich list, which is the fifth time in a row, followed by real estate, investment and information technology.