Reviving an old beat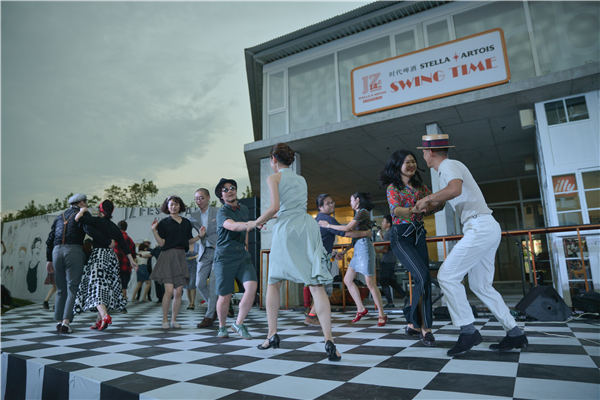 JZ music, with its festival, night club and music school is quickly cementing Shanghai's position at the epicenter of China's growing jazz scene.
It's the Autumn Equinox and a bright full moon hangs in the sky. Jazz instrumentalists serenade her with colorful riffs and rhythmic sounds, which reverberate through the air filled with the scent of fresh grass as women in vintage dresses practice swing dance moves with their male partners. That was the scene at a Shanghai campsite on Sept 23, which sought to reproduce the atmosphere of the Paramount Hall in the 1930s-when the American Jazz movement finally reached China and the music was frequently performed by bands in city nightclubs.
The party, which oozed nostalgia, was a snapshot of the 14th JZ Festival Shanghai, where audiences could enjoy the musical feast presented by jazz maestros from both home and abroad, including American saxophonist Branford Marsalis, Spanish trumpeter Andrea Motis, Chinese singer-songwriter Li Quan, and pop diva Yuan Yawei, who is well-known for her soulful, signature jazzy music.
The two-day jazz festival, the biggest in China, originated at a local bar, named JZ club.
The first JZ club, located in the vicinity of the Shanghai Conservatory of Music, usually attracted students from the conservatory, many of whom have now become influential musicians.
Chinese trumpeter Li Xiaochuan was among the venue's frequent visitors in the early 2000s.
"I went there almost every night when I studied at the conservatory. It's where I learned the rudiments of jazz," recalls Li.
Similarly, Li's schoolmates Chang Shilei and Zhao Ke, used to perform at the club and have since become well-known respectively as a singer-songwriter and a jazz singer, after performing on TV talent shows.
"I'm glad to see more young people starting to listen to, and play, jazz music," says Ren Yuqing, founder of JZ Music.
Ren opened the club in 2004 to offer a stage for jazz musicians, and initiated the festival in 2005 to "enjoy high-quality music with more people".
As a bassist himself, he says he is always ready to gather more people who share his passion for jazz to "play music and stay young".