JollyChic brightens China-Middle East online Silk Road
Share - WeChat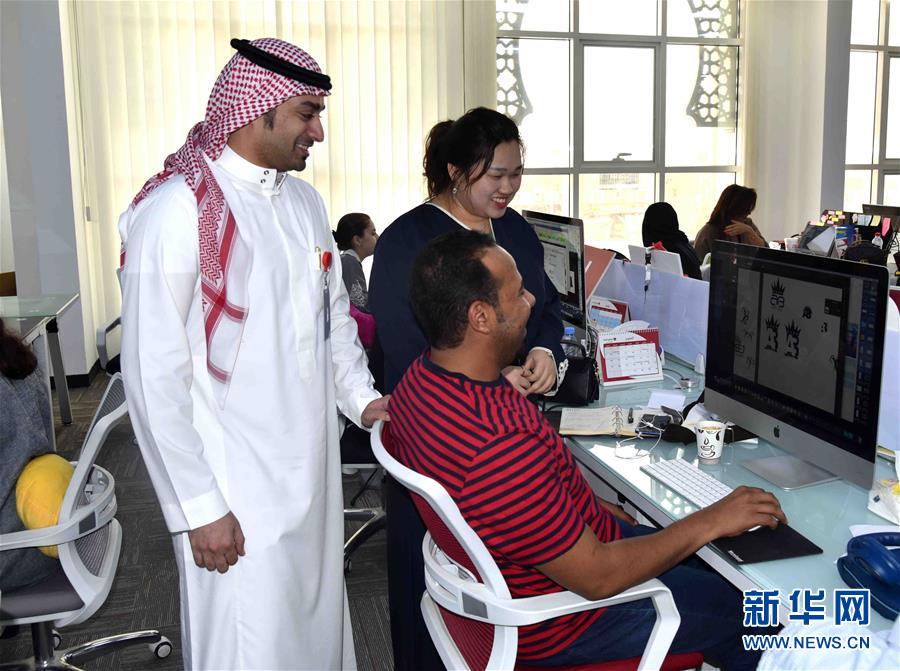 RIYADH - "I buy things on JollyChic many times, because prices are cheap, quality good and (home) delivery fast," said Lima Khalid, 25, a Saudi Arabian female employee at a local company.
JollyChic is not a Saudi Arabian online shopping site; rather, it is an online retailer operated by a Chinese e-commerce company named Jolly Information Technology Co Ltd based in China's eastern city of Hangzhou, Zhejiang province.
JollyChic is so popular that it has become the top e-commerce company in the Middle East, including Saudi Arabia, with more than 35 million registered users by the end of 2017.
"JollyChic is popular across the country, and nearly every online buyer here knows it," said Abdu Lahman, a student at King Saud University.
JollyChic is just one example showing the footprints of Chinese e-commerce companies in the Middle East, where online shopping is a fast growing market.
Manufacturing is rarely based in the Middle Eastern oil-producing countries such as Saudi Arabia and the United Arab Emirates - they largely depend on imports of daily necessities.
Through cooperation with local enterprises, Chinese e-commerce companies such as JollyChic have been successful in the recent years in building an online Silk Road linking China with the Middle East.
They have earned profits while benefiting the consumers in the Middle East, allowing them to buy inexpensive and fine products at home.
Typically, a JollyChic warehouse in the Saudi capital Riyadh houses commodities that are arranged for dispatch to households. These include Chinese-made clothes, shoes, bags, home decoration articles and appliances.
"JollyChic entered Saudi Arabia in 2013, and topped local online shopping market just in a few years. Besides advanced data process technology, warehouse establishment and cooperation with cyber celebrities is crucial to marketing," said JollyChic's CEO Li Haiyan.
In order to promote Jolly-Chic, the company makes use of the social media in the region and cooperates with more than 1,000 online celebrities to promote its brand to over 60 million customers.
As mentioned by Khalid, JollyChic is usually the top choice for many customers in Saudi Arabia to buy stuff online, as products on the website are attractive in both quality and price, in addition to its fast delivery service.
In Riyadh, Jolly set up warehouses of more than 100,000 square meters, with a stock of over 15 million pieces of commodities. They are able to deal with up to 1.4 million items in a day, Li said.
Such warehouses enable Jolly to shorten the delivery time to two days from the previous 10 to 15 days, Li said.
"By 2020, the company plans to construct warehouses with more than 1 million square meters, with a capacity of storing 100 million pieces of commodities and processing 800 million pieces in a year," said Li.
Abdul Aziz, a Saudi Arabian reporter, explained that the majority of his compatriots are low-and middle-income consumers, who enjoy buying quality goods at reasonable prices online.
"We like the Chinese-made goods as they have good quality and are affordable," Aziz said.
Li said at the physical stores in Saudi Arabia, low-and medium-priced commodities are also usually made in China, but JollyChic still offers a price advantage over them.
JollyChic's annual sales have been growing year by year, and now more than 200,000 pieces are sold every day.
Encouraged by its success in Saudi Arabia, JollyChic has expanded its business to neighboring countries, including Jordan, the UAE and Bahrain. It has already set up similar warehouses in Dubai and Bahrain.
The success of the Chinese e-business firms in the Middle East has created a lot of job opportunities for Middle Eastern countries, and helped spur the local economy.
In the Middle East, half of the top 10 e-business companies are from China. These Chinese companies are estimated to have created more than 5,000 jobs.
Jolly alone employs 600 local staff in Jordan, 350 in Saudi Arabia, and about 100 in the UAE and Bahrain.
Sulaiman Azmi, a Saudi Arabian manager of human resources at Jolly's local branch, said the country is seeking ways to help young people find jobs, especially for women who find it hard to find jobs in the conservative nation.
Jolly hires women for positions like copywriter, designer and accountant, thus training a number of professionals for some countries in the region, Azmi said.
Li expressed confidence about Jolly's future in the Middle East. The region will prosper in e-commerce thanks to continued capital inflows and the creation of new startups.
Last year, real estate group Emaar Properties of the UAE announced an investment of $1 billion in creating a Middle Eastern version of China's Alibaba Group, a leading online retailer, internet and artificial intelligence company.