Judge, Sanchez summon thunder to ignite Yankees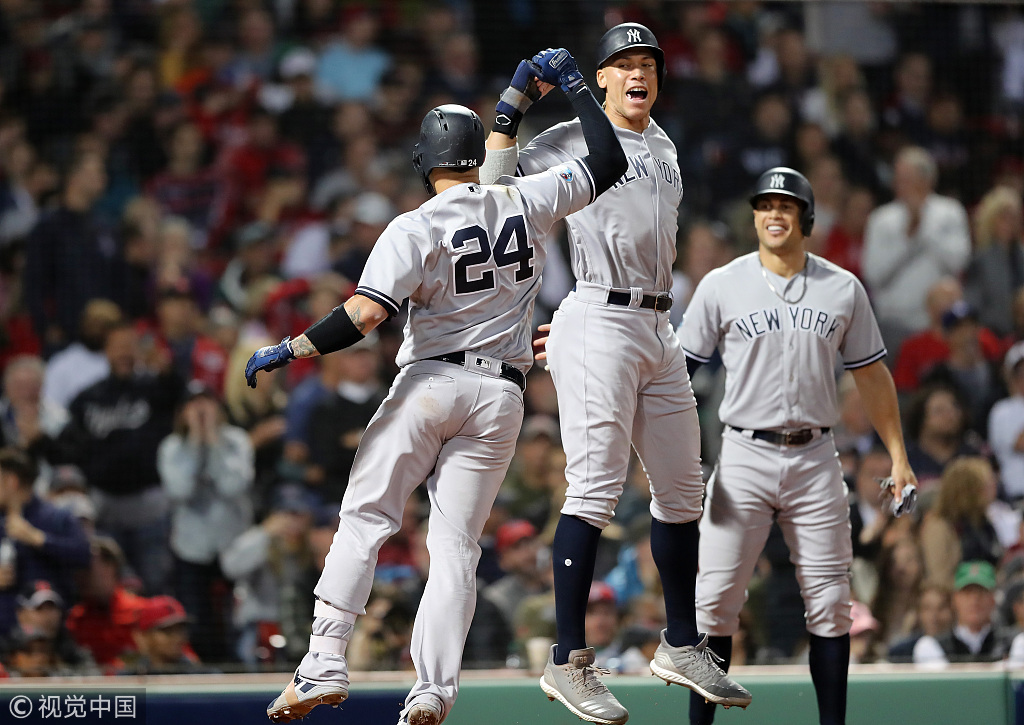 BOSTON-Aaron Judge helped chase David Price by blasting a first-inning home run to a part of Fenway Park where baseballs rarely travel.
Then Gary Sanchez did him one better.
The Yankees catcher, who tested his manager's confidence with a sub-.200 batting average and poor defense for most of the season, slugged a pair of homers-the second a 479-foot shot out of the stadium that sent New York to a 6-2 victory over the Boston Red Sox on Saturday night and tied their AL Division Series at one game apiece.
"Just a monster night," Yankees manager Aaron Boone said. "You know Gary's capable of that. We all know he's capable of that. That's kind of what we've been waiting for to some degree, where he can take over a game on offense. He was huge, obviously."
One night after Chris Sale earned his first career playoff victory, Price failed in his 10th try to win a postseason start and was booed off the field after five outs by a sold-out Fenway Park crowd hoping to see the AL East champions protect the home-field advantage they earned with a franchise-record 108 regular-season wins.
Instead, the wild card Yankees will have a chance to advance to the AL Championship Series with victories at home, where they are 7-0 over the past two postseasons.
Games 3 and 4 are on Monday and Tuesday nights. Game 5 would be back in Boston on Thursday, if necessary.
Judge's homer, estimated at 445 feet, landed in the back row of seats above the Green Monster, high above the 379-foot marker.
The blast was the longest homer of the postseason so far-until Sanchez's second round-tripper, aimed in the same direction, sailed clean out of the park and onto adjacent Lansdowne Street.
Just a few feet away from that spot is a plaque noting that only six home runs in the 106-year history of Fenway Park have cleared the back wall on the other side of the flag pole.
The last was by Red Sox legend Jim Rice in 1975.
Sanchez also had a solo shot in the second inning to give New York a 2-0 lead. Price then walked back-to-back batters with two outs and gave up Andrew McCutchen's RBI single on what could be his last pitch in a Red Sox uniform.
The 2012 AL Cy Young Award winner-and two-time runner-up for the award-Price signed a seven-year, $217 million deal to come to Boston as a free agent before the 2016 season and has pitched like an ace at times in the regular season.
But his postseason struggles have caused Boston fans to sour on him. He can opt out of his contract after the season, and if he can find something close to the four years and $124 million he is owed, he might just take it.
In all, Price was charged with three runs on three hits and two walks in 1.2 innings-the shortest playoff start of his career, and tied with Roger Clemens for the shortest in Red Sox postseason history.
It was the first time in 299 regular season and postseason starts that Price failed to strike out a batter.
"I just want to win. That's it," Price said. "My main goal is to win in the playoffs, to win a World Series.
"Whatever I need to do to help us do that, I'm fine with. But I know I'm more than capable of winning games as a starter in October. That's what I look forward to doing."
Yankees starter Masahiro Tanaka allowed just three hits, including Xander Bogaerts' solo homer, before leaving after five innings with a 3-1 lead. He struck out four and walked one.
Bad blood
Red Sox reliever Ryan Brasier had words with Sanchez in the fifth, when the Yankees catcher stepped out of the box to think about the 1-2 count against him. Brasier motioned impatiently for Sanchez to get back in the box, then yelled at him to comply.
Sanchez struck out on the next pitch, a 97 mph fastball. But when he came up again in the seventh, he broke the game open. Sanchez had three multihomer games in the regular season, none after May 19.
The teams have Sunday off before resuming the series in New York on Monday night.
Luis Severino is scheduled to pitch for the Yankees against Rick Porcello or Nathan Eovaldi.
Associated Press