Chinese investment embraced across US Midwest as trade battle intensifies
Share - WeChat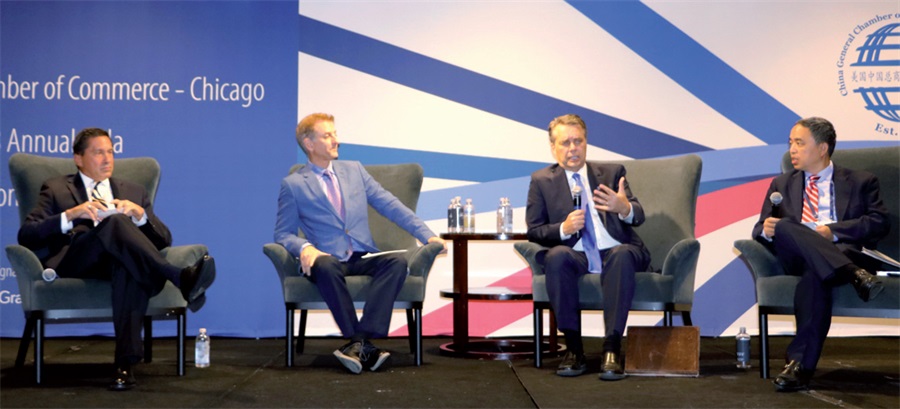 Two days after US President Donald Trump announced tariffs on another $200 billion of Chinese products, representatives from eight major cities in China were in Chicago on Wednesday, exploring investment opportunities in the Windy City and nearby regions.
They were welcomed by officials from nine US Midwestern states and business leaders from across the country, hearing an upbeat message in contrast to the talk of tariffs.
"We appreciate the very strong relationship we've had with China," said Kansas Governor John Colyer at the annual gala of China General Chamber of Commerce's Chicago chapter, which drew more than 400 people.
The chamber's Chinese member companies all together have invested $20.3 billion in nine Midwestern states — Colorado, Illinois, Indiana, Iowa, Kansas, Michigan, Minnesota, Missouri, and Wisconsin — from 2000 to 2017, creating more than 45,000 jobs, according to the chamber.
"We want a world where there is more trade and investment between both countries," said Colyer. "To get there, we need to take the current situation as an opportunity."
China is Kansas' third-biggest trade market, trailing Canada and Mexico. Agricultural products are Kansas' biggest export to China. Kansas has enjoyed a sister-state relationship with China's Henan province since 1981.
Xie Fuzhan, president of the Chinese Academy of Social Sciences and former governor of Henan province, also attended the gala, leading a group of experts from the academy to discuss the ongoing trade dispute with US scholars.
"China has benefited greatly from opening-up in the past 40 years. We therefore will keep opening up," said Xie.
"People in the two countries will be hurt the most by the tariffs, so the goal for our two countries is to move toward less tariff and even zero tariff, but this is a process and it takes time. We need to negotiate in order to get there," he said.
"I hope this (tariff issue) is short-lived," said Jim Brady, chief operation officer of Grant Thornton, who shared the same panel with Colyer.
"We're the two biggest countries in the world. We certainly have to get along and figure this out," he said.
Grant Thornton is known for its expertise in helping Chinese companies invest in the US. Brady suggests Chinese companies "absorb the culture" of the economies they are investing in and "getting to know the US system and respect it".
Sandy Chu, principal and national leader of Grant Thornton's China Business Group, said that despite current trade tensions, some clients are moving forward with strategic M&A plans or are considering greenfield projects.
Chu said the tariff situation may drive some companies who see the US as their key market to establish manufacturing plants in the US to serve the local market.
Hand Enterprises Solutions, an IT service company that aspires to becoming "the IBM in China", is planning to open a branch in the Chicago area so it can better serve Chinese companies in the Midwest region and explore the potential of providing services to local American companies, according to Ken Chen, CEO of the company's US subsidiary.
At the gala, a team of experts and business executives, brought together by the China General Chamber of Commerce-USA's (CGCC) New York headquarters and led by Michael McDonough, chief economist at Bloomberg, shared key findings of the chamber's 2018 annual business survey and its outlook for future development of Chinese investment in the US.
The survey shows that despite a significant decline of Chinese FDI in the US in 2017, Chinese operations continue to expand in the country, with nearly 60 percent of the respondents saying that their companies' headcount rose in 2017 and they expect to increase their workforce in the next two years.

CGCC member companies – 1,500 of them investing in all industries across the US - also have become more involved in local community affairs. More than 70 percent of the respondents reported having corporate social responsibility programs at their US companies, according to the survey.
Three Chinese companies, CRRC Sifang America, CW Bearing USA and Bank of China, were honored at the gala for contributions to their local communities. They provided school supplies to disadvantaged children, helped local food banks and hosted cultural and art events, respectively.
"The linkage coming from trade and investment between China and the US has been critically important. It has been the glue that has held the relationship together," said Henry Paulson, US Treasury secretary under President George W. Bush and chairman of the Paulson Institute.
It's a nonprofit he established to foster the collaboration between the US and China. Paulson was one of the keynote speakers at the gala.
"The reason I set up the Paulson Institute seven years ago and spend so much time in China is I knew there may be tensions and tough times between Washington and Beijing," he said.
"During times of tension, it is even more important to have interpersonal exchanges, to get together, to get to know each other, and to talk about common interests and common problems.
"It makes all the difference in the world," he added.
Cui Tiankai, Chinese ambassador to the US, sent a letter to the gala. "Business communities of our two countries need to give full play to their entrepreneurship and work together for a future-oriented and steady bilateral relationship," the letter read.
Cui's counterpart, US ambassador to China, Terry Branstad, also addressed the gala through a letter, saying, "Now is the perfect time to bring your business, your jobs and your investments to the United States."