AI to cause big shifts in employment
Share - WeChat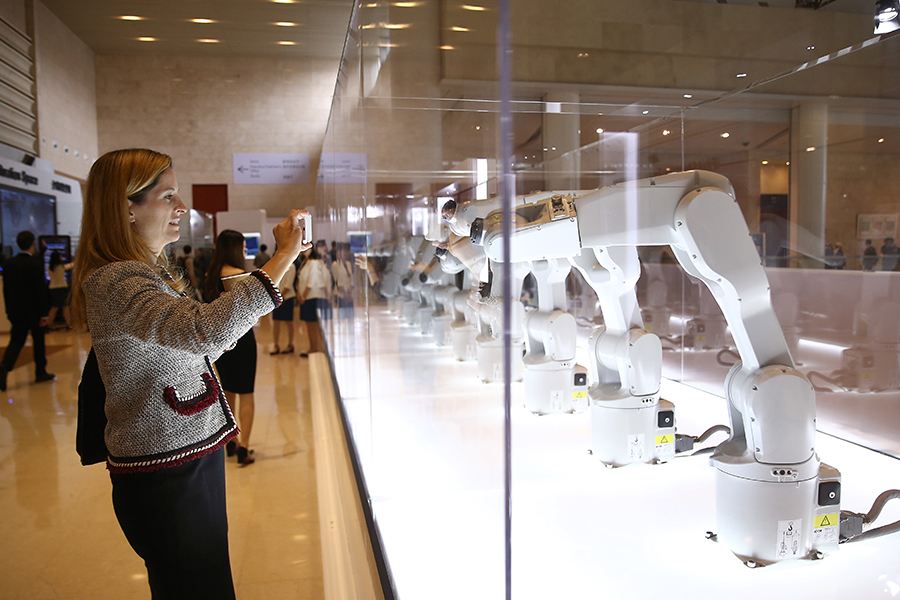 Artificial intelligence will give a net boost to employment in China, free humans from some tedious tasks, and bring about significant changes in traditional sectors such as finance, healthcare, transportation and education, according to industry insiders and business leaders.
AI and related technologies, such as robots, drones and autonomous vehicles, could create around 90 million additional jobs over the next two decades, according to a report released by accounting firm PricewaterhouseCoopers during the Annual Meeting of the New Champions 2018, or Summer Davos Forum in Tianjin.
Around 26 percent of existing jobs in China could be automated over the next two decades, but this is projected to be more than offset by job creation of 38 percent, giving an estimated net gain of 12 percent.
Moreover, services and construction could see the largest net increases in employment, with net gains of 29 percent and 23 percent, respectively, by 2037 in China, offset by estimated net job losses of around 10 percent in the agricultural sector.
"Although the long-term net effect of AI on jobs will be positive for China, the transition to an AI-enabled economy could see considerable disruption to current labor markets, as millions of workers need to switch careers and possibly locations. More efforts are needed to increase the retraining and support for displaced workers," said James Chang, China financial services consulting leader of PwC China.
AI-enabled technologies have been applied in several sectors, such as finance, healthcare, transportation and education. "The work of anti-fraud and auditing can be done well by AI, which is more efficient than manual operation. I believe that in the future, AI will be applied in more industries," Xiao Wenjie, founder and CEO of Lexin Fintech Holdings Ltd, a Chinese online consumer finance platform, said at a sub-forum of the Summer Davos.
Xiao said AI is used in the whole value chain of Lexin's business, including customer acquisition, risk management, fund matching, after-debt management and customer service.
Last year, the State Council issued a plan that set benchmarks for the nation's AI sector, with the value of core AI industries predicted to exceed 1 trillion yuan ($146 billion) by 2030.
Zhou Kui, a partner at Sequoia Capital China, said machines can accumulate, store and learn knowledge at a greater speed than humans, as well as improve the accuracy of diagnosis and treatment and make it easier to train doctors. "We can expect advances in the healthcare sector thanks to AI."
Moreover, education is another important application scenario of AI as machines could undertake one-to-one teaching and offer personalized education in accordance with the characteristics of each student, Zhou added.