Wuxi forum debates big data trends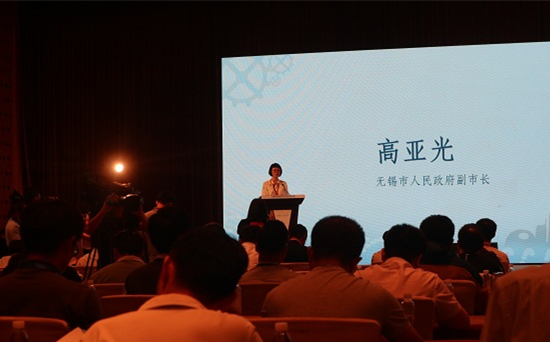 Representatives from business, the media and academia descended on Wuxi, Jiangsu province for the China Big Data Innovation Development Summit, a sub-forum of the 2018 World Internet of Things Exposition on Sept 14.
With around 500 people in attendance, the summit focused on innovation and integration in the manufacturing and big data industries. Experts present also analyzed likely future industry trends.
Wuxi is known for its internet industries, and local officials were keen to talk about the city's achievements.
Wuxi is the first all-optical network city in China and the first city that has realized full coverage of narrow band internet of things (NB-IoT) with over 5,100 NB-IoT base stations, said Gao Yaguang, vice-mayor of Wuxi.
Wuxi is also the first city where the number of IoT devices exceeds the number of mobile phone users, she added. At present, a total of 382 big data firms are based in Wuxi, including adSage, Domob, Huawei and Machine Healthcare Center Co(MHCC), forming a large part of the city's internet, cloud computing and data service clusters, she added.
During the forum, the Chinese Institute of Electronics released the "Industry Big Data Innovation Index", with subsequent discussion focusing on the opportunities and challenges of innovative integration in the big data and manufacturing industries.
Those present at the event were also treated to keynote speeches by high-profile business executives, including Tobias Arndt, general manager of KIT China Branch; Jiang Bo, vice-president of Shandong Luhua Group Co Ltd, and Wang Lu, chairman of Merit Data Co Ltd.
The forum was organized by the secretariat of China Industry Big Data Alliance and Wuxi Association for Science and Technology, under the guidance of the Ministry of Industry and Information Technology.