Dorms' face recognition gets thumbs-up for convenience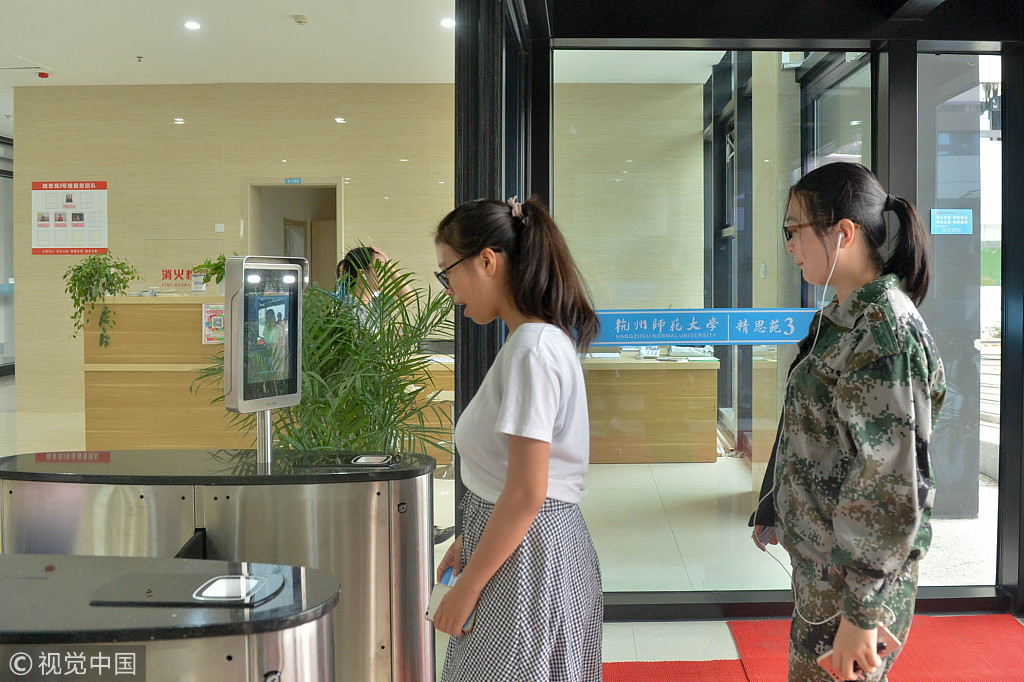 Students at Hangzhou Normal University in Zhejiang province are using face-recognition technology to enter their dormitories, which is seen as improving the university's dormitory management efficiency and better assuring students' safety on campus.
The system, officially put into operation on Sept 1, enables students to enter or exit their dormitories via facial scanning at the entrance, instead of swiping their electronic student ID.
"Back in high school, I could only swipe the electronic student ID card to get in or out of the dormitory. Sometimes when I was carrying luggage or parcels in my hands, it could be trouble," said Yang Feilong, a freshman from the School of Materials and Chemical Engineering. "Now I can have my identity verified simply by standing in front of the camera."
Ge Ruxiong, director of the Hangzhou Normal University Information Center, said the university had input all students' mugshot photos and information into the face-recognition system before the new semester began.
"In this way, when they arrive, they were immediately recognized by the checkup systems at the dormitory," he said.
The system also registers the students' daily entry and exit times, making it easier for dormitory management staff to compile information related to accommodations.
"The system contributes to the real-time security management of visitors and students, thus helping school management authorities in the buildup of an intelligent campus," said Gu Ru, director of the university's Housing Office of Cangqian Campus.
Sun Kejia, a student, said the face-recognition system is very convenient. "With the new technology, there is no need to be worried in case we lose or forget to carry our electronic student ID cards," Sun said. "Some other places in the school are also adopting face-recognition technologies. I can pay through face-swiping at the campus supermarket."
The system will also be used at the university's library and canteens.
In addition, the university is considering promoting face recognition for the classroom to keep track of students' class attendance.
Other universities in Hangzhou, including Zhejiang University, installed similar face-recognition systems earlier this year.
Lin Yiqiao contributed to this story.