Decoding Generation Z at college: Dorm life
Share - WeChat Editor's note: This is the second part of China Daily app's special report - Decoding Generation Z at college, designed to look at a broad picture of campus life for Generation Z, or those born after the 2000, and what they will face, as most are college age.
The first installment (click here to read it) looked at their lives from the perspective of military training, the first lesson for most of college freshmen before they start their academic year. This part touches down on an inevitable part of campus life, for most college students in China, the dorm.
Don't miss it: You'll have a chance to win a gift if you share your dorm life.
大学生宿舍生活,怎能没有好物相伴?文末有惊喜,不要错过哦!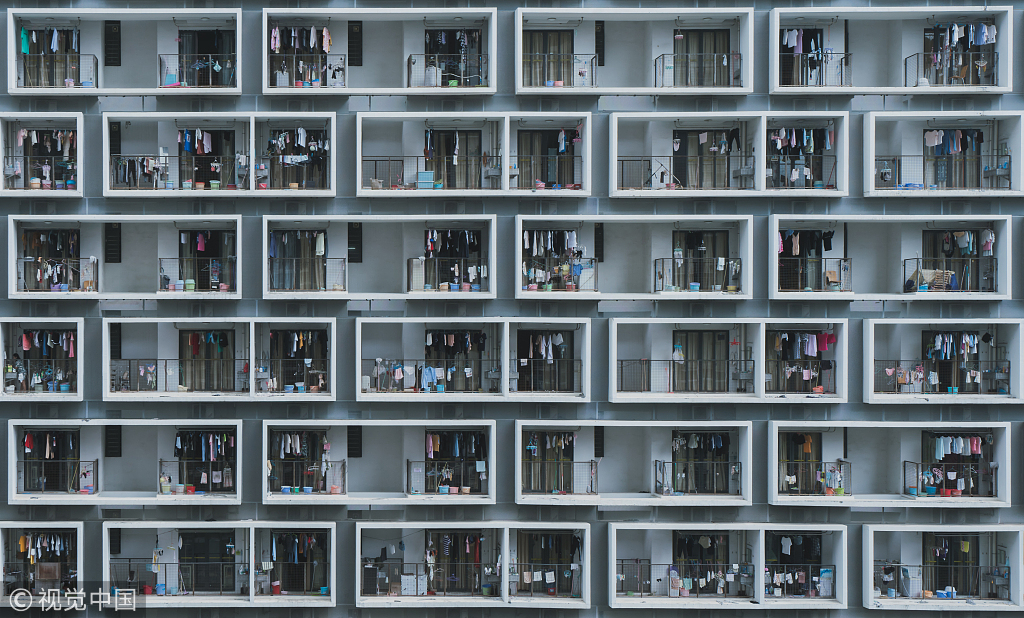 Collective memory
Freshmen are automatically assigned to dorms in China, unlike in the US and some European countries where dorm rooms are like limited-edition fashion items that usually require an application and have a long waiting list.
For Chinese students, it's hard to imagine difficult housing situations in some overseas universities, for example, Heidelberg. The first thing students attend to after being admitted to the centuries-old university is to find their own living space in the increasingly crowded and commercialized German town, which also is a famous tourist attraction.
Therefore, most Chinese college students, if not all, live a gregarious lifestyle on campus, turning dorm life into a well-ingrained collective memory. Years later, as you look back at your four-year college experience, it's always the roommates, the late-night talks with one another, and everyday trivia within the dorm that first come to mind.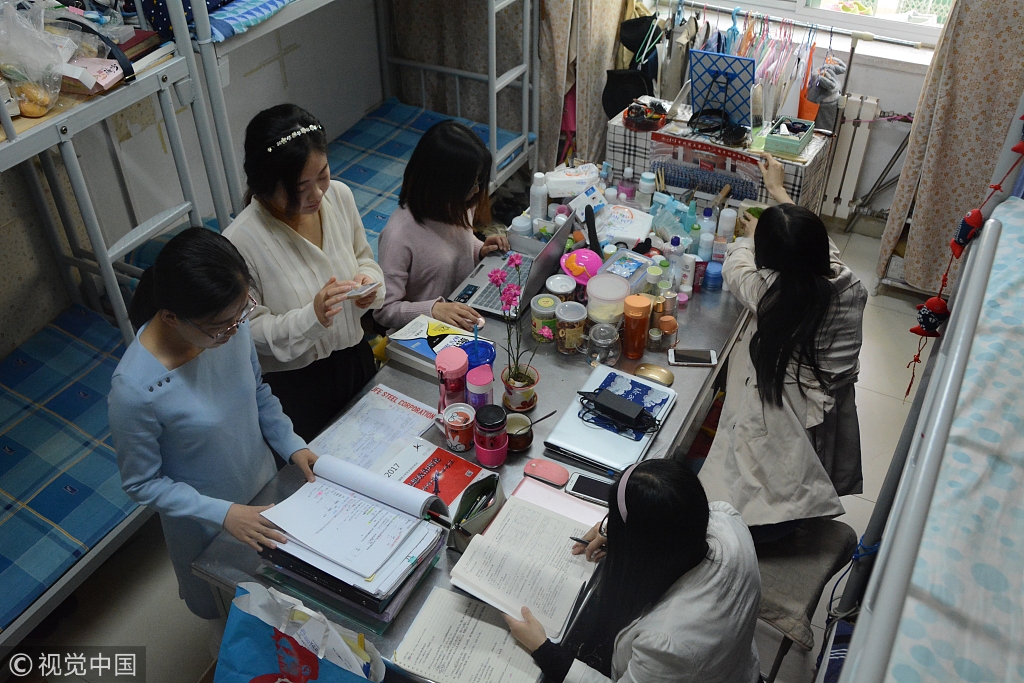 Financial reason
Most Chinese students live in dorms for a financial reason. A dorm unit houses four to eight people, with a shared bedroom and bathroom and no kitchen. In the shared bedroom the beds can be turned into lofts or bunk beds, freeing up the space below for desks and a walk-in closet.
Such a room setting means most of the space is all communal area with little privacy left for each.
Those who want their own bedroom might shake their heads, but the cheap accommodation fees can help them make a quick and easy decision, especially at a time when rent is skyrocketing in big cities.
For example, Tsinghua University charges up to 1,200 yuan ($175) a year for dorm accommodations, while a bedroom in a 3-bedroom apartment with a shared bathroom and kitchen can cost at least 3,000 yuan ($438) a month in Beijing's busy Wudaokou neighborhood, where the university is located.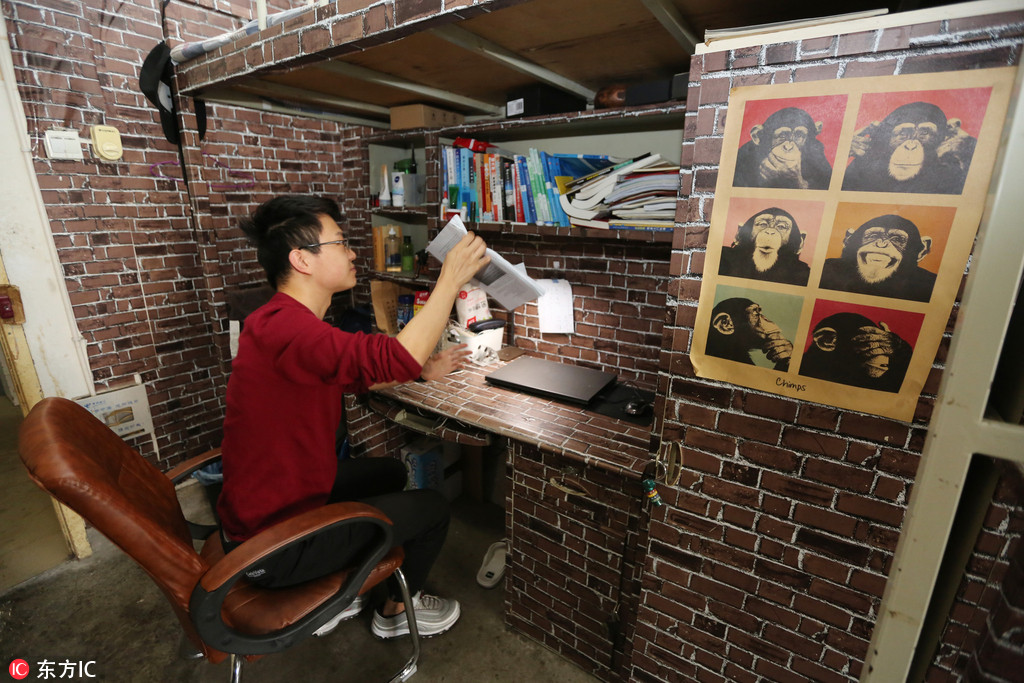 Uni-sex or Co-ed
Dorms in China are officially single sex, with few exceptions. In August, some graduate students in Hohhot, North China's Inner Mongolia autonomous region, reportedly began to be housed in co-ed dorms, but are still separated according to gender, often by floors.
In fact, in the 1980s, some colleges started co-ed residences with female and male roommates living next door or across the hall from each other, because of the shortage of dormitories.
Today, most shared dorms still prefer to be single sex, but colleges accept that their students are independent adults. Women are allowed in men's rooms for limited hours with the door open, and vice versa.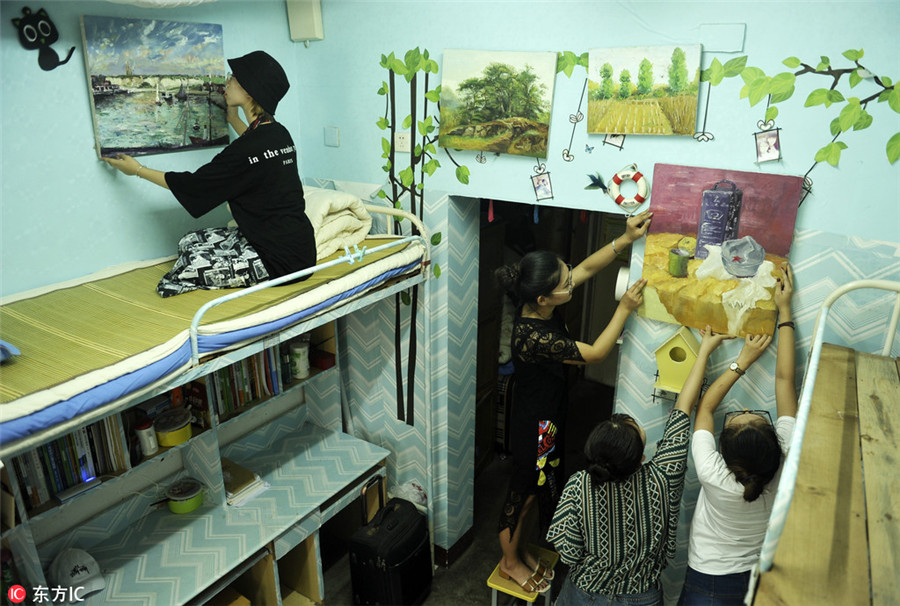 Strict management
To maintain order, each college apartment building has two or three dorm monitors, who spend a good portion of the first day explaining dorm rules or practice procedures, such as no overnight stays and must-haves for a clean room.
Moreover, some colleges in China switch off electricity at about 11 pm and close the entrance doors, creating a structured living situation.
Home appliances, like rice cookers, are banned for safety reasons.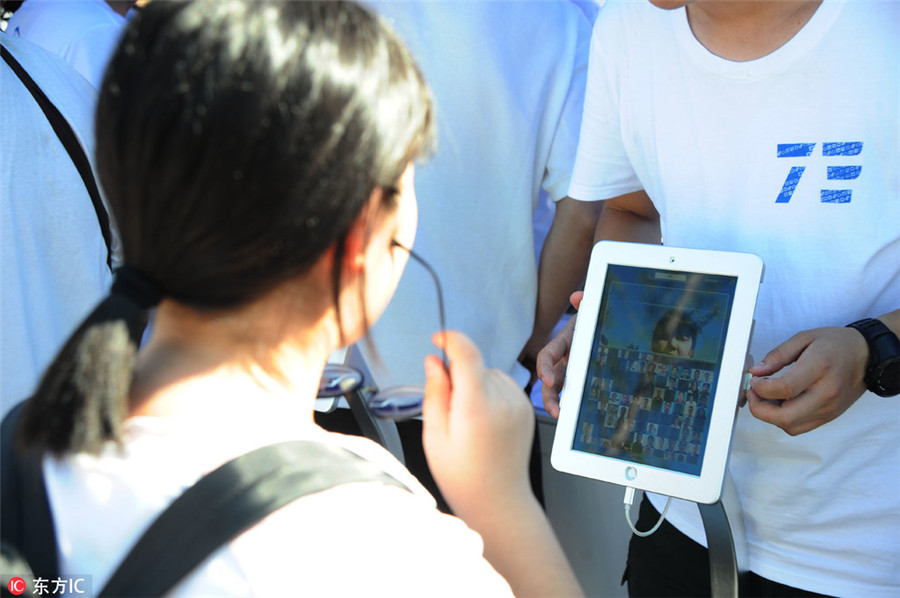 Tech-savvy dorms
A few years ago, being randomly assigned a college roommate was a little like a blind date that lasts four or more academic years.
Today, college students are lucky to have more options when it comes to meeting their future roommates.
In early August, Nanjing University launched an online questionnaire powered by a latent factor model algorithm to collect data around incoming freshmen's living habits and hobbies.
It was used for reference in dorm allocation for a perfect match, said Li Hao, a teacher in charge of enrollment at the university.
Xi'an Jiaotong University also joined the trend of using high-tech in registering and selecting roommates. Students can verify their information using a facial recognition machine to allow them to pick roommates.
Last September, students at Beijing Normal University began using facial and voice recognition technology to enter their apartment buildings.
Attention:
If you're a college student, share your dorm life here. If you've graduated, reminisce about your college years - what's most memorable?
As a reward, we will give out portable phone chargers to five commentators at random.
福利时间:
本期互动话题——大学宿舍生活的哪一件事情让你最难忘?如果你是刚上大一的小萌新,也可以聊聊你的宿舍哦。
China Daily客户端将在留言区随机挑选5位幸运读者,送出便携的卡式充电宝。