HK, Macao residents get a lift on mobile payments with UnionPay app
Share - WeChat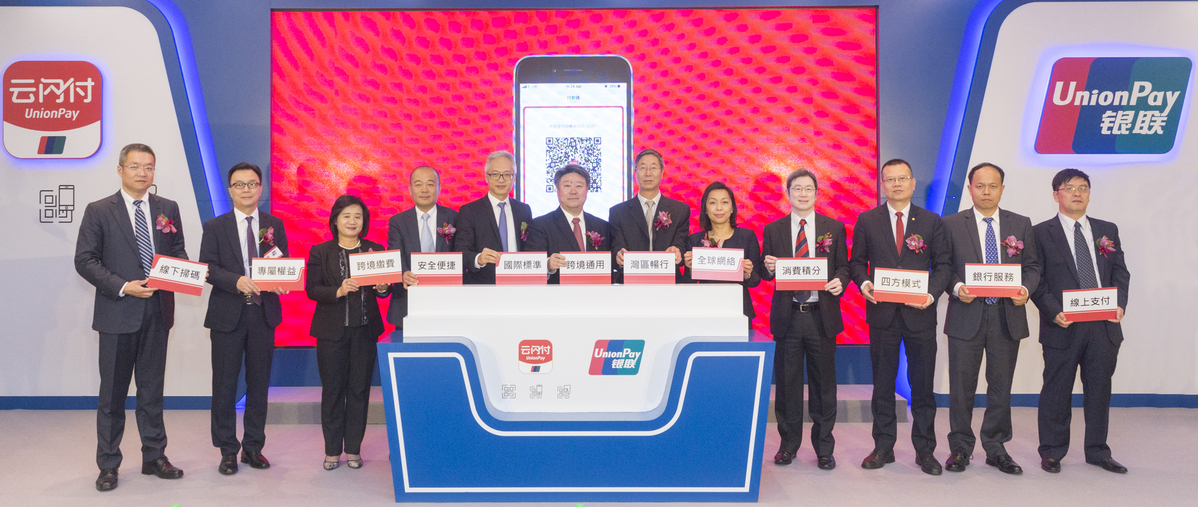 UnionPay International announced on Monday it will extend its mobile payments service app to Hong Kong and Macao cardholders, to meet increasingly high demand from local residents for convenient payments as connectivity to the mainland intensifies.
"The move responds to the construction of the Guangdong-Hong Kong-Macao Greater Bay Area," said Cai Jianbo, CEO of UnionPay International, the subsidiary in charge of the international business of UnionPay, one of the world's largest bankcard schemes.
Cai said the app offers more financial support for residents, at a time of increasing daily spending, such as on transportation, as well as on other lower profile but high-frequency payment needs. As a complement to traditional card payments, it brings much more convenience to locals, he added.
UnionPay continues to refine and improve its financial payment services, so as to better serve the development of the Guangdong-Hong Kong-Macao Greater Bay Area.
The app also meets the needs of Hong Kong and Macao residents for a mobile payments solution that is cross-border interoperable, secure, and offers various discounts and privileges, Cai said.
Hong Kong and Macao residents can download the UnionPay app and link their locally issued UnionPay bankcards to it.. The service allows them to make payments by using UnionPay QR codes and in-app payments.
In addition to local places, the service is also available when Hong Kong and Macao cardholders go to the mainland or travel overseas.
According to UnionPay, its mobile payment app for Hong Kong and Macao cardholders is an open platform.

It integrates the original payment functions and services of commercial banks, and serves as a multi-functional provider of value-added services and marketing activities, connecting and serving relevant local institutions.
Customers with UnionPay cards issued by six local institutions, including Bank of China (Hong Kong), can link their cards to the app this month.
It is expected that the app will support UnionPay cards issued by most local banks in Hong Kong and Macao within the year, the company said.
Chan Wing On, chairman of Tai Hing Group, said the launch of the UnionPay app service in Hong Kong and Macao will further improve the mobile payments experience for local customers, and will also bring more business opportunities to local merchants.
He added that as a merchant, he was expecting good things from the app launch.
It is believed that accepting UnionPay mobile payments will enable merchants to achieve higher payment efficiency and provide various discounts to their customers.
Cai Jianbo said UnionPay has been actively promoting payments technology and product innovation, in line with technological advances and changes in cardholders' habits.
He added that UnionPay will continue to improve its payment services, to facilitate the development of the Guangdong-Hong Kong-Macao Greater Bay Area.