Online-offline integration shaping retail industry development
Share - WeChat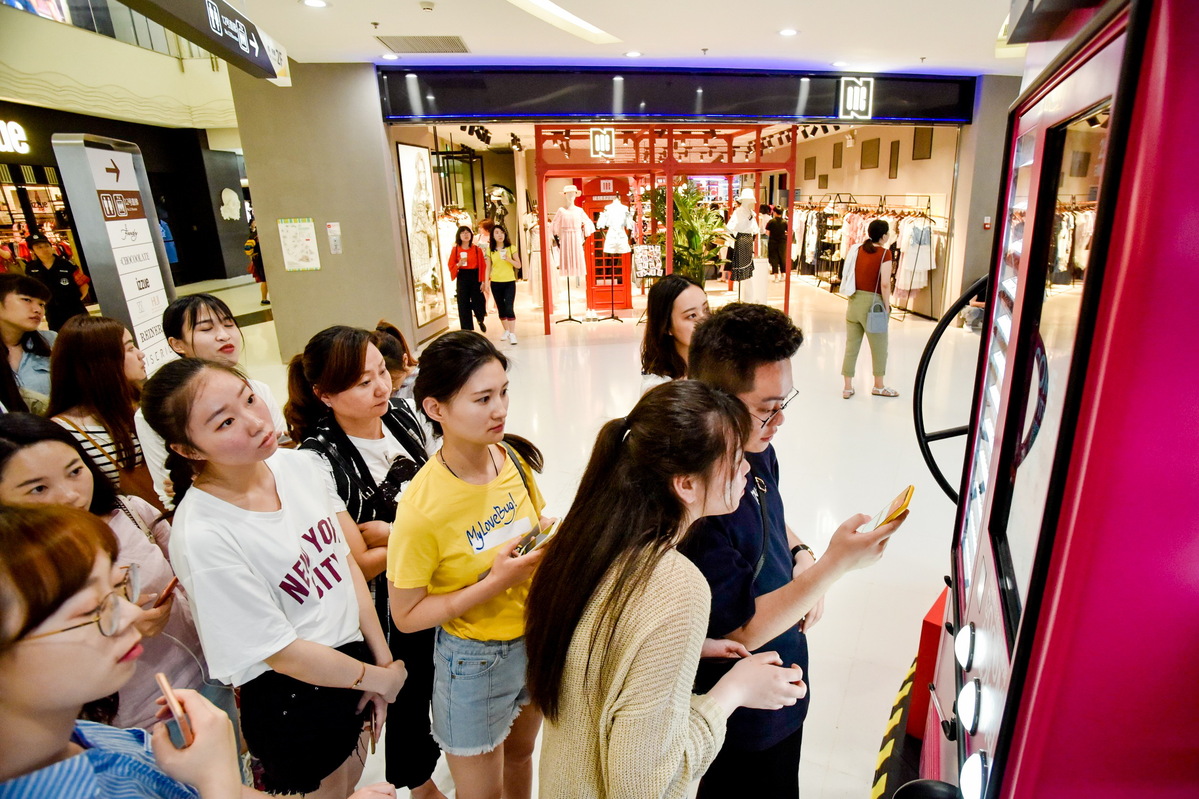 With e-commerce giants and physical stores joining forces to expand online and offline integration, the concept of unbounded retail is shaping the future of the industry's development.
Zhao Ping, director of the international trade research department under the aegis of the Academy of China Council for the Promotion of International Trade, said that such integration is promoting the prosperous development of the retail industry. In addition, using big data, it is also boosting innovation in the manufacturing industry.
The cooperation between JD and Qumei Home Furnishings Group Co Ltd serves as a good example. In the JD-QM smart home experience center, consumers are offered the best shopping experiences powered by e-commerce technology.
All items on display come with a digital label that consumers can use to access information about the item and add it to their e-shopping cart. Consumers' purchase information is also used to guide enterprises' manufacturing process.
E-commerce giant Alibaba has also teamed up with brick-and-mortar stores to achieve unbounded retail. Augmented reality-based technology enables consumers to see themselves wearing their dream clothes without actually trying the garments on. Window displays in the stores can identify the gender and approximate age of a passer-by and recommend appropriate products.
A recent CCPIT Academy report shows that physical stores recognize the importance of unbounded retail. Up to 69.5 percent held that unbounded integration is a future trend in the retail industry, and 62 percent said unbounded retail is beneficial to enterprises as it increases customer traffic and sales revenue, and raises customer satisfaction and loyalty.
According to the report, 51.3 percent of manufacturing enterprises thought unbounded retail would be an important development trend in their future business model, and 69.2 percent said they will actively implement strategies related to unbounded integration. Of those that have already implemented related strategies, 56.4 percent said their sales revenue had increased, while 71 percent said their inventory costs had fallen.
Consumers also anticipate better experiences. According to the CCPIT Academy's survey, 71.7 percent of consumers thought unbounded retail enhances their shopping experience, and 97.7 percent are looking forward to more products and services related to unbounded retail, to increase the convenience of their lives.
Despite all the benefits, the report also pointed out the challenges facing unbounded retail, including different ways of thinking across industries, obstacles to the promotion and application of new technology, consumer rights protection, and lack of expertise. To tackle the problems, the CCPIT Academy suggested the government should create an environment of innovation, and enterprises should accelerate the pace of unbounded integration.
"The newly approved e-commerce law, which will take effect from Jan 1, 2019, will offer legal protection to unbounded retail," Zhao said.
Liu Hui, director of the JD Big Data Research Institute, said unbounded integration changes the way of thinking, demand for expertise, and structure and business model of retail.
"The future trend for enterprises is using technology to change consumers subtly, without letting them feel the intention to create a consumption scene. In this way, their user experience can be enhanced," Liu said. "We want to offer them more abundant goods and more convenient services, in the most comfortable manner."