Cadillac rolls out new models to win hearts of China's youth
Share - WeChat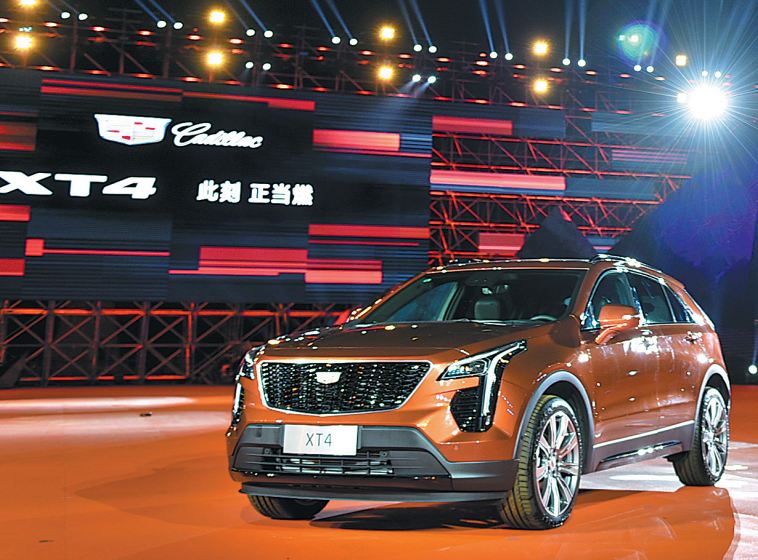 The US automaker is expected to win a larger market share of luxury car markets
In the next two to three years, Cadillac plans to develop a portfolio of vehicles covering about a 90 percent share of the luxury car market in China and worldwide, a big step up from its current 60 percent, according to Steve Carlisle, president of Cadillac and senior vice-president of General Motors.
As an effort to achieve the goal, Cadillac has started to take steps to enrich its product portfolio by launching Cadillac XT4 on August 29 in Shanghai, its first model in the compact SUV segment.
"Cadillac XT4 provides the brand with an access to a new market segment and new customers and helps to connect Cadillac more closely with China's younger-generation customers, among whom Cadillac aims to find new market opportunities," Carlisle said.
To meet the requirements of China's younger customers, XT4 has made numerous improvements in the design, power system and fuel economy of its SUV, according to the carmaker.
Following up on the XT4, Cadillac is scheduled to launch one new model every six months in the next three years.
The company's new models will reflect developments in automatic driving, new energy and car sharing, thus specifically aimed at the Chinese market, according to the president.
Cadillac's confidence is strongly supported by its sales volume in China - 132, 283 units were sold in the first eight months this year, a year-on-year growth of 23.2 percent.
When asked if he has ever imagined one day Cadillac could surpass Audi, BMW and Mercedes-Benz in terms of sales volume in the Chinese market, the president said Cadillac has always viewed its long-term goals as improving market competitiveness and finally succeeding in the competition among high-end automakers.
It takes time and efforts to achieve the goals step by step, he conceded. While Cadillac is focused on the Chinese market, it also cherishes its loyal customers in North America.
Therefore, when designing its products, Cadillac fully considers the diverse demands of the customers from different regions.
For instance, the newly-launched Cadillac XT4 has two kinds of appearance designs targeting the different markets, Carlisle said.
Carlisle said that reinvigorating Cadillac's performance in the United States market has been one of his work priorities since he took the position of brand president in April.
He added that at present, he devotes considerable attention to the vitality and engagement of the US retailing network.