Collaboration strengthened as investment forum opens
Economic, trade conditions require world economies to work together, speakers say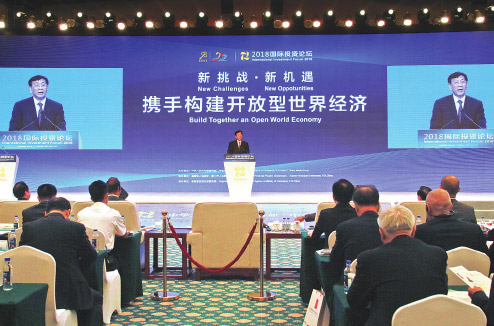 Given the changing economic and trade situations around the world, countries should open up and work in collaboration, global guests said at the 2018 International Investment Forum, which was launched on Saturday in Xiamen, Fujian province.
Wang Shouwen, vice-minister of commerce, said China insists on economic globalization and liberalization of investment and trade.
According to Wang, China had attracted foreign direct investment of up to $2.1 trillion by July in the past 40 years. The foreign enterprises make contribution to 10 percent of urban employment and 20 percent of financial revenue as well as half of import and export sales.
During the same period, China invested $1.88 trillion in foreign businesses. And in the past five years, China's investment in regions and countries along the Belt and Road alone reached more than $80 billion.
"The two-way investments have not only promoted the sustained growth of China's economy, but also made contributions to the growth of the world economy," Wang said.
According to statistics from the Ministry of Commerce, in the first half of 2018, 29,591 foreign enterprises have set up in China, an increase of 96.6 percent compared with same period last year. The actual utilized foreign direct investment reached 446.29 billion yuan ($65.27 billion).
The Ministry of Commerce now aims to lower the entry conditions for foreign investment, assure fair competition, protect the legal rights and interests of foreign companies - thereby further optimizing the business environment for foreign investment, Wang said.