Post-disaster reconstruction brings hope to Shandong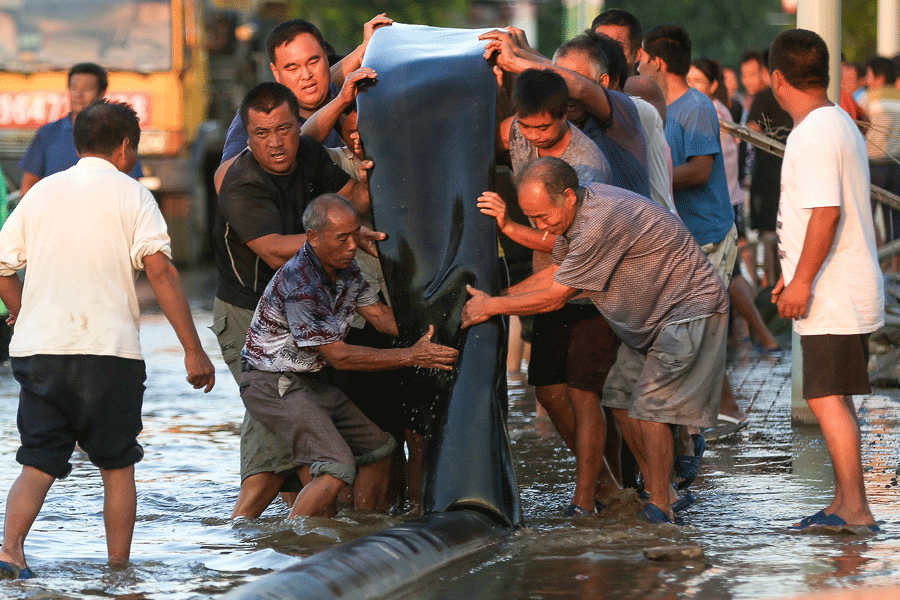 Post-disaster reconstruction work will start soon and is expected to be completed next year after part of Shandong province was hit by one of the most serious flooding events in decades, the provincial Party chief has said.
Triggered by Tropical Storm Yagi and Typhoon Rumbia, rainstorms wreaked havoc in Shandong starting on Aug 18. Flooding killed 26 people in the province and caused direct economic losses of 22.2 billion yuan.
In Weifang alone, flooding affected 68,600 hectares of vegetable fields and damaged 270,000 greenhouses. The city suffered direct economic losses of over 10 billion yuan.
In the past two weeks, disaster relief work focused on draining water and clearing trash.
Liu Jiayi, Party secretary of Shandong province, said at a meeting in Jinan, capital of Shandong, on Thursday that efforts will be made to rebuild facilities and restore production.
"Plans should especially be made early to make sure the affected people could spend the winter in a safe, warm place," he said.
At present, agricultural production is being restored in parts of Shandong province. At Shouguang's Songjia Zhuangzi village, one of China's major vegetable bases, farmer Zhao Xiuhua, 43, was trimming the eggplant seedlings in her greenhouse on Sunday. The seedlings have grown to about 20 centimeters in the soft earth, covered by rice husks.
"This greenhouse had very little loss, thanks to draining water in time. My other three greenhouses are almost done draining, and I will replace the damaged plants with eggplant and bell peppers as soon as possible," Zhao said.
As of Thursday, more than 90,000 greenhouses in Weifang, which administers Shouguang, had been repaired. Damaged vegetables on nearly 4,860 hectares of planting area had been replaced with new plants, said Yu Guoan, vice-governor of Shandong and head of the province's relief and reconstruction office at a news conference on Friday.
Because greenhouses in Weifang are usually built on low-lying ground, they're easy to flood. Thousands of firefighters, who came from across the country with water pumps, have worked for more than a week to drain the land.
By Thursday, all water accumulated in greenhouses has been drained, said Yu.
To help restore agricultural production, 64 enterprises had donated around 13,000 kilograms of vegetable seeds, 30 million seedlings and 9 million metric tons of fertilizer as of Tuesday, said Chu Ruiyun, deputy head of Shandong's agriculture department.
Plans are in the works to replace the 45,000 collapsed greenhouses with improved models that are more productive, Chu said.
Responding to public worries about higher vegetable prices, Yu said the supply "is sufficient and the price is stable".
The average retail price of the nine kinds of vegetables monitored by the provincial price bureau — including peppers, cucumbers, tomatoes and Chinese cabbage — was 4.86 yuan per kilogram on Monday after dropping four days in a row, said Yu.
People in other affected places in Weifang are also racing against time to restore production.
In Yinshi village, Linqu county, people have been busy repairing a mountain road since Sunday to get ready for the annual persimmon festival, which is usually held in mid-October.
Yin Huajin, 68, was dealing with five persimmon trees that were removed to make room for the road being widened on Sunday.
"In one month, it will be the persimmon harvest season. I hope the new road will be completed as soon as possible, so it won't block transportation," he said.
"We are not sure if the festival can be held this year because the road has been badly damaged by flooding. It depends on the design," said Liu Jie, director of the village, adding that the persimmon trees suffered little damage because they are on higher ground and the wind was not extreme.
According to Yu, all transportation facilities damaged in the flooding will be restored by the end of next August.
To date, the government has allocated relief funds totaling 1.08 billion yuan ($159 million).