Gaining ground on the best of the rest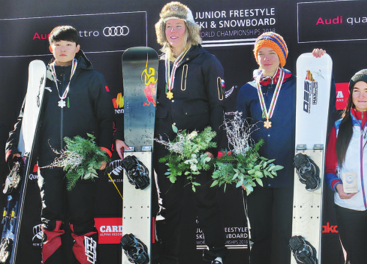 China aims to be world-class on ice and snow by 2022
China's effort to combine reform, science and foreign expertise to raise its overall international winter sports prowess to the highest echelon by 2022 is already paying dividends.
The Cardrona Mountain Resort on New Zealand's South Island, a favorite training site for skiers and snowboarders from Western countries, witnessed a major surprise on Wednesday when China's Gong Naiying finished second to Russia's Milena Bykova in the women's snowboard parallel giant slalom at the FIS junior freestyle ski and snowboard world championships.
Gong became China's first junior world championship medalist in the Western-dominated event, and her podium presence reinforced the country's goal to join world powers in mainstream snow sports.
The National Winter Sports Administrative Center has projected that by the time Beijing hosts the 2022 Winter Olympics, the nation's athletes will qualify for all 109 events. Since China's Winter Games debut at Lake Placid, New York in 1980, the most events it has competed in was 55 at this year's Pyeongchang Games in South Korea.
With only three years to go before the 2021-22 winter sports season, the country will mobilize all available resources to make it happen, said Gao Zhidan, a sports vice-minister.
"The reality is tough but the 2022 Winter Olympics has provided us a historic opportunity to leapfrog development that could never happen before," Gao said at a Wednesday media conference to introduce a series of outlines and supportive plans.
"We will work hard to make our athletes shine at all rinks, slopes and courses throughout the Games in 2022."
The winter sports governing body will continue investing heavily in cross-sport talent development, scientific training support and international exchange programs to help China tap into more winter sports ahead of 2022.
As an experimental reform to expand the talent pool in a short period of time, the winter sports center has built a network with its summer counterpart and local sports bureaus to identify and develop talent from warm-weather disciplines such as gymnastics, martial arts and athletics for transitioning to the likes of freestyle skiing, cross-country skiing and bobsled.
Former sprint star Zhang Peimeng, who represented China in the 100 and 200m at the 2008 Beijing Olympics and won silver in the 4x100 relay at the 2015 worlds, is now fine-tuning his starting dash on an ice track at the Konigssee sliding center in Germany in an effort to qualify for skeleton in 2022.
If Zhang is successful, he will become China's first Olympian to compete in both the Summer and Winter Games. A video clip of his first run on the Olympic-standard track went viral on Chinese social media on Tuesday.
"The first run was intimidating but I am confident I will get used to the thrill in two years," said Zhang.
To explore new possibilities in the sports in which China lacks experience, the country will strengthen exchanges with traditional winter powers such as Norway, Finland and Austria to draw expertise while sending athletes overseas for long-term training camps.
Having spent seven weeks training in Queenstown before the junior worlds in New Zealand, Gong attributes her breakthrough podium finish in parallel GS to the overseas exposure.
"Compete more over the past two years has helped us hone our skills and be more comfortable facing international opponents," said the 20-year-old.
To close the gap with strong winter sports nations, China hired 20 foreign coaches, fitness trainers and technical experts to accompany its Pyeongchang delegation and the governing body is looking to significantly expand that foreign legion for the Beijing Games.
Heinz Kuttin, who resigned as head coach of the Austrian national ski jumping team after Pyeongchang, is now guiding China's women's squad.
"I have four years to work on having a team that can be among the best at the Olympics at home", the 47-year-old told Austrian newspaper Kleine Zeitung last month.
Under Kuttin, a multiple Olympic medalist, his hometown of Villach in south Austria will become a training center for Chinese ski jumpers.