Weah is a name worth watching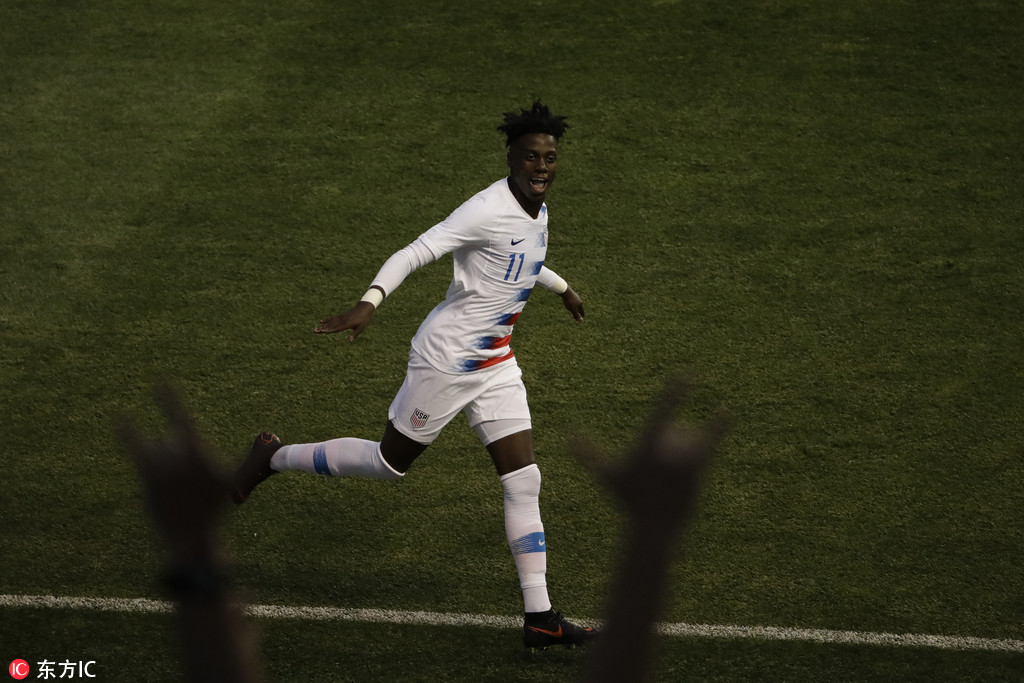 Teenage son of Liberian legend aiming to help ignite Team USA
WHIPPANY, New Jersey -Tim Weah knows he can't escape the name on the back of his jersey.
The 18-year-old midfielder is the son of George Weah, the 1995 FIFA Player of the Year and current president of Liberia.
"I use that to my advantage," the teenager said at training with the US national team ahead of Friday's friendly against Brazil.
"With whatever I do, there's always going to be hate, there's always going to be people who are going to say, 'He's not as good as his dad.'"
Weah made his US debut in March, just weeks after making his first senior appearance for Paris Saint-Germain, one of his dad's former teams.
He fired his first competitive goal for PSG in the French Cup last month and his first Ligue 1 goal in the season opener against Caen.
His hair newly trimmed, Weah reported to Team USA's camp as the youngest on the 25-man roster, already viewed as a possible part of a newlook squad for 2022 World Cup qualifying.
He's trying to blend in with a developing core that includes midfielders Christian Pulisic and Tyler Adams (both 19), midfielder Weston McKennie and defender Cameron Carter-Vickers (both 20) and defender Matt Miazga (23).
"You still have the next step. You can't jump three places," cautioned interim coach Dave Sarachan.
"I think Tim's certainly coming in with confidence, and he now knows me, my staff, this team, what's expected. But he's still very young, so we can't expect him to be a seasoned guy today."
Weah is with a PSG team coming off its fifth league title in six seasons, on a roster that includes stars Neymar, Kylian Mbappe, Edinson Cavani and Angel Di Maria.
He had the chance to accept a loan for the 2018-19 season but stayed at PSG under new coach Thomas Tuchel, who in early 2016 gave Pulisic his debut with Borussia Dortmund's senior team.
"Watching Dortmund, seeing Christian play so many games at his age, really made me believe in his coaching tactics and techniques," Weah said.
"He's really pushing us young guys to make our mark and get out there and do our thing, and that's what makes him happy the most.
"I love him as a coach and I love him as a person. He's just really pushed me to be a better player, and I can't wait to see where the season takes us."
Weah is the rare player who would rather learn in training than seek increased playing time elsewhere.
"I don't really want to rush anything. I'm only 18 and I have a long way to go, and right now is just me being an apprentice," he said.
"Maybe next year, who knows? I'll take my talent on loan somewhere else and see what that really does for me, but right now I'm content with what I have and I'm content at PSG.
"My father tells me, 'Just wait your turn. You're playing with stars. Be patient. It's not going to happen immediately.'"
Weah's first league goal was the result of unusual drudgery. With PSG up by two in the 89th minute, he chased down a back pass to defender Alexander Djiku, who played the ball back to goalkeeper Brice Samba.
Weah kept tracking back and when Samba took a touch and failed to clear, Weah pounced and fired home with his left foot from close range before the keeper could get a second touch.
"I stayed persistent," Weah said. "I ran after the goalkeeper, and I think that's the thing that we've got to look at, is me not giving up on the play.
"I feel like hard work really does pay off, as that goal shows."
Born in Brooklyn when his dad commuted from Europe to the US between matches, Weah grew up in the New York area and Florida, then moved to France to join PSG's academy at age 14.
He believes he is part of the group that can reboot Team USA, which failed to qualify for the World Cup after seven straight appearances.
"We can only go forward. We're still young, super young," Weah said.
"We have something big here, and it's just developing in the right way.
"We are getting used to each other and gaining maturity and I think that's the most important thing. And once we have that, we'll beat any team and I feel we can even do that now.
"It's just a matter of time before things start clicking together and we start getting the job done."
Associated Press