Drill hones slick emergency response
36 vessels and more than 500 personnel in first exercise since launch of plan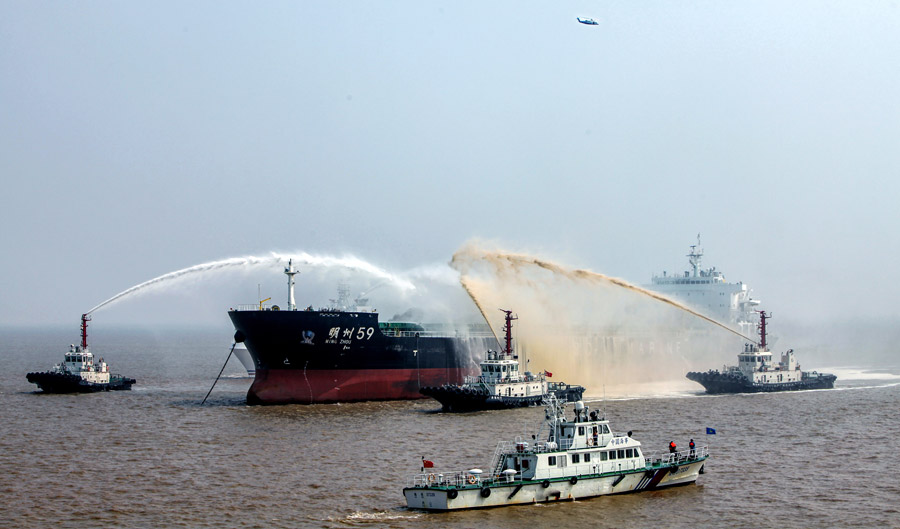 China conducted an oil slick cleanup drill in the East China Sea on Tuesday to improve the country's emergency response ability.
Thirty-six vessels, two helicopters, two drones and more than 500 personnel took part in the drill, which featured 22 scenarios stemming from a collision between two ships.
It was the first drill involving collaboration by national, provincial and city authorities since China released its National Major Ocean Oil Slick Emergency Response Plan in March.
In accordance with the plan, and the lessons learned from dealing with January's sinking of the oil tanker Sanchi, the drill simulated the handling of a maritime oil leak and showed China's strength in responding to maritime emergencies, said Zhuo Li, deputy director of the Ministry of Transport's China Maritime Search and Rescue Center.
The drill, in the sea off eastern China's Zhejiang province, was based on a collision between an oil tanker carrying 200,000 metric tons of crude oil and a container vessel, with the oil tanker catching fire and exploding. A total of 19 crew members were said to be at risk, with more than 1,000 tons of crude oil leaking into the ocean. Because of mechanical problems, the oil tanker drifted to a nearby oil drilling platform and threatened to cause a secondary accident. The container vessel was slightly impaired and the crew members were safe.
Co-hosted by the Ministry of Transport, Zhejiang's provincial government and the Zhoushan city government, the drill tested the plan and emergency response procedures.