Family devoted to Africa's success helped lay tracks for its development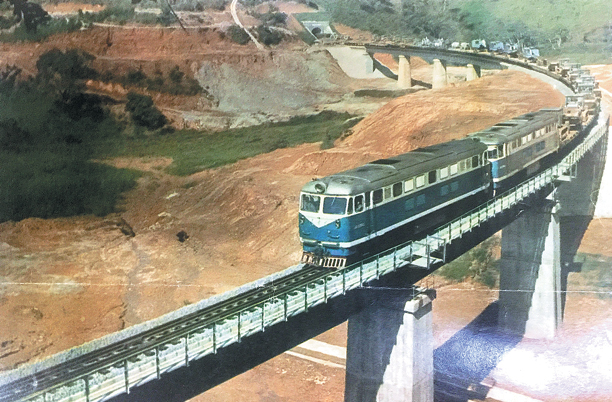 During his visit to Africa in 2013, President Xi Jinping talked about Tanzam Railway in particular and made a special trip to the cemetery to honor the Chinese who laid down their lives for the building of the railway.
Xi stressed the need to carry forward the "TAZARA spirit" characterized by mutual respect and equality, tenacity and perseverance and selfless internationalism, and build on past achievements and make sure that China-Africa friendship and cooperation produced more fruitful results in line with the changing situation.
Since the line opened, there has been industrial development along the line, including a hydroelectric power plant at Kidatu and a paper mill at Rufiji.
Li Snr said when he saw the train carrying cargo on the railroad, he felt all of the efforts by him and his colleagues had paid off.
Different from his grandfather who was involved in an infrastructure project helping the African countries boost economic development and industrialization, Li Jnr's work is providing information access to poverty-stricken villages on the African continent.
His company aims to provide 500 villages in Malawi with satellite TV access with a view to enriching the cultural life of local African people, Li Jnr said.
On Dec 4, 2015, Xi announced at the Johannesburg Summit of Forum on China-Africa Cooperation 10 cooperation plans to build a China-Africa comprehensive strategic and cooperative partnership.
As part of a plan to strengthen China-Africa cultural and people-to-people exchanges, China will build five cultural centers in Africa and provide satellite TV reception to 10,000 African villages before the end of this year.
Thanks to this program, people of Ngolomi 1 village, in Salima Town, Malawi, for the first time had a chance to watch World Cup matches this year.
When the village head sent him a message of thanks on July 16, Li Jnr understood his work was not only of technical assistance, but was a people-to-people bond.
The message said: "On behalf of all the people of Ngolomi 1, I would like to thank the Chinese government for supporting us and providing facilities for us to watch the World Cup. We do not take it for granted, we really thank you. I believe you will assist the Ngolomi 1 village in many ways. Lastly, we wish all the Chinese people to have a healthy and industrious life wherever they are."
"I was touched by the message though I talk with local people every day due to my work and they are very kind to me," Li Jnr said.
The village head told Li Jnr that his village is a base for cotton production, however, the yields were not stable as villagers lacked agricultural technique.
The satellite TV can provide villagers a chance to acquire farming techniques, Li Jnr quoted the village head as saying.
Satellite TV actually brought profound changes to the village, he added. "Thanks to the satellite TV, they have a chance to see the outside world."