Toward a shared future with Africa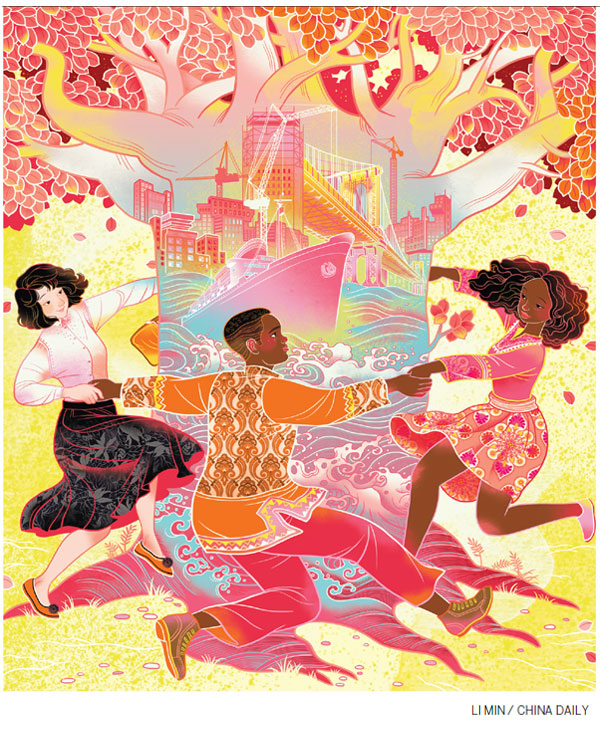 Delivering a speech in Dar es Salaam, Tanzania, in March 2013, President Xi Jinping summarized the history of Sino-African friendship and the experience of building such a friendship, and elaborated on his proposals for future efforts to promote peace and development on the continent.
China is sincere in its intention to build strong ties with African countries. In fact, solidarity and cooperation with the African countries have been an important part of China's foreign policy, Xi said. Cooperation with Africa has been, and will continue to be, result-oriented, and China will honor every commitment it makes to the African countries.
Also, the intimate friendship between Chinese and African peoples will continue to be strengthened, and Beijing will make more efforts to expand people-to-people exchanges, especially through youth exchange programs, so that this bond of friendship is passed on to the next generations.
Besides, China will always act in good faith in addressing problems that may occur in its relations with Africa, and new developments and issues relating to Sino-African relations will be discussed frankly and dealt with on the basis of mutual respect and through mutually beneficial cooperation, Xi said.
First, thanks to the rich development experiences accumulated over the past 40 years of reform and opening-up, China can help Africa break its development bottleneck. China attaches great importance to the development of agriculture, industry and infrastructure, and to personnel training, and research and development in science and technology, as they can help the African countries overcome their capital, technology, infrastructure and talent-related constraints.
Based on the needs of the African countries, China has provided development financing to help them build railways, highways, ports, bridges, airports, power grids, and information and communications infrastructure.
China has also helped Africa develop agriculture, and build agricultural technology demonstration centers, and sent agrotechnological experts to the continent to strengthen its food security. China and Africa have jointly established industrial parks and economic and trade cooperation zones throughout the continent, which have helped develop Africa's manufacturing sector and promoted industrialization and economic diversification, creating many job opportunities for the African people, facilitating the transfer of technology to the African countries, and increasing their incomes.
A large number of government officials and technical personnel from African countries have visited China to participate in various training programs. And China has continuously increased the number of government scholarships for African students and helped the African countries build different types of schools and vocational education and training centers.
Second, China can help Africa maintain peace and stability. China advocates the concept that Africa is for Africans, and supports African countries to independently resolve their internal conflicts. To fulfill its responsibilities as a major power, China has become the largest contributor of peacekeeping soldiers and police officers to Africa among the five permanent UN Security Council members, and the second-largest contributor to UN peacekeeping funds.
And third, China can actively exchange its governance experience with Africa and help African governments and ruling parties strengthen their capacity building. China attaches importance to policy communication and synergizing development strategies with the African countries, so as to ensure long-term peace and stability on the continent.
Moreover, China believes Africans themselves should have the final say in deciding on their political and governance systems, and choosing the development path that best suits their national conditions.
More important, the ongoing summit of the Forum on China-Africa Cooperation will chart the future course for China to continue adhering to its established policy toward Africa, as mapped by Xi, which will help build a closer and more dynamic China-Africa community of shared future. Helping Africa achieve stability and development is China's goal as a major power and the inherent connotation of China-Africa community with a shared future.
The author is deputy director of the Department of Developing Countries Studies, China Institute of International Studies.
Most Viewed in 24 Hours
China Views