Season of mushrooms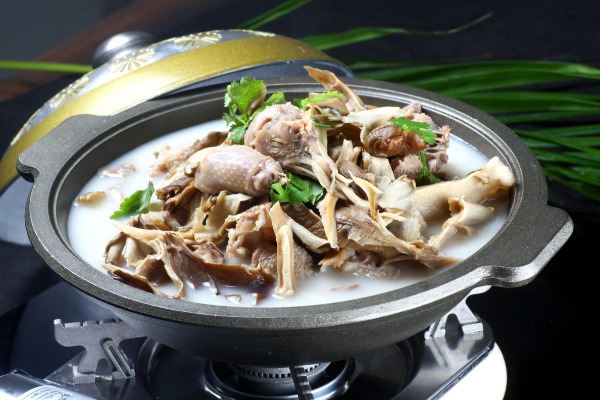 In the village markets, early shoppers can seek out freshly foraged mushrooms, including precious matsutake or pine mushrooms and even the occasional truffle.
Bright yellow chanterelles, known as jiyoujun, have been likened to the rich golden fat of local chickens. Deeply colored boletus mushrooms of the porcini family are described as niuganjun, beef liver mushrooms. Morels, with their tripe like markings on the caps, are called yangdujun, goat stomach mushrooms.
There are also mushrooms that are found only in Yunnan, like the ganbajun. This is deeply scented and very dense and is a local favorite. Shredded and fried in plenty of oil, garlic and chili, it becomes a dish to be enjoyed with rice or Yunnan's famous rice noodles.
In appearance, it resembles clusters of hen-in-the-woods mushrooms.
Local gourmets also seek out a green-tinged mushroom known as qingtoujun, green-headed mushroom. It is slightly toxic and has to be very well cooked before it is eaten. But it is so delicious that people risk hospitalization, or even death, just to enjoy it.
Less potent but equally popular is the bamboo mushroom, or zhusun, a beautiful mushroom that starts life egg-shaped. The egg "hatches" and sends out a little spongy phallic column that is, in turn, demurely draped by a lacy veil.
This mushroom is valued for its crunchy texture, which it retains even when dried and rehydrated. For this reason, it is valued as an ingredient for the stock-based Chinese soups.
In the cooler regions of northern Yunnan, there grows a musky-tasting mushroom that the locals used to feed to pigs that were reluctant to mate. It grew in pine needle beds under the trees, and so the name for it was songrong, pine mushroom.
The Japanese call this matsutake.
This previously unappreciated mushroom now commands very high prices and is a major income for local foragers. Yunnan matsutake is now a major export, especially to Japan.
Mushrooms are nature's gift to the gourmet, but it is a gift that has to be savored carefully.
paulined@chinadaily.com.cn
Recipe
Braised Chinese mushrooms
20 rehydrated Chinese mushrooms
50g chicken fat, finely diced
3-4 cloves whole garlic
2 tablespoons oyster sauce
Salt and pepper to taste
Mushrooms need fat, which they absorb. Searing the mushrooms in chicken fat is a good way to turn them into velvety morsels.
Heat up a wok and render the chicken fat over low heat. Turn up the heat and rapidly add the whole garlic cloves and the mushroom caps. When the mushrooms are all sizzling, add the oyster sauce and enough water to just cover the ingredients.
Turn down to a simmer and braise until the liquid is reduced and the garlic is soft. Adjust seasoning with salt and pepper. Serve on a bed of fresh lettuce.
Mushrooms, chicken and chestnuts
1 chicken (about 1.5kg)
20 Chinese mushrooms, rehydrated
500g chestnuts, shelled and peeled
2-3 shallots (or half a brown onion), diced
2 tablespoons dark soy sauce
1 tablespoon light soy sauce
1 teaspoon sesame oil
Dress the chicken and cut into bite-sized pieces. Rinse and dry.
Heat up a tablespoon of oil in a wok and add the diced onion. Add the chicken pieces and brown the meat.
Add the mushrooms and chestnuts.
Drizzle over the soy sauces, stir to mix and then add enough water to cover the ingredients. Boil until the stock is reduced by half, then simmer till chestnuts are soft.
Adjust seasoning after tasting, and add the sesame oil. Bring back to a boil, then turn off heat. Serve.