ICBC sees strong H1 results despite global uncertainty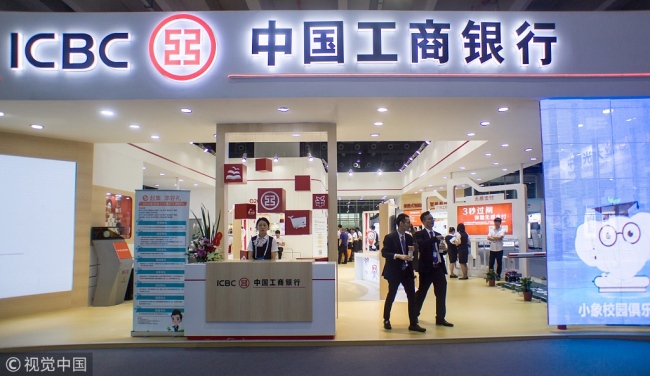 Industrial and Commercial Bank of China Ltd recorded net profits of 160.7 billion yuan ($23.5 billion) in the first half of 2018, rising by 4.5 percent year-on-year.
Both the bank's net profit growth and pre-provision profit growth year-on-year hit record highs over the past several years. The net interest margins also increased by 8 basis points from the previous year to 2.3 percent, announced ICBC on Thursday.
The non-performing loan ratio dropped by 1 basis point from the beginning of this year to 1.54 percent as of June 30, in a series of decline for six consecutive quarters.
"In spite of the pressure we face due to uncertainties caused by the US-China trade dispute to the world economy, we still have confidence in maintaining generally stabilized asset quality, as key indicators for assessing the asset quality are getting better," said Yi Huiman, chairman of ICBC, at a news conference on Thursday.
The scissors difference between overdue loans and non-performing loans fell by 39.1 percent to 39.6 billion yuan in the first half. The bank's credit portfolio also improved in the last five years, with personal loans accounting for 35.6 percent of total loans, up by 8.1 percentage points. The NPL ratio of personal loans was only 0.81 percent as of June 30, according to Yi.
"Our bank has paid huge financial costs to maintain sound asset quality. We spent 205 billion yuan disposing of non-performing loans worth 600 billion yuan from 2015 to 2017. This year, we'll spend 100 billion yuan tackling bad loans worth 220 billion yuan," he said.
The bank will continue to strengthen the efforts for credit management and the disposal of bad loans to reduce the NPL ratio this year.
In the meantime, ICBC will moderately increase its renminbi loans for the whole year. It will take multiple measures to help those enterprises that have good prospects for development to get through tough times, said Gu Shu, president of the bank.
As of June 30, the balance of small and micro enterprise loans of ICBC increased by 16.8 percent from the beginning of this year. The interest rate of newly extended inclusive loans was generally stable with a moderate decline. The outstanding internet finance to small and medium-sized enterprises amounted to about 200 billion yuan, according to the bank.