Wang headed to Phillies farm in Florida
Share - WeChat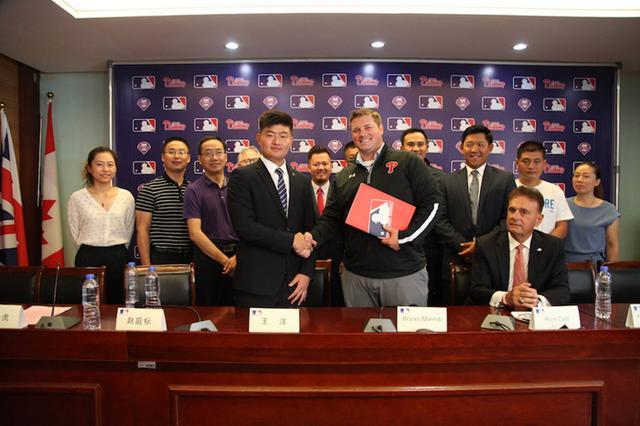 Yancheng teenager signs MLB contract with Philadelphia
Bruce Wang Yang on Monday became the fourth Chinese mainland player to sign with a Major League Baseball club after being developed in the MLB system, and he's already set his sights on one day playing in "The Show".
At the MLB Development Center at Nanjing Dongshan Foreign Language School, Wang signed a contract with the Philadelphia Phillies, following in the footsteps of "Itchy" Xu Guiyuan (Baltimore Orioles), "Sea" Gong Haicheng (Pittsburgh Pirates) and "Justin" Qiangbarenzeng (Boston Red Sox).
"I will learn, work hard and make the necessary adjustments, and hopefully one day I can play for a Major League club," Wang said after the signing ceremony, which was attended by his proud parents and Bryan Minniti, special assistant to the Phillies general manager.
Wang said he had the choice of sole academic study or playing ball, and he chose the latter.
"I just want to play ball. The feeling of getting a hit and helping my team win is so good," said the 19-year-old catcher from Yancheng, Jiangsu province, who arrived at the DC three years ago as a skinny middle infielder.
Minniti said the kid had been on the Phillies' radar for some time.
"Developing international players is very important to the Phillies, and the DCs in China are doing a tremendous job of nurturing talent. It wasn't long before we saw that Bruce was the kind of player we want to help build our organization with an eye to the future," said Minniti.
"His maturity was evident right from the start, and he's proven to be a quick learner. He has a great skill set and a wonderful personality.
"He's also a leader, the kind of player whose dedication to the game is an inspiration for his teammates. That's very important to the Philadelphia Phillies."
Ray Chang, who had a long career in the US minor pro leagues and now serves as head coach at the Nanjing DC, seconded Minniti's assessment.
"Bruce is one of the best players to ever come through MLB China," said Chang.
"The first thing people notice about him is his infectious smile and personality. Bruce has a wonderful personality that everyone wants to be around.
"On the field, he's a natural leader. He expects a lot out of his teammates, challenging his teammates to bring out their best."
Chang said one of the biggest advances Wang made over his tenure at the DC was his overall understanding of the game and his willingness to learn.
"As he progressed through the system he became more of a student of the game, learning as much as he could from every coach that came along. He was always asking as many questions as it took for him to understand what he needed to know.
"When you pair his incredible work ethic with his natural feel for the game, you have a player that has the potential of many years of success on the diamond.
"The Phillies are getting an amazing individual - a well-rounded player who will give everything he has to the game."
Rick Dell, general manager of baseball development for MLB Asia, monitored Wang's progress for several years.
"My first impression after watching him for one day was that Bruce was just OK," said Dell.
"But after you've watched him for five days, you say to yourself, 'This kid is something special.'
"Now he's moving to a new level. He'll likely be going to Clearwater, Florida, to play rookie ball for the Phillies farm team. He's a product of our student-athlete system and he had the choice of what he wants to do.
"If he hadn't signed with Philadelphia, he would have gone to a college in Nebraska."
Celine Shao, director of marketing and communications for MLB China, said Wang's journey underlines the success of the DCs.
"MLB has been committed to the student-athlete program since we first came to China in 2007," said Shao.
"The MLB Play Ball! project has reached more than 100 Chinese primary schools, and has, together with the three DCs, established a nucleus for baseball development here."
Since 2009, more than 180 student athletes have gone through the three DCs.
Of the 69 graduates in the past four years, more than 40 are attending universities in China and the US, seven are playing collegiate baseball in the US and 12 are playing in the Chinese Baseball League.