Legendary Liu still looms large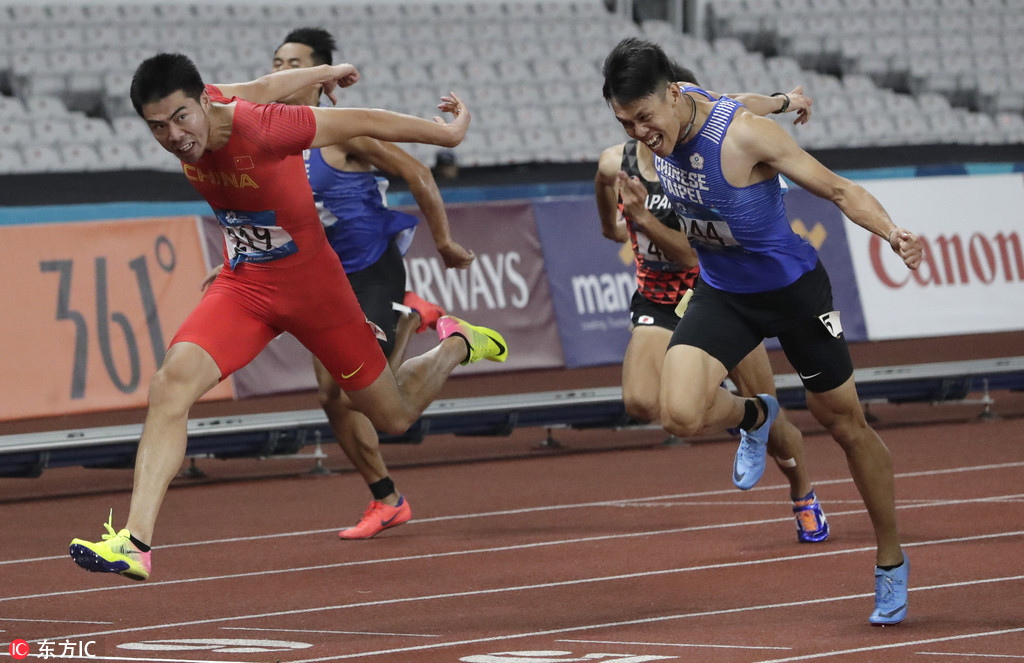 Legacy of retired Olympic champion resonates with China's current crop
Xie Wenjun may have maintained China's dominance in hurdles at the Asian Games this week, but a familiar time in the corner of the TV screen-12.88 seconds-reminded fans of even better days on the track.
That 12-year-old Asian record, set by the legendary Liu Xiang in 2006, remained intact as Xie successfully defended his 110m title in Jakarta on Tuesday.
And Liu, whose gold medal at the 2004 Athens Olympics lifted Chinese athletics to new heights, soon sent social media into a sentimental tizzy when he congratulated Xie on maintaining China's 32-year lock on Asiad gold.
"My young brother, you do need to shave your beard," Liu quipped on Weibo alongside pictures of a victorious Xie draped in the national flag. "Congratulations! It's China's ninth consecutive win and Shanghai athletes' six consecutive win!"
The post sparked a wave of nostalgia among fans online, with one perfectly summing up the mood: "Although Liu Xiang cannot be seen on the track ever again, his legend will stay here forever."
Admirable as Xie's feats are, they pale in comparison to those of Liu, whose Olympic gold was a watershed moment for Chinese athletics.
Clocking a then-world record of 12.91, Liu debunked the myth that athletes from China could never reach the top on the track, before his victory at the 2007 world championships cemented his status as a national hero.
"Liu is my idol and it is also an aim of mine to catch up with him. But I'm still on the way," said Xie after winning in 13.34.
"We trained together for seven or eight years, and we have similar personalities. Before the race, before I went to Europe, he gave me special instructions. I really thank him. I feel awesome now. The pressure is released.
"This medal is very important-not just for me but for Chinese hurdling because we have retained it for such a long time."
Liu contributed three of those titles, with the last of them, at the 2010 Guangzhou Games, achieved when he was battling recurring injuries that forced him to withdraw from the Beijing 2008 and London 2012 Olympics.
Since Liu's retirement in 2015, Xie and a new generation of Chinese hurdlers have tried in vain to reach the lofty standards he set.
To his credit, however, Xie sped to victory in Jakarta while nursing a nagging knee injury.
"I'm only at 70 percent so I'm also a bit surprised by the result," said Xie.
"I can only maintain the knee for short periods. It's like a one-time use thing-the knee could easily break down even after using it for a short time."
Last year, China's hurdling coach Sun Haiping said Xie could retire after the Asiad, but Xie said in Jakarta he "will run for another three years".
That means the Tokyo 2020 Olympics are in Xie's sights, but his retirement date rules him out of bidding to extend China's 110m Asiad reign to 10 Games.
That would mark the end of an era.
The last time China did not win the event at an Asiad was at the 1982 edition in New Delhi, where Yoshifumi Fujimori of Japan took gold.
The only other country to achieve such a streak in men's athletics is Japan, which triumphed in the pole vault at nine consecutive Asian Games between 1951 and 1982.