Athletic links built to last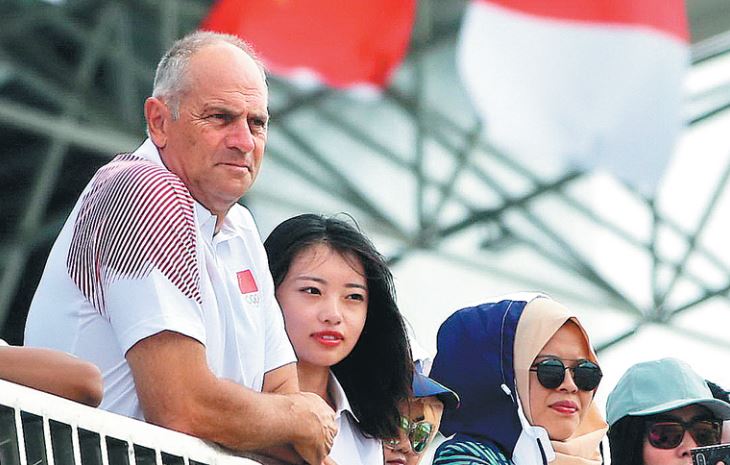 Spirit of cooperation puts extra shine on medal haul in Indonesia
China's Belt and Road Initiative is not merely an economic success story-it's yielding results on the sporting stage, too.
In just five years, the initiative has grown from concept to foundation in building a community with a shared future for humanity, garnering international acclaim in the process.
During that time, sporting relationships have blossomed between many of the participating nations, producing numerous medals at the 18th Asiad in Indonesia.
British rowing legend Steve Redgrave's work with Team China is perhaps the most striking example.
The 56-year-old, who won five gold medals at five consecutive Olympic Games, in May signed on as the Chinese rowing team's high-level performance director. The team won nine golds and one silver at this Asiad.
The results bode well for the Chinese Rowing Association's target of at least two golds at the 2020 Tokyo Olympics.
As well as being responsible for the squad's training program, Redgrave is tasked with implementing youth development and coach training systems.
"This opportunity was totally unexpected," Redgrave said when he got the job.
"I had visited China to watch the team train and compete and I'm very excited about becoming involved with such an enthusiastic and committed group of athletes.
"China has huge potential in the sport, and another part of my role is to help develop that potential. I will be visiting events, schools and universities in order to grow the rowing family.
"If we have a wider base, we've got more opportunities for sending people to the top."
The link-up works both ways, with many athletes from Belt and Road countries coming to China to train.
Chinese-Indonesian Lindswell Kwok is one such case.
The five-time world champion won the women's tai chi all-round title at the Asian Games, with China's influence strong on her road to glory.
Kwok, who also goes by the Chinese name Guo Lijuan, has a Chinese coach (Zhang Yuening) and has trained in China.
"Wushu is from China. So, a Chinese coach can not only teach me better skills, but also better wushu spirit," said the 26-year-old.
Since immersing herself in tai chi, Kwok has also become fluent in Mandarin.
"Initially, when I practiced tai chi, I just wanted to improve my health and physical strength-I never thought I could become the world champion," she said.
Kwok, a recipient of Indonesia's highest sports accolade, the Dharma Sports Medal, plans to continue to nurture sporting ties between the two countries when she retires from competition.
Belt & Road cooperation has also boosted economic ties in the sporting field.
Chinese sportswear brand 361° sponsors the Asian Games, with its logo ubiquitous in Jakarta, while China's Ruifeng Tech has provided the light and audio equipment for many of the venues.
"Our international influence has increased," said Song Duoduo, design director of the audio equipment.
"We installed all the equipment based on foreign customers' standards and requirements.
"It is recognition for our service and our products' quality."