Pig farmers feel pinch from Trump's tariffs: US National Pork Board COO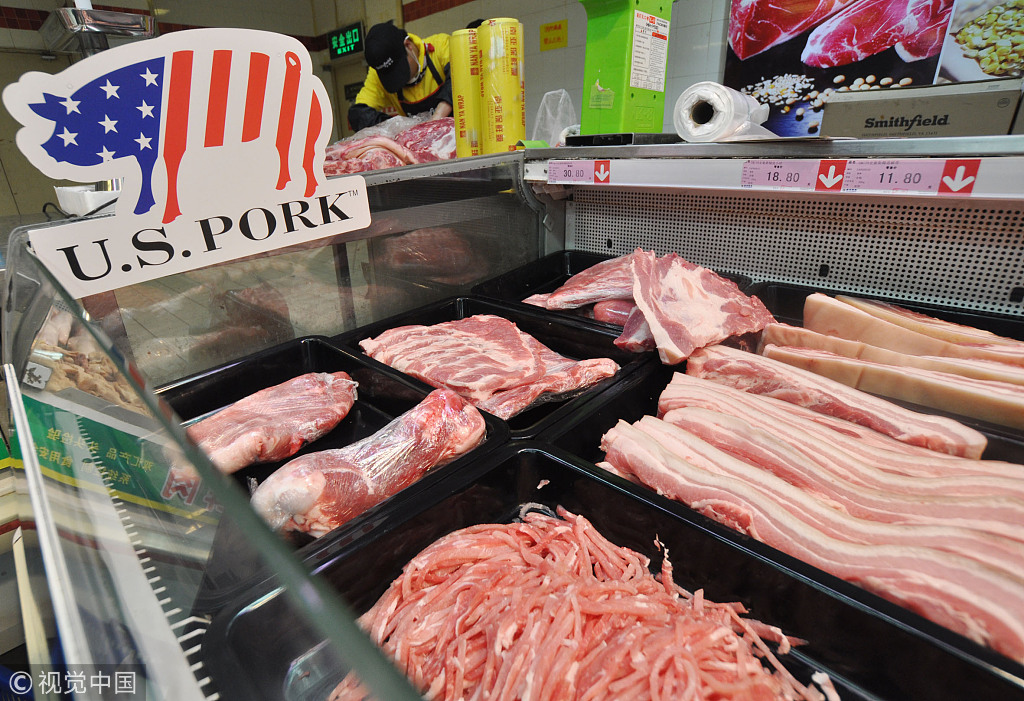 CHICAGO - US pig farmers are feeling the pinch after the trade disputes initiated by the United States and they are worried about losing their markets, one of the heads of the US National Pork Board told Xinhua in a recent interview.
"We just want our markets back when you have spent many years trying to build up Japan, Mexico and China," John Johnson, chief operating officer (COO) of the US National Pork Board, told Xinhua amid ongoing trade disputes the United States has started worldwide.
"All these are markets," Johnson said.
"We can compete with anybody. We are the lowest cost producer of pigs in the world, have a good supply of safe, affordable pork and we want to market it to the world," he said.
Statistics show that some 60,000 US pig farmers market more than 100 million hogs annually. US pork production generates more than $60 billion in downstream revenue from the farm, supporting 550,000 US jobs.
However, things began to change early this year. Farmers have been losing money since May and "it's going to get worse," the COO said. He estimated that farmers are losing $18 per head.
"Mexico and Japan are two of our most important customers, and President (Donald) Trump's disrupting things with both of them," Johnson said, noting that Mexico has imposed a 20 percent retaliatory tariff on US pork imports, and satisfying negotiations for US pork into Japan were destroyed due to Trump's decision to pull out of the Trans-Pacific Partnership.
"I don't think President Trump appreciates how much disruption his tariffs and all his activity in the international trade has caused the farmers," Johnson said.
According to statistics from the US Meat Export Federation, Mexico, Japan, South Korea, Canada, China and South America are the top six pork markets by volume for the United States, and they imported more than 880,000 metric tons of pork in the first six months of 2018, accounting for 87 percent of its total export volume.
In the meantime, pig production is expanding in the United States. According to statistics of the US Department of Agriculture, US pig crops reached a record 33.2 million heads in March-May 2018, up 4 percent year-on-year; pig inventory reached 73.5 million by June 1, up 3 percent year-on-year, marking the highest June 1 inventory ever reported.
"When you get an oversupply, the price drops because there's too much, the tariffs just make that worse," he said. "It's very frustrating."
Johnson does not think the $12 billion agricultural aid package the Trump administration committed will deliver much support to pig farmers.
"I would be very surprised if any of that money actually gets to the farmers this year," he said. "I think it will be 2019 before any of it actually gets to the farm and we're now going into the lowest price conditions of the year."
Talking of the eased tension between the United States and the European Union and the goal of "zero tariffs," Johnson said he wholeheartedly supports it. But he asked, "how do we get there?"
"There is no plan today on how we get there. There's simply an agreement that we will sit down and talk about this with that as a goal," he said.
"None of these trade agreements move fast. They take years," Johnson said.